Chinatown Tour by Slow Food Oahu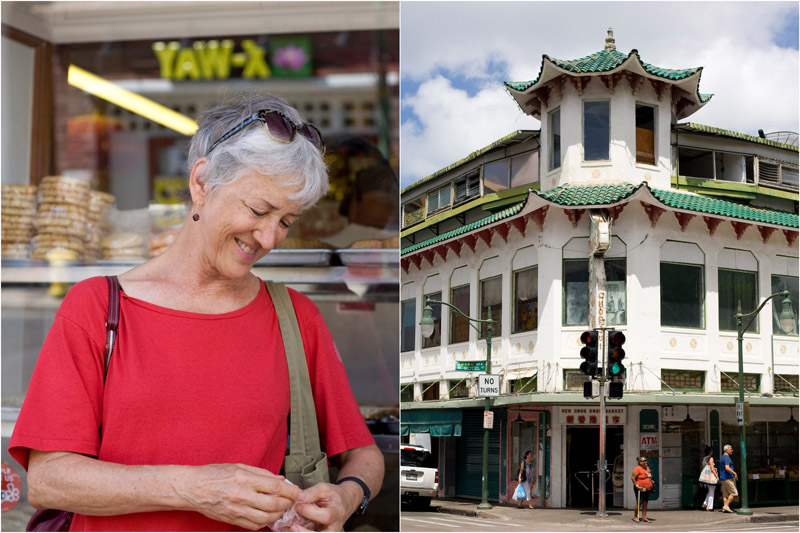 Did you know that Sun Yat-sen, founding father of the republic of China, went to Iolani? Or that there's a butcher in Chinatown who uses rendered fat to make soap?
I spend a lot of time wandering Chinatown, but even so, I discovered new things about its history, its "secret societies," and its food on a recent Chinatown tour, led by Laurie Carlson, founder of Slow Food Oahu and the now defunct (and missed!) Honolulu Weekly.
Slow Food Oahu is a part an international organization born out of Italy that helps people connect to food and culture. Its motto is "good, clean and fair," or locally, "ono and pono."
During our two-hour Chinatown tour Sunday morning, when the markets were at their most bustling, Carlson highlighted some of the Chinatown's best bakeries, noodle factories and dim sum restaurants (Legends, "like a Chinese train station, with lots of activity and wonderful food and carts going left and right," she says, and Empress, a quieter space for conversation). She's soursop's best marketer—she gives us a taste of the sweet, sour and creamy fruit in a smoothie at Summer Frappe, shows us where to buy it and how to choose one, and gives her recipe for soursop sorbet.
She also points out Hawaii's other underrepresented fruits such as chico (like a brown-sugar pear), calamansi (the Philippine lime that's a mandarin orange and kumquat hybrid), and jabong (did you know grapefruits are a cross between jabong and oranges?).
Carlson says she's been exploring Chinatown and its history since she was a student at St. Andrew's Priory School, on the edge of Chinatown, through her tenure as the Honolulu Weekly's publisher, always choosing offices (one now gone, and one still vacant) in the historic district. She says she hosts the tours to share her enthusiasm for the neighborhood and to encourage more economic activity there. "I see more spaces in Oahu Market empty now," she says, "and I don't want them to turn into T-shirt stalls."
To find out more about upcoming Chinatown tours and other events (Slow Food is also organizing a trip to Shinsato Farm) sign up for Slow Food Oahu's newsletters at slowfoodoahu.org