Mahalo, Little Village Noodle House, for 22 Years
The Chinatown icon that made Chinese dining chic has closed suddenly.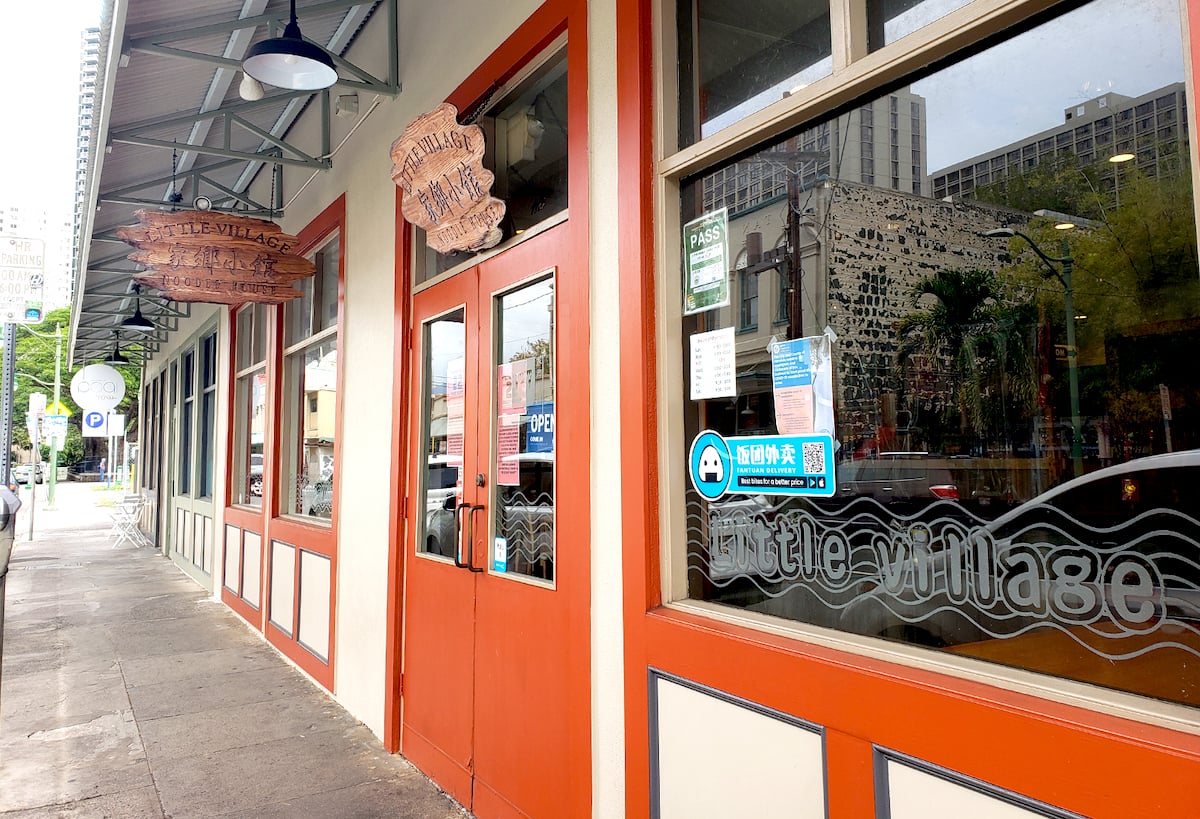 Anyone who's ever gone to Little Village Noodle House with me has quickly learned that the Chicken with Leek Stir Fry was my favorite dish on the menu. It may not have been the most popular dish, but I wouldn't shut up about how good it was. I know I'm not alone in savoring memories of dishes and good times at Little Village, which is why the sudden Instagram announcement that it was closing yesterday, Feb. 15, after 22 years in business, was such a shock.
Chef-owner David Chang cited a staffing shortage as the main reason the restaurant closed so abruptly. "When the time came, I just had to make that tough decision," said Chang, who also managed now-shuttered Restaurant Epic in Chinatown. "It's a different world that we're facing."
Chang says he hopes to open another eatery eventually. Meanwhile, he wants to travel to find new culinary inspiration. "There's so many talented people around. I want to create something different. The marketplace is always changing, and I look forward to change."
Little Village was loved by local diners as well as visitors. They won the Hale 'Aina Award for Best Chinese Restaurant 11 years in a row. Book clubs gathered here, families celebrated special occasions, couples met on first dates, and coworkers took each other out for birthday lunches. In Hawai'i Magazine's national reader polls, Little Village was voted Best Chinese Restaurant on O'ahu several times.
The restaurant opened in 2001, not too long before 9/11. That tragedy also impacted the restaurant world, but the fledgling Chinese eatery on Smith Street pulled through and soon garnered a following with masterfully cooked favorites like Kung-Pao Chicken, Honey Walnut Shrimp, and Salt & Pepper Pork Chops. Its signature dish was the loaded Mother of All Fried Rice with salted fish, minced chicken, ginger and garlic. An ambiance that was trendy among Chinese restaurants, with details like bamboo eaves peeking into the dining room, set it apart and made Little Village the go-to place to take out-of-town visitors or have a classy Chinese meal before hitting the Hotel Street clubs. During the pandemic, the restaurant embraced delivery services like Doordash, GrubHub and UberEats.
Many of my memories from 17 years of living and working in Chinatown are tied to this place. From a first date (Lettuce Wraps for two) to a comforting takeout feast while family was visiting during the pandemic (Singapore Curry Rice Noodles) to celebrations of personal milestones (Honey Walnut Shrimp) to saying goodbye to an old friend leaving the island (Bitter Melon with Beef), there's always a special dish I remember.
A few years ago, I tried to copy the Chicken with Leek recipe in my own home kitchen. It turned out OK, but it just wasn't the same. Now I'll treasure the memory and try again to get the taste right, the way Little Village always made it. Farewell and 多謝!