Chill makes video viewing a social outing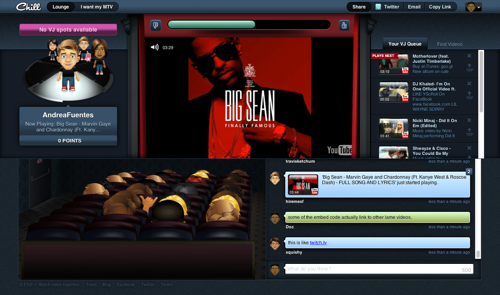 Have you ever wanted to "Chill" with your friends and watch something cool? Ever gathered around a monitor or TV to laugh at the craziest viral video you've ever seen? Well, this hot new startup coming from the "Founders Room" does just that and more.
So what is Chill?Chill is a place for people to watch videos together. – Chill.com/blog
Chill is a video sharing site that takes video consumption into a different stratosphere. Chill allows you and your friends to watch videos together on your own computers while socially interacting. Most video sites, up until now, allow you to share a video, but not have that realtime interaction. Imagine the one liners that came out after watching Miss South Carolina give us an update on the State of the Union about our maps, now imagine this fun in realtime chatter.
Chill is a very simple and easy account setup process. Go to Chill.com and sign in through Facebook. Once inside, join a "Chill Lounge" or create a new one. Search for your favorite videos on YouTube or Vimeo and add them to your queue. Now you're a VJ.
Up to five VJs can run a room at a single time. You can send in comments from the lounge chairs to everyone in the lounge if a VJ slot is not available in the room. Once another VJ slot opens, you can jump up and play some videos doing your best Downtown Julie Brown or *Fab Five Freddy * imitation.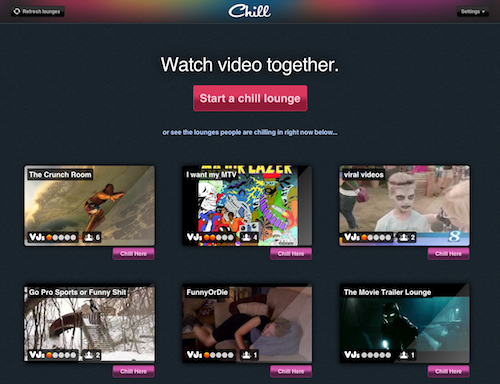 I got to test this today in a "Chill Lounge" with Mike Arrington of Tech Crunch. Turns out he's a big time Ramones guy too. Chill gives social video sharing a whole new look, and you should be there.
We've always believed that flipping through endless channels and passing around non-social links is a terrible way to experience content. Chill is our first swing at attempting to put the viewer and her friends first. — Brian Norgard, Chill.com
Brian Norgard is absolutely right. In line with what they learned from Namesake.com, everything is better with friends. Chill allows the "synchronous video" that the web has been missing for years. I remember watching the early days of MTV on the phone with friends, tripping over the freshest rhymes of Eric B or Chuck D. Now I can do it again.
Chill is still very new and in its infancy. Like many tools, we won't really know the full effect of how this can be used as a tool until we see how adaptable the users are. YouTube has been called a passing fad for some time now, but as we all know, it's a huge part of our daily lives. YouTube gets over 8 billion views everyday, and that number is growing very fast. Less than two years ago, YouTube's billion views a day was considered an unfathomable number. Using Chill, I can see a group of people watching a TED Talk, Wedding Video Highlights or a baby's first steps and having a conversation about what it means to them.
Check out this quick guided tour of the Chill.com signup and interface.
Access is still limited for now and the founders are ironing our the wrinkles as fast as we can find them. If you want to join Chill.com, send me a friend request on Facebook and message me. I'll do my best to get you in.
Have a classic gutbuster viral video or music video you never get sick of, drop it in the comments and spread the love.