Chefs & Farmers Facing Future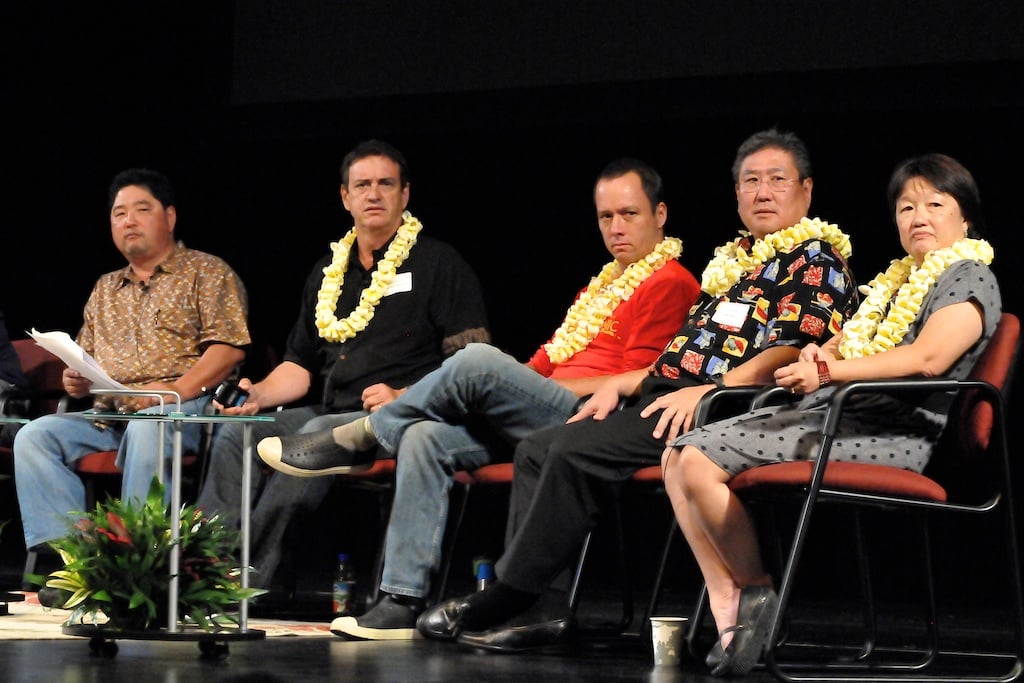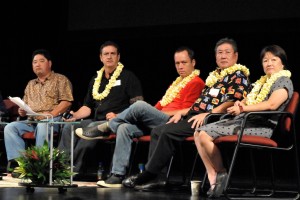 Chefs, farmers, culinary students and food professionals from across the state converged at Leeward Community College Friday for Chefs & Farmers Facing Future, a forum to discuss how Hawaii can foster a sustainable agriculture industry. Similar to the way local chefs united in the early '90s to kick off the Hawaiian regional cuisine movement, chefs and farmers came together to discuss how they can better use locally grown foods, not just in restaurants and hotels, but throughout Hawaii.
The forum — consisting of three panels moderated by Vino's Chuck Furuya and Midweek's Jo McGarry — included chefs Alan Wong, Ed Kenney and Peter Merriman; food writers John Heckathorn and Betty Shimabukuro; farmers Dean Okimoto of Nalo Farms, Richard Ha of Hamakua Springs Country Farms; and cattle ranchers Michelle Galimba of Kuahiwi Ranch and John Morgan of Kualoa Ranch to name a few.
The three discussion topics centered on ways to reduce dependence on imported food; overcoming the bad reputation of tilapia; and Hawaii's resurgent beef industry.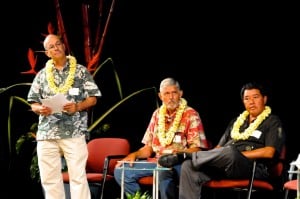 The session I found most interesting was the one on tilapia. Although tilapia has a bad reputation of being a "rubbish fish," Alan Wong has learned through blind taste tests that it can be very tasty when raised under the right conditions. He said in a side-by-side tasting of mahi mahi, tilapia and opakapaka, people preferred the tilapia over the mahi two-thirds of the time, and it was an even split with opakapaka. Tilapia farmer Ron Weidenbach of North Shore Tilapia explained that the quality of fish is affected by the quality of the water it grows in. Of course tilapia from the Ala Wai Canal will taste bad, but Weidenbach said he raises his fish in clean water and keeps the fish in floating cages so they never feed on the bottom of his pond. They only eat what he feeds them, which ensures the best quality possible.
Overall, the forum was a terrific event with lots of informative discussions both in and out of the sessions. The sessions only served to spark the sharing of ideas among food professionals about sustainability and other topics. Yet as much as was covered at the forum, there still were important issues that weren't addressed, and that left everyone eager for another gathering.
Facing Future forum