Cheers, Kailua: Maui Brewing Co. is open in the old Macy's
It's the fourth restaurant for the local craft brewer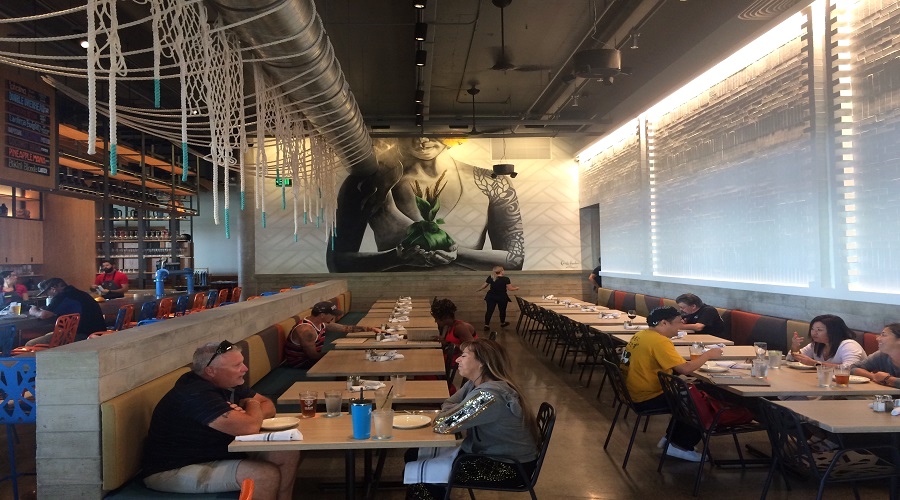 After more than two years in the works, Maui Brewing Co. opened its long-anticipated Kailua location last weekend in the former Macy's spot now known as Lau Hala Shops. It's the second Maui Brewing restaurant on Oahu and its fourth statewide.
Fans of the brewery will be pleased to find everything we've come to expect – a sleek minimalist design, a full lunch and dinner menu, cocktails and enough beers on tap to keep you coming back.
First, the beer. Kailua has more than 30 taps, the majority from Maui Brewing. Year-round standards such as Big Swell IPA and Bikini Blonde cost $6.75 for a 16-ounce pour. Pineapple Mana and Coconut Hiwa, two other widely distributed beers, are $7.25; specialty beers cost more. Most beers can be purchased to go in a 32-ounce crowler ($11) or a 64-ounce growler ($18).
Maui continues a recent trend in the craft beer industry of offering cocktails, wine and homemade sodas along with its brews. The idea is to widen its appeal and accommodate groups of friends with varying interests. Flanked on one side by high-top tables and by patio seating on the other, the bar area is tight with limited room for standing. About 15 stools line either side; a side wall features a beautiful mural by Pow Wow artist Kamea Hadar depicting a traditional hookupu, or gift.
The restaurant portion dominates, with patio and indoor dining areas. The menu sources many ingredients from local farms and is similar to Maui Brewing's Waikiki location, with $14 to $17.50 burgers, a $19.50 loco moco, $23 fish and chips and $22 fish tacos.
A good time to go is during happy hour when you get $2 off all beers, $3 off cocktails, $10 pizzas and 50 percent off selected appetizers. There are two happy hours daily: 3:30 p.m. to 5:30 p.m. and 9:30 p.m. to 10 p.m. On Wednesdays, wear a Maui Brewing logo shirt or hat and get $2 off beers all day.
Maui Brewing Co. Kailua
573 Kailua Rd.
518-BREW (2739)
Daily 11 .am. – 10 p.m.
www.mbcrestaurants.com/kailua