Cheap fun eats in Tokyo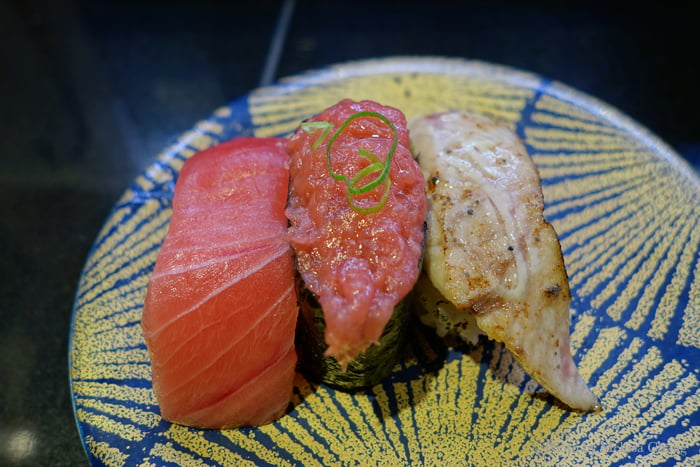 Tokyo can be expensive, but there are many cheap, filling restaurants that are popular with the city's denizens. I saw some great spots on this trip, but didn't have enough time to go in. There was the ramen shop right off the tracks at Hamamatsu-cho, where bowls of noodles were just ¥300 or 400. We saw some yakitori stands that offered unique cuts, cheap. And there's many a pork don stand that's cheap, tasty and filling.
I decided to kick it up a small notch to the equivalent of lunch in downtown Honolulu. Here are a couple of places I found:
The first time I had horsemeat sashimi, Mari Taketa scolded me for eating a horse … that was most likely named bluebell. Well, horses are popular in Japan, and Shigoto Uma caters to a large crowd every day. They are not squeamish! Head to Suidobashi station and ask directions on where to go. It's out of the way but not hard to find.
They are so popular that they have you look at menus outside while you wait, and take your order there.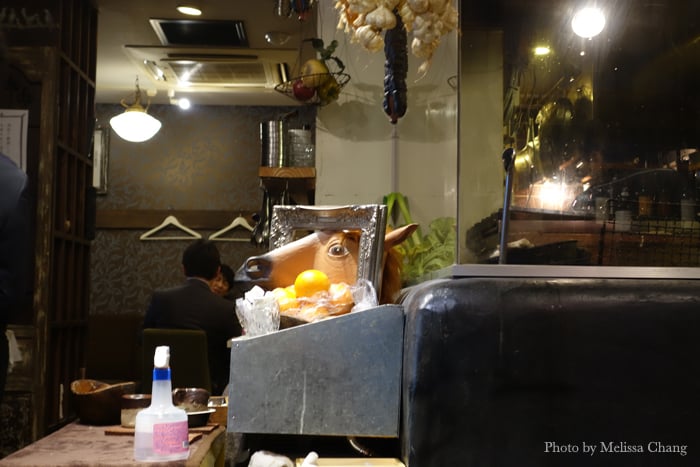 There's something about being seated with the (fake) horse head staring at you…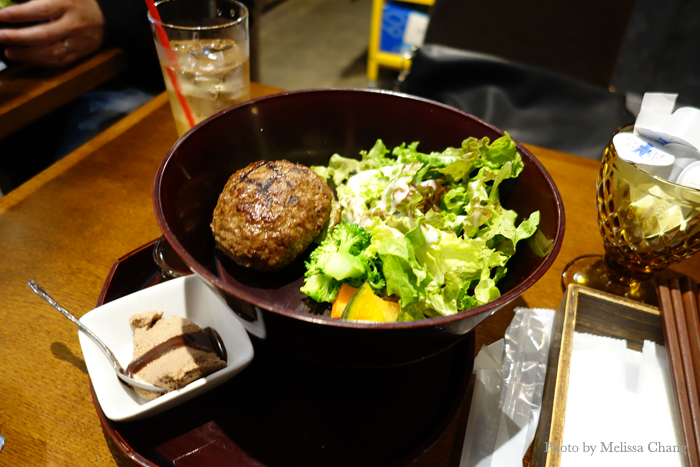 And here's the lunch special: for ¥950 you get green salad, seaweed soup (not pictured), choice of beverage, horse meat "hamburg," and dessert. There is rice in the vessel underneath. Oishiiiiiii!
For those of you who were wondering, it tastes like beef! No gaminess or guilt.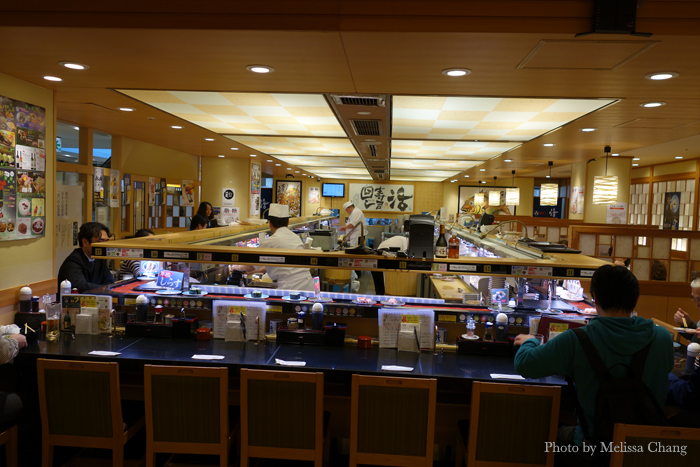 Later that day I went to meet chefs Keith Endo and John Iha at their hotel near Kamata station, and my instagram friend Jeff Ha, who comes to Tokyo often and stays near Kamata, suggested I try a robata sushi bar at the train station. Go into the department store Granduo and catch the elevator to the sixth floor. There's only one sushi bar — Midori — and put your name in (there is usually a wait).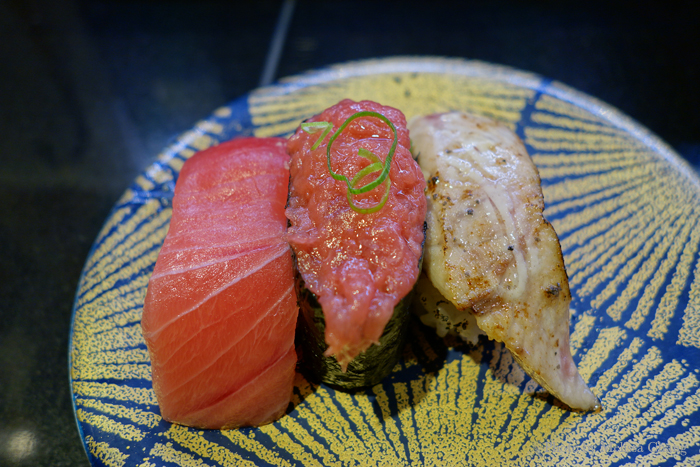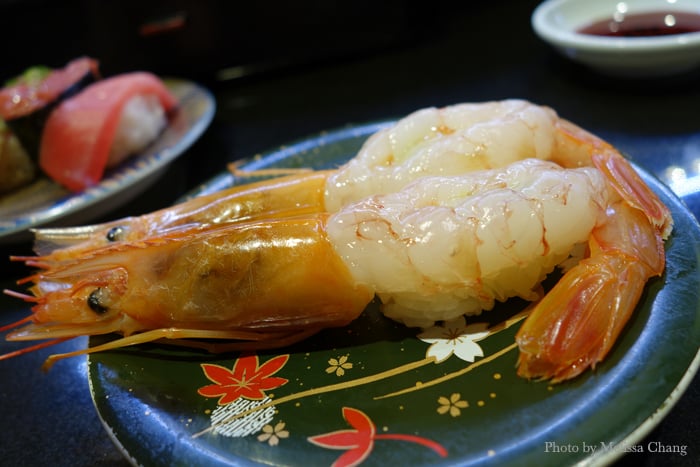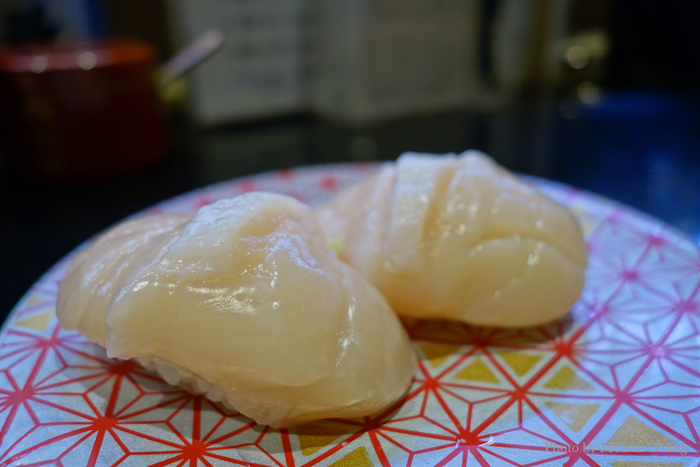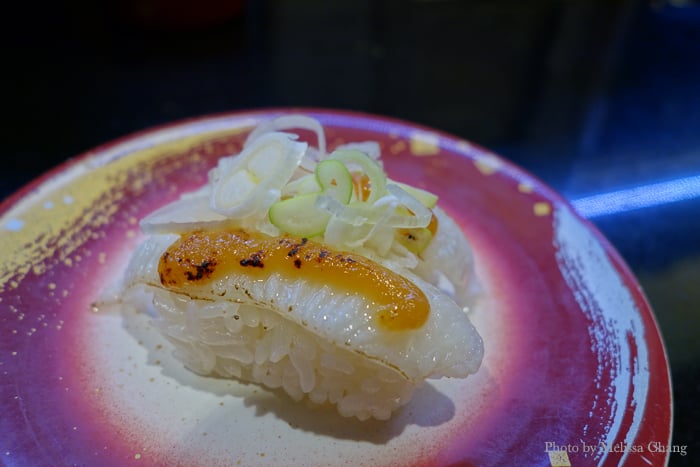 Cost for this four-plate snack? ¥1180. And it was really good, too! Some of the pieces were too big to shove into your mouth at once.
That night, we attempted to find Yakitori Alley (under the Yurakucho tracks) but it was raining so hard, it was hard to see and hard to navigate. We ended up close to it, at a place called Gyu-Maru..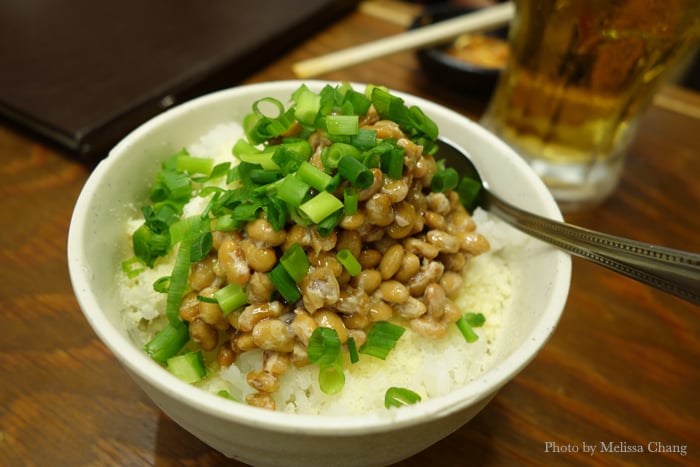 The first item in the alley: Natto cheese bowl. But not any cheese…this place used parmesan! What a concept. It added saltiness and a different depth of flavor.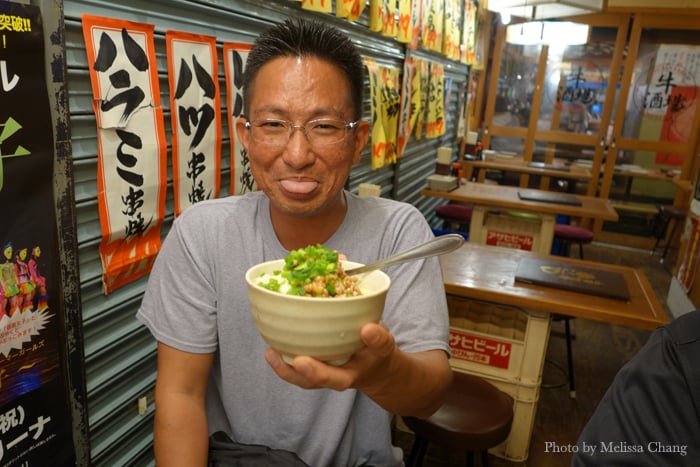 Chef John Iha is not a fan of natto!
They also got their first taste of grilled horumono and rumen. Yum!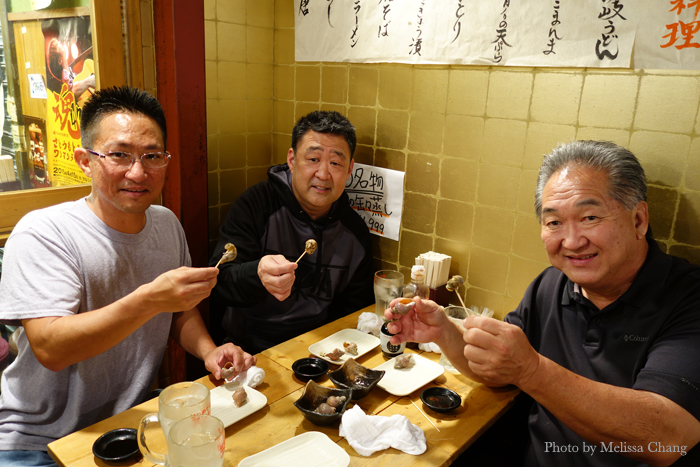 The guys actually went back to Kamata later and had more yakitori, which they said was cheap and awesome. (This is not the place, I'm just showing you their happy faces.)
And that was it for that rainy day! We did more eating at Tokyo Station, but you've seen me do that before! You can see more of my photos from this day, here. Or click here to see the whole trip.
Up next: Exploring Omotesando and more!