Camping in Hawaii Just Got Easier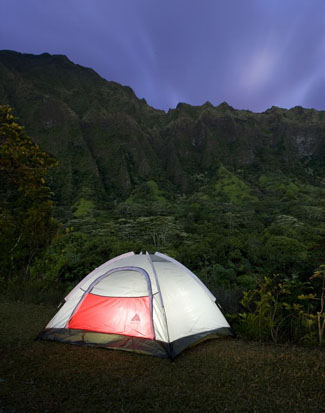 With the Presidents Day weekend coming up, many of us will be packing up the tent, grabbing our fishing gear and sleeping under the stars. While camping in Hawaii is fun, it's also an arduous process to get a camping permit.
Well, until next month that is. Starting "no later than March 31,2010," the state Division of State Parks (DSP) is moving its camping and cabin permit process online. No more waiting in line at a DSP office or being put on hold over the phone. The office is already phasing out the old permit process—after today DSP will no longer accept mail-in permit applications or telephone reservations.
At the Web site you'll be able to check the availability of your favorite campsite or cabin, purchase permits online and also pay with a credit card. Your permit issuance will no longer be affected by the state furloughs that shut down government offices on Fridays.
Campers will be able to make permit reservations up to one year in advance (except for the Mauna Kea Recreation Area, of which a permit can only be purchased 30 days in advance).
Below are the new camping permit fees, in effect March 1:
State Parks Permit Fees (except Na Pali Coast on Kauai)
Hawaii residents: $12 per campsite, per night for up to six persons, $2 per night for each additional person (except children under 2). Maximum fee per site: $20 per night.
Cabin Permit Fees
A-frame shelters: $30 per night per shelter for Hawaii residents.
Cabins: $60 per night, per cabin for Hawaii residents.
Here's to stress-free camping—the way it should be!