Cafe Julia opening in downtown YWCA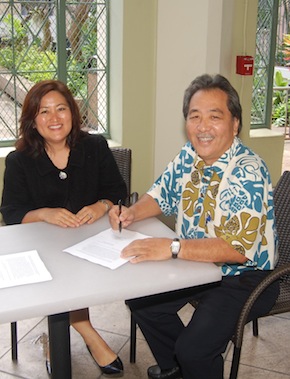 For 16 years, Lance Kosaka worked for Alan Wong, a dishwasher on the opening team at the original Alan Wong's restaurant. From dishwasher, he eventually climbed to an executive chef position, then moved over to Alan Wong's Pineapple Room (where I worked for him as a line cook). He says he's grateful for everything Wong taught him, but the time has come for him to strike out on his own. He will be opening Cafe Julia, taking over the Laniakea Cafe at the YWCA, with partners Bruce Watanabe, of Catering Connections, Watanabe's brother Derek, previously chef de cuisine for Alan Wong at Watabe Weddings at Koolina, and Emerson Ribao, formerly general manager for Kobe Steakhouse.
Cafe Julia, named after Julia Morgan, the architect of the YWCA as well as Hearst Castle in California, will open in May for breakfast and lunch, Monday through Friday. At the moment, Kosaka is vague about the menu, saying he just wants to cook "whole, simple food not bounded by any cuisine." In his brainstorming, he jumps from Mexican to Filipino, from a yogurt panna cotta and granola to fresh biscuits and eggs to a breakfast bibimbap.
As much as he's thrilled about having his own menu and place, in characteristic humility, he redirects attention to what he sees as a growing young chef movement that he's excited to be a part of, citing recent and upcoming restaurant openings like Heeia Pier and The Whole Ox Deli.
Look for news of Cafe Julia's opening on Biting Commentary.