Building Lanterns At Shinnyo-en Temple For The Annual Lantern Floating Ceremony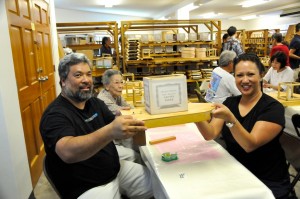 Every Memorial Day, thousands converge at Ala Moana Beach for the the annual Lantern Floating ceremony, a time to remember those who have died and hope for peace and a harmonious future. To prepare for the event, dedicated volunteers spend their weekends building lanterns to carry people's prayers and memories.
Last Saturday, I joined my friends Don and Terri Aweau, along with 40 other volunteers of all ages, at the Shinnyo-en Temple in Moiliili. I thought it might be a somber gathering, but I was surprised to find a joyful atmosphere. I was reminded that lantern floating is not a sad occasion, but a happy one. "The tears you see are tears of joy," an organizer told the volunteers. That message carried on as volunteers washed their hands and said private prayers before starting their work using blessed wooden planks and tape to wrap the frames with sheets of paper.
Video