#BTS with Top Chef fan fave Sheldon Simeon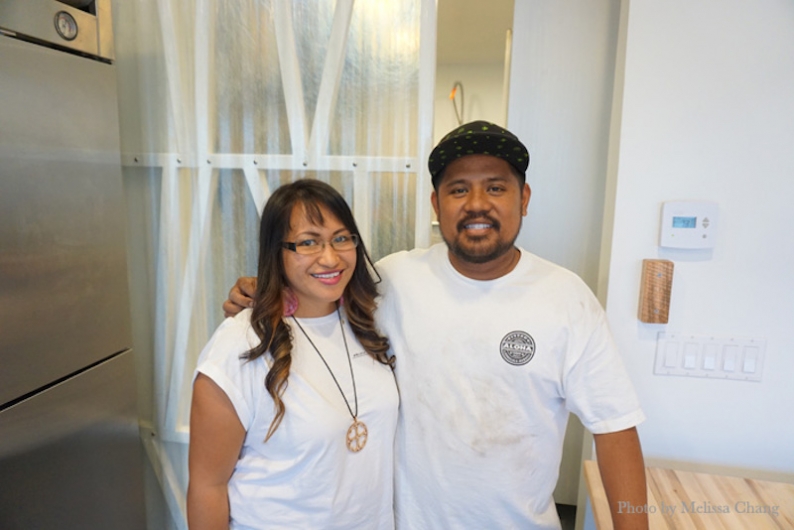 Could the timing be any better? On March 1, Hawaiian Airlines continued its guest chef series and rotated Maui's Sheldon Simeon in for the next few months with a domestic first class menu that showcases his talent.
This was the week after Simeon got eliminated from the final three of Bravo TV's "Top Chef." There were tears. There was public outcry. But it was still a strong finish and Simeon ended up winning Fan Favorite — the second time he's gotten that title on the show (he also won it after appearing on an earlier season). You can bet his Tin Roof restaurant in Kahului is pretty slammed with the second wave of his fame, and I expect the same from his HALA restaurant in Wailea later this year. I'm pretty sure this will affect the Hawaiian Airlines first class bookings, too; I am leaving on another adventure this Friday and was hoping to upgrade my flight. On March 1, only two first class seats were sold. On March 3, the whole section was filled. Coincidence?
I got a little behind-the-scenes dialogue with Simeon in preparation for my post about him on Hawaiian Airlines' website. The corporate bio is pretty standard, but get to know him a little better with these outtakes.
What inspired you to become a chef? Who has influenced your cooking the most?
My upbringing is my hugest influence in my cooking. My flavors and dishes are all a reflection of my surroundings in Hawaii. We learned to cook at a very young age for several reasons: My mother had a stroke when we were still kids and our dad worked two jobs to make ends meet, so we were left with the responsibility of cooking. Our house was also always the gathering spot, we were the family in the community that would cook for graduations, birthday parties, etc., so cooking was always around us. While other kids cruised down the beach on the weekends you'd usually find us at home prepping and cooking for some type of gathering. To tell you the truth, I really wanted to become an architect — I took mechanical drawing and drafting classes in high school. However, my brother Jeremy, who is three years older than me, went to culinary school and that kinda influenced my decision to skip on the four-year college and enroll in culinary school, too.
Do you have a favorite junk food or guilty pleasure?
Damn, I freaking love McDonalds. I can't stomach it like I used to but it was normal for me to roll up and order like $25 worth of food for myself. Gross! haha
When you're not working in the kitchen, what do you like to do?
Chilling with my wife, Janice, and my kids. All my kids have the same appetite as I do. We eat out a lot and I love watching other people's reactions when they see how my kids get down on the grub.
When you were a kid, what did you want to be when you grew up?
I don't really remember. I do know that I really wanted a lifted Toyota Truck! Haha.
What's your favorite vacation memory?
My favorite vacation memory has to be going to Europe with my wife Janice. It was the first time in over 10 years that we got to enjoy together, just us. We were in Venice looking for some restaurant that one of the locals recommended. With the night quickly approaching we had difficulty finding the place and then there was a downpour. We were lost and soaked to the bone but we stumbled on a cute little café, nestled in the back alley of the city and had the most wonderful meal enjoying each other's company and good wine. Super romantic. Awwww.
To see the rest of Simeon's interview, click here.