Brunch + Market at Morimoto Waikiki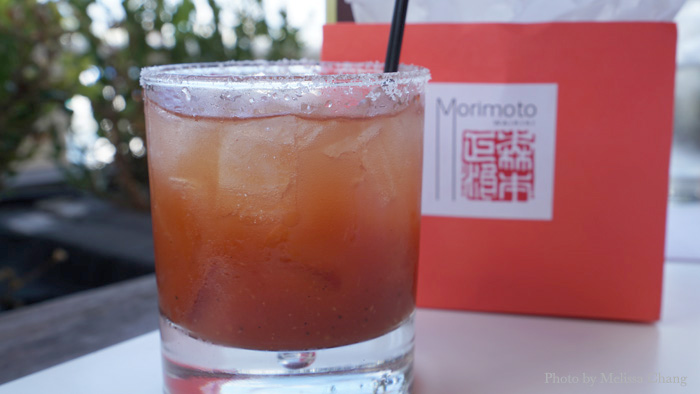 I think a lot of people mourned the loss of breakfast/brunch at Morimoto Waikiki, but the reality is, high-end breakfast spots don't really do so well on the weekdays. If you need to get your fix, the restaurant is bringing brunch back on the last Sunday of every month with a retail component, called Brunch + Market.
You can order your food, as we did, and then wander to the pool side of the lanai to check out a mini-marketplace of local clothes and accessory pop ups.
One of the popular retailers was Posh Hawaii, with lots of trendy, ready-to-wear items and fun snapbacks. They are originally from Maui, but are now on Oahu and since they only do pop ups (for now), you'll have to follow them on Instagram to see where they'll be next.
Tessaly Antone carries a line called Enti Glamour, which features A-line tunics and angel sleeves, which she says is good for women with fuller figures. Also, it's good to wear to brunch to hide what you ate.
Some jewelry at the market last Sunday. I'm not sure if the vendors will change every month; the restaurant may still be figuring that out, as well.
But, on to the food! We thought we might try some new dishes, although you can see that many of the breakfast favorites remain (like the loco moto).
Something about brunch makes you want to indulge in mimosas or bloody Marys.
You might want to order the vegetable frittata ($15) to share as a side. It's a vegetarian option, with tofu, potatoes, onion, zucchini, tomato and eggs. It's pretty good, but kind of small.
At the other end of the spectrum, you have A5 Wagyu steak and eggs ($55) served with a hash brown that's perfectly crunchy. They serve it with yuzu hollandaise, but the A5 doesn't need any sauce as it's great on its own. If the A5 is too steep for you, you can get a regular Wagyu steak and eggs for just $38.
The yellowtail mori cristo ($18) is a little hard to eat as the bread layers are very thick and there's some gravy on the bottom. You get generous slices of raw fish, egg, avocado…That's a lot to tackle in each bite!
I really liked the salmon gravlax benedict ($20), which has a yuzu hollandaise. The yuzu brightens up the richness of the egg and the saltiness of the salmon.
They have their regular dessert items on the brunch menu, but one new bite is a pineapple bread pudding served with housemade wasabi-raspberry sorbet. I love the chunks of pineapple in the bread pudding!
If you're going to check it out, remember that this event is only on the last Sunday of the month.
Brunch + Market
Morimoto Waikiki – in the Modern Honolulu
1775 Ala Moana Blvd.
808-943-5900