Breakfast of champions: The Cracked Egg in Vegas
Thanks to late nights on the blackjack table and hectic days, my blog is now about a day behind. Such is a vacation in Las Vegas!
Thanks to a reader suggestion, Ed, Amber and I sought out The Cracked Egg, a (Las Vegas) local chain that serves up breakfast and lunch. As the name suggests, they're known for their egg dishes, but we found that anything they serve for breakfast is pretty awesome. As it turns out, they try to use everything fresh: Their vegetables are chopped up by hand, and since they acquire their produce fresh daily, the fridge is nearly empty. That freshness is pretty evident in the taste of these homestyle dishes. Here's what we ate:
The Cracked Egg
The service was also attentive without being overly so. I mention this because we've had a wide range of service here in Las Vegas, and this was one place that made us feel comfortable, happy, and relaxed — but with enough attention that we knew we didn't have to worry about needing to flag anyone down for anything except to ask nosy questions.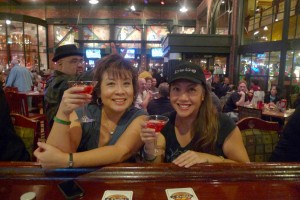 Speaking of good service, I should mention that when we got back to the hotel, Julie and I had a nice time at the Triple 7 Brew Pub in the Main Street Station. The bartenders were friendly and helpful (a breed that has been surprisingly hard to find on this trip, even on the Strip) and made yummy drinks (also surprisingly rare). If we weren't driving around so much, we would probably name Triple 7 our bar of choice, since the Cosmopolitans were just $4-4.50 and we could call our vodka, even at that price. Cosmos have been running us about $10-14 at other places, even downtown.
Disclaimer: Air & hotel were provided by
Boyd Vacations Hawaii
for an assignment for InsideOut Hawaii.
========
You can read all of Melissa's blogs at www.nonstophonolulu.com/urbanmixplate. Follow Melissa on Twitter @Melissa808, on Foursquare as Melissa808, or email at Melissa@nonstophonolulu.com.
My recent blog posts:
Vegas: A fun day on the Strip
Welcome to Vegas, baby
Where I'd tell the Obamas to eat
Hawaii: In Real Life ~ Midori-dori
Vegas lucky charms
Hawaii: In Real Life ~ holiday hot chocolate
Vegas, here I come!
Hawaii: In Real Life~building a gingerbread house
Tweets from the road: Marathon 2010
What's up with the knee high socks?
I want a Bit of Sugar!
Terry's Place and the Underground Chefs
What's your passion?