Bonzer Front: Where to Get Wine and Craft Beer on the North Shore
This beachy shop stocks some of the coolest labels in the country.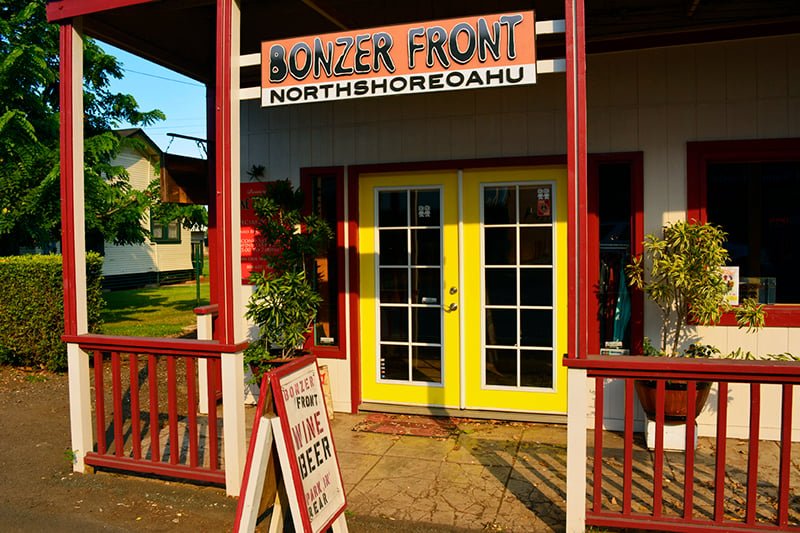 The North Shore of O'ahu may get plenty of recognition for its big waves, surf shops and shrimp trucks. But you should add wine and craft beer destination to that list too. Yes, really.
Bonzer Front, a tiny bottle shop (a term more commonly used on the Mainland for a store that sells beer, wine and liquor) located on the main strip in Hale'iwa town across from the post office, may look like another surf store from the outside, but it houses a carefully edited selection of the kind of wines that are popping up on the trendiest lists in Brooklyn and Silver Lake.
The brightly colored front room houses a gourmet food and cheese counter as well as a wall of wines under $20 and craft beer from the likes of Ballast Point, Mission, Mikeller and Deschutes.
But it's the back room that contains the big surprise: a solid selection of some the buzziest names in wine right now.

The small but well-curated rotation is heavy on new California labels (Matthiasson, Forlorn Hope, Broc Cellars) but some outliers make the cut too, including Mouton Noir (Oregon) and Scarpetta (Italy by way of Colorado sommelier Bobby Stuckey and chef Laclan Patterson). And if you like more traditional big reds, there's that too, from the likes of Duckhorn and Mollydooker.
The store belongs to Megan Campbell and Noelle Hayes, daughters of Duncan Campbell, a renowned board shaper, and his wife Jacqueline, who own Café Haleiwa, located just a few doors down.
Pick up some a bottle and cheese for an impromptu picnic, or carry your selections over to Café Haleiwa open during dinner. The store also hosts popular wine and beer tastings accompanied by live music, if you're looking for an early evening post-beach pit-stop.
Bonzer Front, 66-452 Kamehameha Highway, park in the rear of the store, 637-3420, bonzerfront.net, closed Mondays.