Bonjour! A day in Meursault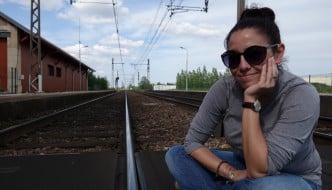 After tasting various wines in Beaune, Ahnya and I found that we both really liked white wine from a particular area called Meursault. I realize the flavors and complexity will vary from winery to winery, depending on blends and which farmers they source from. But after our blind taste test at Sensation Vin showed us that we would pick that one every time, we knew we had to visit the area.
When you find yourself in Burgundy, the most ideal situation is to get a car, if you can drive a stick shift. Neither of us can, so we had to catch the train to Meursault (about 10 minutes) and hoof it the rest of the way. Follow the road from the train station, and it's about a mile into town. Note that trains through here are not frequent, so you'll have to watch your time and plan your day according to the train schedule.
Every town in France has some kind of monument to honor those killed in WWI and WWII, which is sometimes sadder in some towns than others because the population is so small that you know a huge percentage of the people were wiped out. On this day, we saw a guy meticulously cleaning the monument, but we weren't sure if it was his job or if he was just dedicated to it.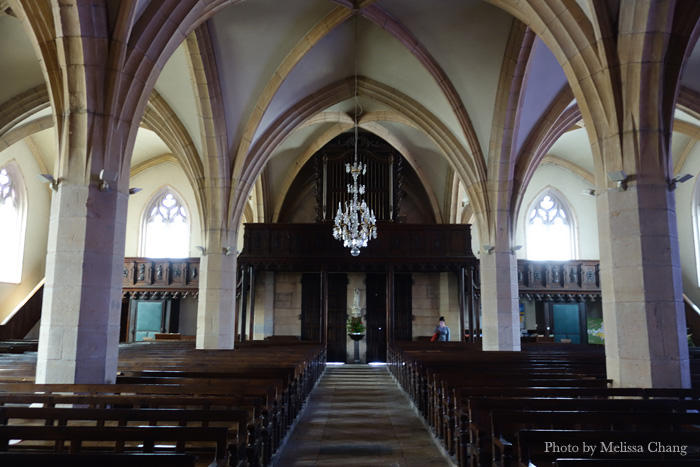 Inside the church. I'm standing at the front and looking back, so you can see the chandelier in the middle. Off to the right, there's a vessel that looks like a stone fountain and a pitcher of holy water with a sign that says, in French, "Help Yourself." I totally would have done the self-serve holy water!
We wandered the streets nearby to find a place for lunch, and picked a local-looking spot that didn't have any tourists. The inside smelled like Perry Boy's Smorgy and the decor was very simple; there was just one waitress and a chef (well, maybe a waitress assistant, too, but she wasn't doing much) so the service was painfully slow. But guess what? At the end of the meal, when I took this photo of Chef Laurent Cipcia, it turns out he's pretty famous and was featured in Vin & Gastronomie Magazine — in the issue that was sitting in our hotel room! What are the chances?
So before we knew about our famous chef, of course we ordered Ahnya's escargot of the day. These were served scalding hot and for some reason, the sauce was better than others we had had in our travels.
I don't know of anyplace outside of France that serves tête de veau (veal head), or at least not a decent spot. I had not had this dish in two years, and Le Bouchon's was done very nicely. Even the potatoes were perfect and needed no extra seasoning. (When we had it at Chartier in Paris, the potatoes were bland and I introduced my nieces to the magic of truffle salt.) Yes, as with any animal head, it can be fatty, but this didn't taste greasy or fatty.
Ahnya had the grilled steak, which was also excellent. The sauce was savory and complex, but not at all overpowering. The food was so good that I wanted to try dessert, but the service was so slow that we dreaded the wait. Maybe next time. Now that we know how famous the chef is, we'll have to stay and try other items!
Restaurant Le Bouchon
1 Place de L Hôtel de ville, 21190 Meursault, France
+33 3 80 21 29 56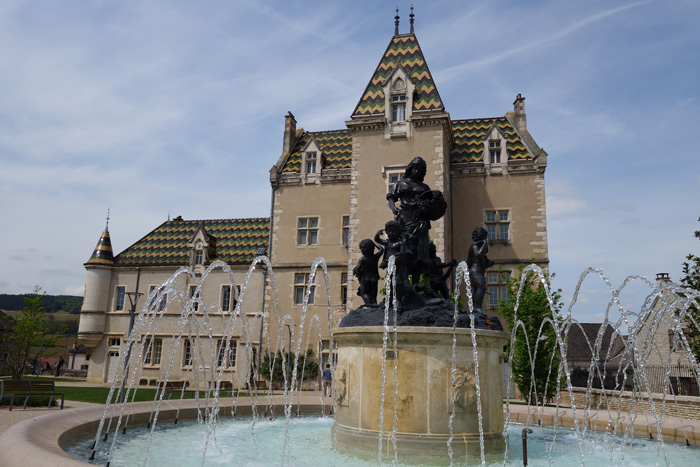 And off we went on our walk through town. This pretty fountain is near the restaurant, and if you look closely, you can see that it celebrates the wine culture of the area.
We found a gated cemetery, which I normally wouldn't explore, but this one was clearly for upscale families. The graves were huge and mostly marble or granite. Each grave had metal or stone placards from various friends or family permanently laid on top — some people had more than others — as a way to have permanent flowers and wishes. I think that since Meursault is kind of out of the way, perhaps friends and family aren't able to visit their loved ones' graves regularly.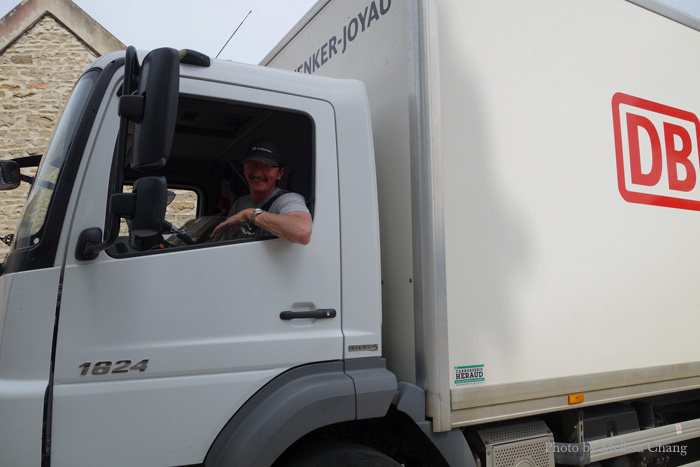 As we left the cemetery and I paused to take photos of the signs on the street, this trucker stopped in the middle of the intersection to yell (in French) to take his picture, too. Ha! What is it with me and truckers?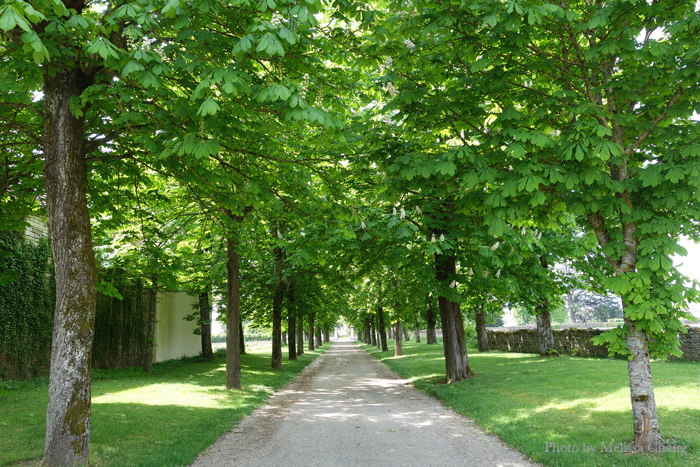 And finally, wine tasting. We really didn't have the capacity to drink a ton of wine each day, so we had to choose carefully. This long driveway looked promising.
It turned out to be Chateau de Meursault, a landmark in this city that was built in the 11th century. At the beginning of the 19th century, then-owners the Serre family made major architectural modifications and considerably developed the vineyards of the estate. But get this — I didn't know this until I started writing this blog entry — in 1973, it was bought by Andre Boisseaux of Patriarche. Yesterday's wine! He completely restored the chateau. In 2012, it was acquired by the Halley family.
The estate is huge; this photo only shows you one small part of it. We had to walk quite a bit just to get to the wine tasting! The lawn is so large that helicopters use it for wine tours and dignitaries.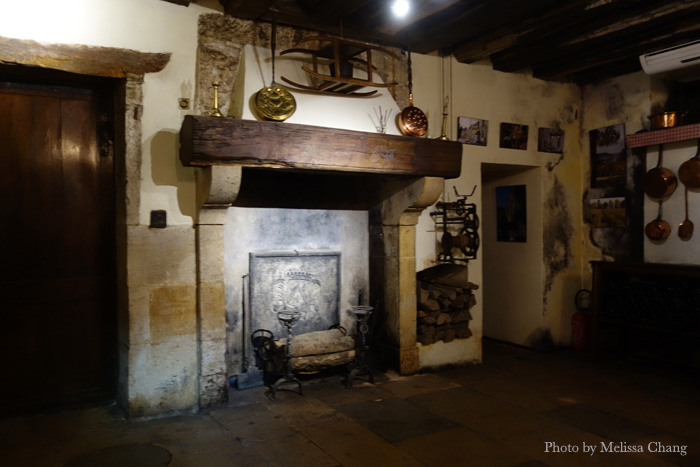 Once inside, you do a self-guided tour. Alas, it's not a self-pouring tour. But you do get to see the ancient living quarters and the caves. Two things come to mind: One, if it was restored by Patriarche, why is the chateau so dark and scary? It really needed interactive video kiosks. And two, if it was part of the Patriarche estate, why aren't Patriarche's wines better? Hmm.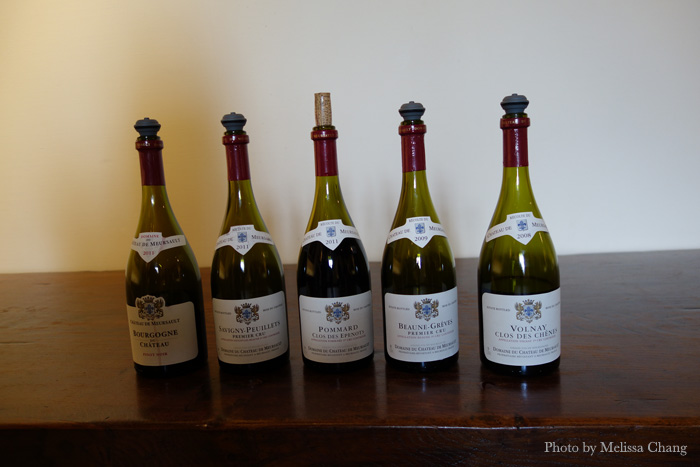 The Chateau de Meursault wines were all nice and as usual, the white wines of this region were outstanding. They were also considerably more expensive, though, so I could only afford to buy two cheap bottles.
Chateau de Meursault
5 Rue du Moulin Foulot, 21190 Meursault, France
+33 3 80 26 22 75
We would have stayed longer, but we had to catch a train back to Beaune. I liked Meursault as much as its wines, though, so I'm considering going back someday for a peaceful, boozy escape.
These were just the highlights. To see more from this trip, click here.
Up next: Our favorite eats in Beaune. This one might be a long one!