Blaine Wetzel from The Willows Inn coming to Vintage Cave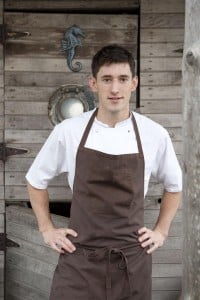 Coming to Honolulu: Blaine Wetzel, the wunderkind chef (age 26) of The Willows Inn on Lummi Island, Washington, and a 2012 Food and Wine Best New Chef. He and Chris Kajioka are collaborating on a dinner at Vintage Cave, the recently opened, fine dining restaurant in the basement of Shirokiya.
Kajioka spent a week in Wetzel's kitchen before opening Vintage Cave. His time there was short but influential, perhaps because The Willows Inn is unlike most restaurants. All the cooks live together in a farmhouse and they forage around Lummi Island for their ingredients every day. Wetzel gets everything from the island—fish from the waters around it; lamb, beef and duck from a nearby ranch, and fruits and vegetables from the farm where the cooks sleep. The Willows Inn is a destination restaurant, 100 miles north of Seattle, serving only 28 guests in one dinner seating a night. The New York Times recently named it one of ten restaurants worth the plane ride. In other words, The Willows Inn garners the renown that Vintage Cave seeks.
While Kajioka doesn't embrace the hyper-locavorism that The Willows Inn embodies (Kajioka will fly in the best ingredients from anywhere), its influence is certainly present in Vintage Cave: in some of the ceramics Kajioka has chosen, in dishes like the charred cabbage and the oysters set on a bed of rocks and seaweed, in the part-time forager Kajioka has on staff.
Wetzel is set to cook at Vintage Cave on Sunday, February 24. He'll arrive a week earlier to explore Oahu for ingredients. Mark Noguchi, one of Kajioka's chef buddies, plans on bringing Wetzel to Heeia fishpond, Waimanalo and other places to forage.
Also collaborating on this special guest dinner is Baruch Ellsworth, the 33-year-old pastry chef at Canlis, a Seattle institution.
Blaine Wetzel guest dinner at Vintage Cave, Sunday, February 24, menu and price has not yet been set, call 441-1744 for reservations.