Bevy: New chef, new pupu menu, lunch coming soon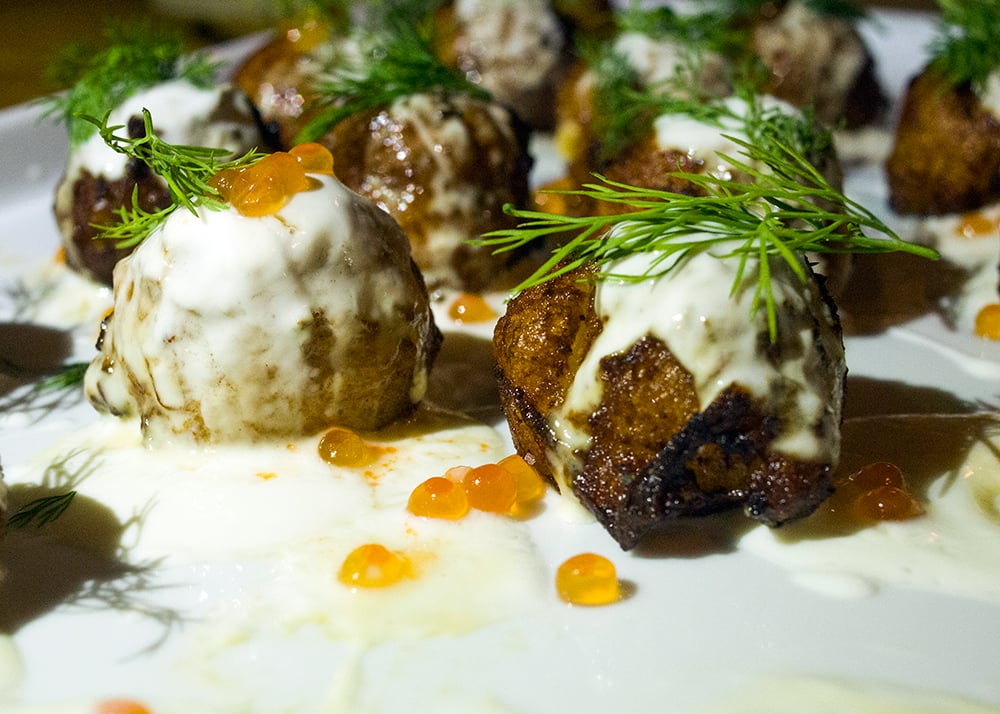 My first date with the woman who is now my girlfriend was at Bevy. So it's fitting that as we close in on our one-year anniversary, I swing by Bevy to celebrate its third. And what an anniversary. Bevy has a new chef, a new food menu and new cocktails by owner-mixologist Christian Self. And that's not all: It's about to open a lunch spot next door.
It turns out the new chef has old roots here. Susan Smolinski, a KCC culinary grad, worked at Livestock Tavern and MW Restaurant before coming to Bevy as a line cook a couple years ago. She left to work in England under Michelin-starred chef Richard Bainbridge, and now she's back home in Kakaako.
That's a lot of chutzpah, and a lot of culinary mileage. So what's a local chef with Michelin experience serving up on her first menu? To celebrate Bevy's anniversary, I got to taste a few of the answers. More than taste, actually. Since it's a three-year anniversary, I tried everything at least three times. It's a tough job, but somebody's gotta do it.
The first edible was my favorite: potato puffs with creme fraiche and salmon roe. Light, airy and tasty, everything you would expect from a puff. The creme fraiche adds a taste and texture that goes well with the burst of saltiness from the salmon roe.
Another winner was the smoked opah rillette on a taro chip. The meat is moist, with a mild smokey flavor that lingers on your tongue. A zesty bite of lemon accompanies the experience.
The fried chicken with Asian pear and nori was a special. The pear had the curious effect of watering down the chicken. The dish was light and refreshing, but could do with a bit more nori for a stronger salt flavor.
Although I'm not a fan of vegetables, I diligently tried the vegetarian option, another special: Celery root on lemon sauce, topped with mushroom and watercress. An interesting experience, the celery root had a mild potato flavor and a pleasant herby aftertaste.
My final sample of the evening was roasted lamb shoulder on radicchio with preserved lemon yogurt. The lamb was tender and juicy. As I opened my mouth wide, I struggled to keep the excess juices from going down my chin and onto my shirt. I would recommend eating the radicchio separately. The bitterness in the radicchio is intense.
Bevy Market, opening this month right next door, will be all about lunch. It's in the old Cocina space, a.k.a. the old Taste space. You can't miss it.
When it opens you'll find Smolinski's gourmet salads, sandwiches and specials, much of inspired by New York-style delis. And you'll spy a retail area featuring made-in-Hawaii goodies such as hot sauces, salt, coffee, pasta, handmade soaps, Bevy syrups and T-shirts.
There's ample seating nearby in the Salt at Kaka'ako complex, though choices inside are limited to a few seats at a counter with a great view of Auahi Street. If you frequented Cocina or Taste, you'll remember the tiny kitchen off in the back. Now that's been expanded and opened to the dining area.
After our first date at Bevy, I was driving my soon-to-be girlfriend home when we encountered a DUI checkpoint. We had enjoyed a fine Moscow Mule, so I was realistic about my ability to pass. As I touched my nose with my finger while standing on one foot and did a myriad of other tests, the police officer noticed how cheerful I was. I laughed and explained that I was on a first date with a beautiful woman and besides the DUI checkpoint, things were going pretty well. He laughed too, looked at my date, and told her to drive instead of me.
After our first anniversary, I'll have to take my girlfriend to Bevy Market. For less drinking (maybe) and more eating.
Bevy / Bevy Market
661 Auahi St.
594-7445