Behind the recipe: Parmigiano ice cream cannoli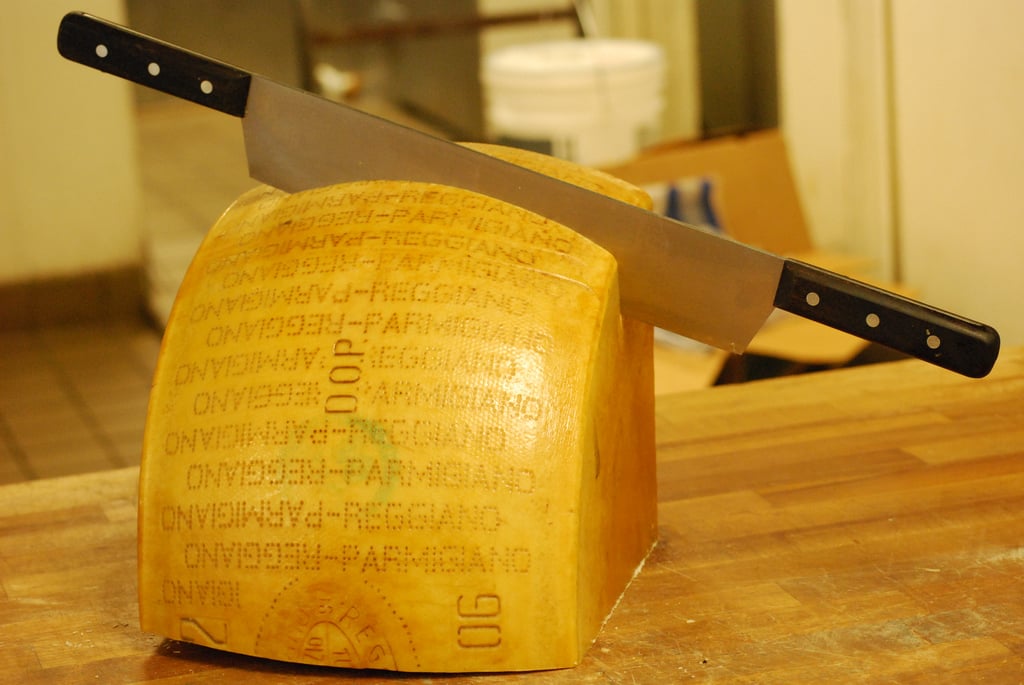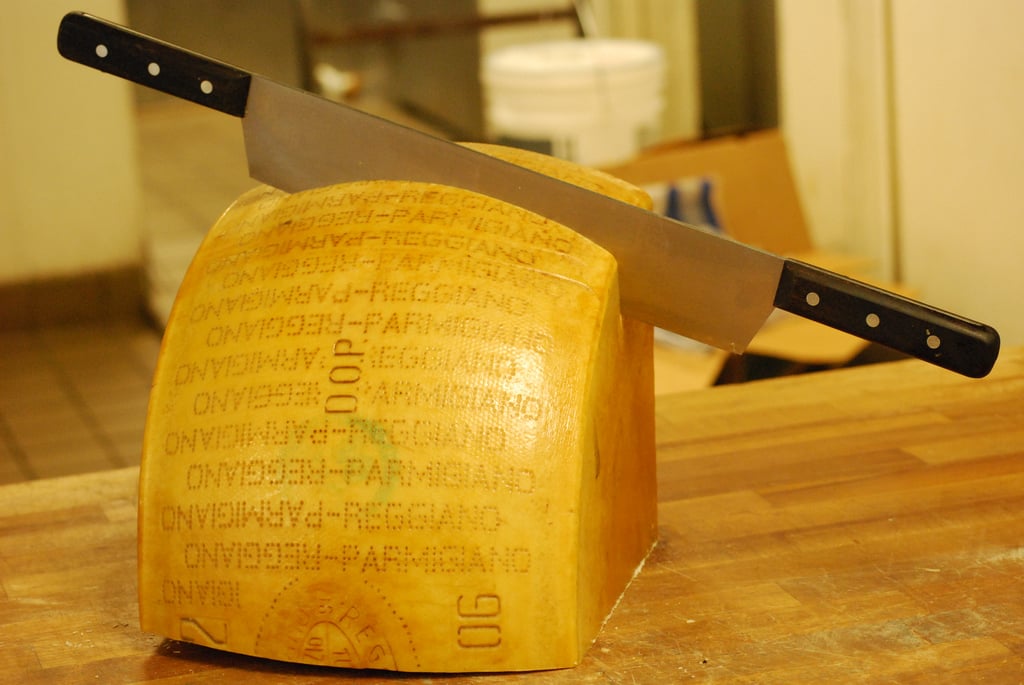 In honor of this Saturday's attempt to set the Guinness World Record of simultaneously cracking 500 wheels of Parmigiano Reggiano (dubbed "Parmageddon"), Whole Foods Market has asked bloggers to share their stories about the role this cheese has played in their foodie lives.
When I heard about this, I was instantly reminded of my dessert course from last year's Good Table dinner benefiting Lanikila Pacific's Meals on Wheels program.
A recipe rarely just manifests itself and says, "here I am!" Behind every recipe, there are countless test batches, minor and major tweaks, hours of general trial and error, and sometimes a complete change of direction. Usually, the better the recipe, the better the story behind it. So here's my story.
The story of my Parmigiano ice cream cannoli precedes Good Table by a little over eight years. In 2005, I was the pastry chef at a yacht club in Northern Michigan. During the winter months, the yacht club was only open two days a week, which meant that the other chefs and I had a lot of free time on our hands. Although a good portion of that time was spent snowboarding, we also spent a lot of time in the kitchen working on the next season's menu for spring, when the club reopened.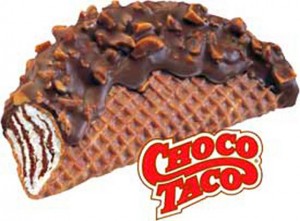 Around this time, the local Taco Bell started selling Choco Tacos, a waffle cone shaped as a taco shell and filled with ice cream, fudge and topped with a milk chocolate coating and nuts. One day, one of the yacht club sous chefs suggested that I make an "upscale version" of the Choco Taco, and the idea was planted in my head.
I worked on this idea off and on for months. One problem was how easily the shell would break. I didn't have a waffle cone iron, so I tried various cookies and even tuiles, but the cookies were difficult to shape and the tuiles didn't freeze well. My eureka moment came late one night while flipping TV channels and seeing "The Godfather." Cannolis were the answer.
Once I settled on the cannoli idea, it completely altered my creative direction. The last thing I wanted was for someone to taste my new dessert and say, "Oh, that's just a Choco Taco." I started to think of Italian flavors that would set my cannoli apart.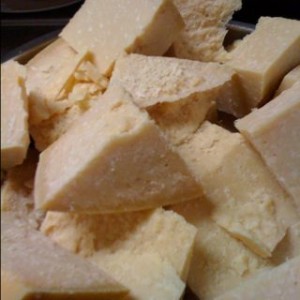 I knew I didn't want to use vanilla ice cream, so I tried buttermilk ice cream followed by rosemary, creme fraiche, lavender (which ended up tasting like soap), and at one point, I even tried a Kalamata olive ice cream.
I realized I was over-thinking it, so I looked at the classic cannoli made with ricotta cheese. Yet, ricotta ice cream seemed too obvious, so I started thinking of other cheeses like mascarpone, but I found that to have too neutral a flavor. Then one day as I was making a vanilla ice cream base and saw one of the cooks grating Parmigiano Reggiano. I grabbed a handful of cheese and added it to my ice cream base, which proved to be a perfect match for my cannoli. To complete this desert, I recalled another simple Italian combination of ice cream, strawberries and balsamic vinegar.
That summer, I was able to get some beautiful wild strawberries from the local farmers' market. They were tiny, yet packed with flavor. They didn't last long after they were picked, so I bought a bushel and dehydrated half, then cooked the rest down into a jam. For service, I sauced the plate with balsamic reduction, then added the dried strawberries to the warm jam and topped it with fresh cracked pepper.
For the Good Table dinner, I substituted the Parmigiano Reggiano with SarVecchio Parmesan. Both cheeses tasted great in the ice cream, adding a nice umami flavor to the dessert.
Here's what my Good Table course looked like.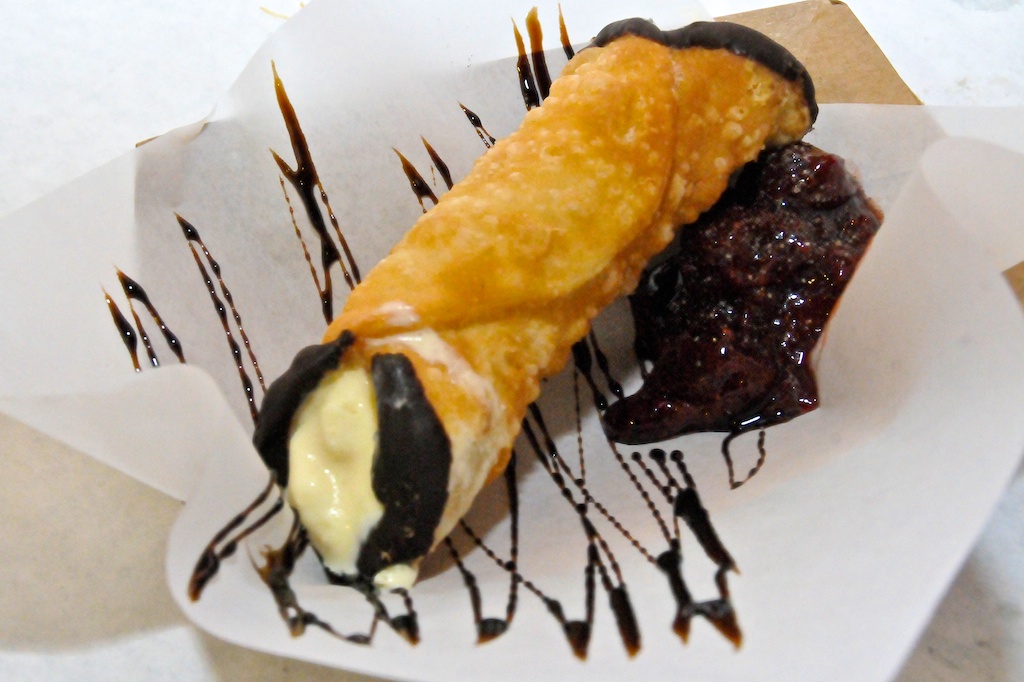 Recipes
Cannoli Shell:
1 lb. 4 oz. All Purpose Flour
2 oz. Sugar
2 oz. Salted Butter (soft)
12 oz. Marsala or White Wine
as needed Egg Whites
as needed Oil (for frying)
as needed Dark Chocolate (melted)
Combine flour, sugar and butter in a small mixer with a hook attachment and process until a light crumb forms.
Add Marsala and continue processing until dough forms.
Cover dough and let sit for at least 30 minutes.
Roll out dough to 1/16th of a inch thickness
Cut dough into 4 inch circles.
Wrap dough circles around cannoli tubes, using the egg white to seal the seam.
Roll the cannoli wrapped tube back a forth a few times to make sure the seam is sealed well.
Fry cannoli shells in 325ºF cooking oil until they start to float and turn golden brown.
Remove cannoli shells from cooking oil and extract metal tube while shell is still warm.
Allow cannoli shells to cool completely before dipping the ends in melted chocolate and placing them into the freezer to be filled later.
Parmigiano ice cream:
1 qt. Cream
8.5 oz. Sugar
1.25 oz. Glucose or Corn Syrup
0.75 oz. Honey
6 oz. Egg Yolks
4 oz. Parmigiano Reggiano (grated fine with a microplane)
Combine cream, sugar, glucose and honey in a pot and bring to a simmer.
Temper egg yolks into the cream mixture and continue heating, whisking continuously.
Once all the egg yolks have been added, turn off the heat and add the grated Parmigiano Reggiano cheese. Continue to stir until all the cheese has been melted.
Strain the mixture and chill in an ice bath.
Once the mix has been completely cooled, refrigerate for 8-12 hours before churning.
Churn Parmigiano ice cream mix in an ice cream freezer according to unit's instructions. Volume should increase by 50-75%.
Extract ice cream directly into a pastry bag.
Fill cannoli shells immediately, and place into the freezer until ice cream has completely set.
Strawberry Jam:
1 lb. Strawberries (tops removed and cut in half)
8 oz. Sugar
1 oz. Balsamic Vinegar
2 oz. Brandy
1 ea. Vanilla Bean (split in half lengthwise)
1 ea. Cinnamon Stick
2 oz. Honey
8 oz. Sugar
1 oz. Pectin
1 lb. Dried Strawberries (optional)
Combine strawberries, first measure of sugar, vinegar and brandy in a pot and mix with a spoon until the strawberries are coated with sugar.
Cook mixture until strawberries start to breakdown and liquid begins to boil.
Add vanilla bean, cinnamon stick and honey to the pot and continue to cook for 5 minutes.
Combine second measure of sugar with pectin (mix well so that the pectin does not form clumps), and add to pot.
Stir sugar and pectin into the mix and continue cooking until the jam reaches 223ºF (106ºC).
Add dried strawberries and allow jam to cool completely before refrigerating. Allow to sit for 8-12 hours before serving (serve warm). If canning, do not add dried strawberries to the pot. Portion dried strawberries into warm sterilized jars and pour jam over them. Make sure no air pockets are trapped within the jam. Wipe the rim, place the lid on the jar with the collar and process the jars in a boiling water for 20 minutes. Check lids after 24 hours. When done correctly, the center of the lid should not flex up and down when pressed.
Balsamic Vinegar Reduction:
1 C. Balsamic Vinegar
4 oz. Brown Sugar
Combine vinegar and brown sugar in a pot. Bring to a simmer and reduce by half. (do not boil otherwise reduction may become bitter)