Beer Society Clam Bake at 12th Avenue Grill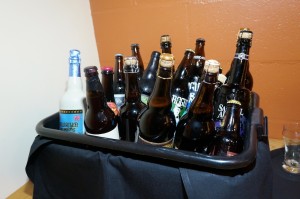 Being a beerophile on an island in the middle of the Pacific means that unless you're willing travel or patronize the gray market, you are limited to whatever local distributors choose to bring into the state.
A lot of great beers do make it into the Hawaii market, but this is only a small fraction of what's available from the many breweries throughout the nation and the world. This is the niche that the Beer Society at 12th Avenue Grill fills with its monthly bottle share dinners.
Beer lovers often horde beers in their private collections, which usually consist of limited edition runs or beers from breweries that don't make it to Hawaii.
I've been to more than my fair share of beer dinners, and the Beer Society collectively featured some of the best beers that I've tasted at any local event. Here's a look at the amazing beers attendees shared at this month's Beer Society dinner.