Beaune: Fallot mustard, Hotel Dieu & Marche aux Vins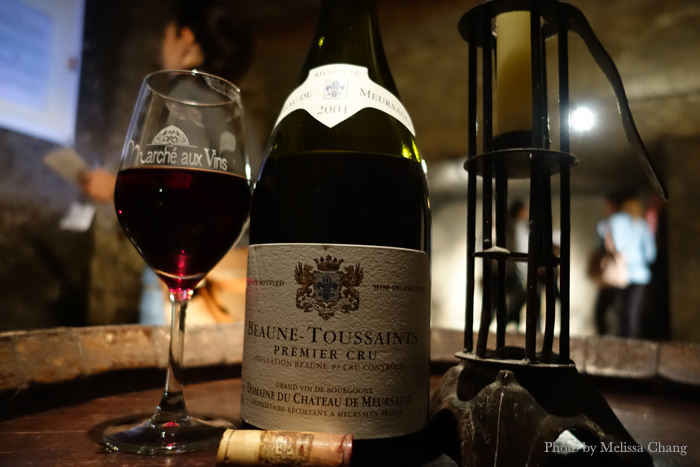 Although Dijon is a famous name for mustards, it's actually one city in the entire Burgundy area that produces our favorite spicy condiment. When you go to Beaune, as we did, I recommend the Fallot Moutarderie tour.
There was no question that we'd be visiting Fallot, as it is one of the oldest, family-owned artisanal mustard (moutard) makers in Burgundy. And later, we found out that this was a better tour than someone had in Dijon, because Fallot actually showed us how they make it. Not only did they show us, there were interactive components to the tour where we "become the mustard seed," and go through a simulated process of being shaken and sorted, then rinsed. It was hilarious and well thought out.
Unfortunately, I can't show you the inside of the factory as they didn't allow any photos. But I can tell you something that I didn't know before: not all Dijon mustard is made with French seeds. Many, in fact, import their seeds from Canada and the United States, where the crop is more profitable. (And "Dijon mustard" has now become a generic name, so the mustard is produced in Holland, Japan, and the United States.) Up until WWII, there were many charcoal-burning kilns in Burgundy and the discarded ashes — rich in potash — encouraged the growth of mustard. When demand for industrial charcoal use waned, mustard seed cultivation also dropped off in the area and manufacturers had to find their seeds elsewhere.
In recent years, there has been a resurgence in mustard cultivation in Burgundy, and artisanal producers like Fallot use seeds from the region as well as AOC Burgundy wine in their recipes, in keeping with creating traditional mustard. So, after our tour of the factory, we got to taste their products to see the difference. They make Dijon-style mustard, as well, with Canadian seeds, and it was good to be able to taste the difference. The Fallot traditional mustard was much, much spicier, with more complexity than regular mustard. You really get the tartness of the special wine used (versus regular vinegar) and mustard flavor the way you imagine it's supposed to taste. Like all artisanal products, a little goes a long way, so you don't have to slather their mustard on your food to experience it — nor would I recommend it, as too much will make your sinuses explode!
La Moutaderie Fallot
daksfja;
To book a visit, click here.
The other thing you'll want to do in Beaune is visit the Hotel Dieu, which is part of the heritage of the Hospices de Beaune, a charitable institution founded in 1443 by Nicolas Rolin, chancellor of the Duke of Burgundy and his wife Guigone Salins. Although the actual hospital has moved to another part of town and is modernized, this landmark in the middle of the city — with its Gothic façades, glazed roofs, covered with geometrical figures with flamboyant colors, is a must-see.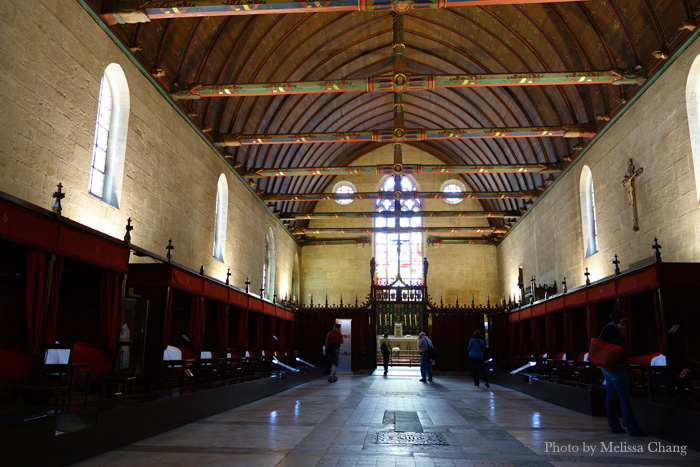 The self-guided audio tour takes you through the halls featuring a vast collection of objects, furniture and tapestries from the 15th century. It's kind of neat to see how they worked and lived during this time, and the audio tour brings it to life. (My niece Ahnya thought it was hilariously acted out.)
Annodah Dave (who comments on this blog) and my brother in law Stan both mentioned wine tasting at Hotel Dieu, but we couldn't find any information on it. We did find a link to an annual wine auction in November, which is huge, but nothing on daily tasting. We THINK the wine tasting spot related to Hotel Dieu on a daily basis is at the Marche aux Vins, right in front of the Hospices de Beaune in the ancient Church of Cordelier.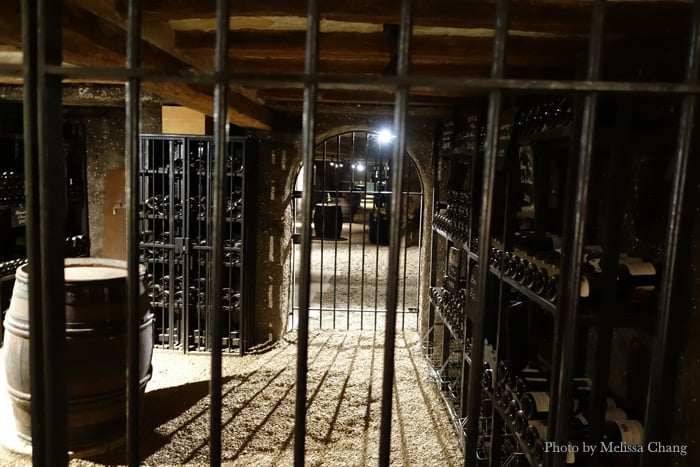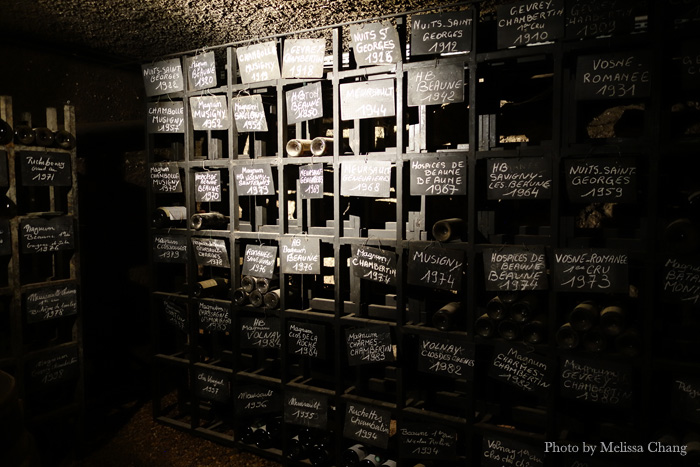 They offer a self-guided, self-pouring tour underground in their caves. You would never find such a thing in the United States, but here we were, two Chinese people in a cave full of wine, pouring ourselves our version of a taste. For 11 euro, you can taste six wines including one Premier Cru; 16 euro, get nine wines including three Premiers Crus; 22 euro, get 10 wines including three Premiers Crus and one Grand Cru; and for 26 euro, get 11 wines including three Premiers Crus and two Grands Crus. No matter which you choose, you get to keep the glass as a souvenir.
I don't know if they have attendants in the caves during high season, but here the place was pretty much empty so we could get seconds of the ones we liked. Oh, the tour was interesting, too.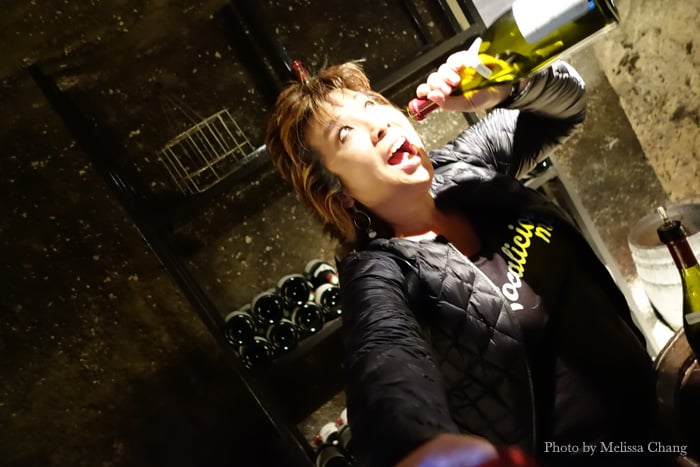 To be honest, you probably can do more tasting (and with high quality wines) in the Burgundy countryside if you have a car and can head out to the actual wineries. But if you are without a car, as we were, you can still get a good variety of wine tasting right in walking distance of each other in Beaune.
Marche aux Vins
7 Rue de l'Hotel-Dieu
33 3 80 25 08 20
Tomorrow I'll show you what we did at a wine class (which is what we should have done first, but was interesting nonetheless), the wine museum, and a tasting at Patriarche!