Beaune eats: Part 2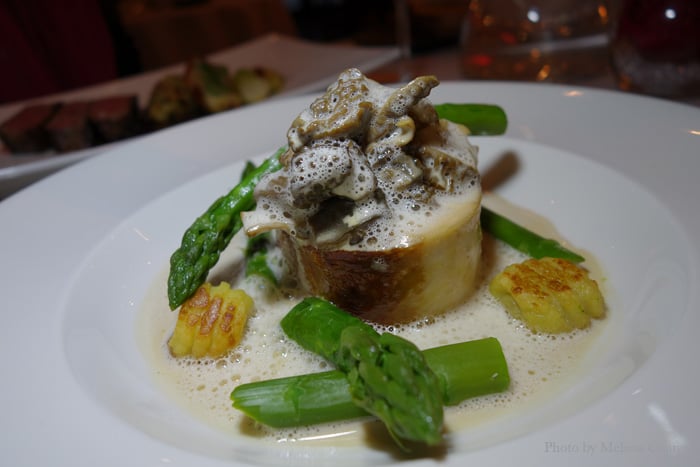 I was so happy to have found a lot of places that served great food in Beaune. In fact, by the time we left, we had run out of time and didn't get a chance to try a couple of places that we wanted to! I guess that's a good reason to go back.
When we took the wine class from Sensation Vin, our instructor made a list of her top five choices in Beaune proper (in order of price point):
Le Bistrot des Cocottes (gastro bar)
Le Petit Paradis
Le Caveau des Arches
Le Benaton
Loseau des Vignes
Le Jardin des Ramparts
Okay, that's six, but I think she wasn't counting Le Bistrot des Cocottes because it's more of a bar. Still, it was very popular — they all were — and so busy that they couldn't take us.
So here are some places that were outstanding on this trip, restaurants (in no particular order) that we would visit multiple times in the same trip, if we had time.
I was pleasantly surprised to find L'Air du Temps. We were looking for a spot to have lunch before our wine class, and this was nearby. It looked cute, and there were a lot of locals inside, so we knew it was good.
Remember: only bubbly from Champagne can be called champagne. In other parts of France, it's called cremant, and we didn't find a cremant we didn't like. The gentle fizz doesn't overpower the flavors, and here we could detect lovely cream and vanilla essences. I'm hooked.
This time, Ahnya had beef tartare, and it was perfect.The meat was good quality, and they had a nice blend of spices and capers to make the flavor pop. It's served with fries, and I'm not sure if they cut them in a concave shape so you can scoop the beef, but it worked. This was just 16 euros.
I had a duck salad. Yes, it was a salad! The greens were tossed with duck meat, there was duck pastrami on the side and, of course, foie gras de canard. It was amazing and worth every bit of the 20 euros. A bonus for lunch was sitting next to a Canadian couple and their gregarious friend from Tahiti, who talked to us about Hawaii, as well.
L'air du Temps
3 Avenue de la République, 21200 Beaune, France
+33 3 80 22 41 35
Another spot for lunch or dinner came on oenophile Stephen Hinck's suggestion: Ma Cuisine. I forgot to get a restaurant shot, but you will find it in a little sidestreet/courtyard off Place Carnot. Lunch started with a cheese puff, which was fabulous on its own (even better with some white Meursault).
We split a foie gras terrine appetizer (20 euro) that came with salad. I need to point out that not all foie terrines are created equal, and Ma Cuisine made a really nice one. The baby spinach is tossed in a light dressing that I think is home made, because it was so fresh and bright.
Pigeon roti au jus (38 euro) — Ahnya's first time eating pigeon, and it would have to be in Beaune! If you've never had it, don't expect chicken. The meat is a little gritty, almost a cross between red and white meat and with more character than plain poultry. The sauce was a nice, light, savory glaze.
I had skate (24 euro), prepared with a butter/wine sauce with shallots, basil and capers with pureed celery root. This was Ahnya's first time having that, too, and we both loved it. It's tender and meaty, like eating butterfish.
I kind of wish I had found this place earlier in the trip, as I would have gone back for dinner. Don't miss it when you go to Beaune!
Ma Cuisine
Passage Saint-Hélène, 21200 Beaune, France
:+33 3 80 22 30 22
On the higher end, L'Ecusson was nice, quiet, and had good service — I'm not sure what Ahnya and our waiter said, but he was apparently quite witty, so that was a good way to start dinner. During warmer months, you can have dinner in the garden, which I'm sure is a good way to soak in French ambience.
Other than the nice Vietnamese-style frog's legs we had on our last French adventure, I was never big fan because they tend to be kind of dry. Here, they serve the frog's legs in bite-sized, deboned pieces in a cream foam and with various mushrooms (including the fabulous morels). If you didn't know there was frog in there, you wouldn't be able to tell, and it was a gorgeous, unique way to showcase this alternative protein. (42 euro for a full serving, 21 euro for half.)
I don't even now how to describe this beef except that it was firm (as you can see) like grass-fed beef — and it may well have been — but it was tender and moist like corn-fed. Since we don't speak enough French to know what makes this beef unique, I'll just let the photo do the talking. It was very nice, though, and a far cry from that first Beaune steak that Ahnya had.
I don't normally order chicken when I'm traveling unless I know it's special. In this case, I forgot myself and zoomed in on the morels on the menu, and ordered this chicken dish by mistake. What a delicious mistake! It was a roll of chicken breast in a cream foam with asparagus and gnocchi, piled high with my favorite mushrooms. Yeah, I could have used more mushrooms.
We were too full for dessert, but we didn't realize that dinner came with a plate of petit fours, too! My favorite was the vanilla/almond mousse, but the mini pot de creme and macaron were divine, as well. No need to order dessert, since this was plenty.
L'Ecusson
2 Rue du Lieutenant Dupuis, 21200 Beaune, France
+33 3 80 24 03 82
Last but not least, Ahnya and I really liked this charming restaurant just a stone's throw from Brasserie Le Carnot. The service was great, and the guys running the place were so sweet.
We sat next to a retired Dutch couple on their way to Spain. They make the drive from Amsterdam every year through Beaune and on to their Spanish vacation home. Dinner is always better with great companions! Anyway, I ordered the fixed menu Le Conty, which was just 39 euro. The starter was foie gras in kataifi pastry with salad and a warm butter sauce. Brilliant! I don't know why I've never seen anyone treat foie gras this way at home. Each bite was rich, crunchy, and velvety.
My second course was veal confit with potato churros, mushrooms, and shaved black truffles. I didn't just like this because it was delicious, I liked the fact that I had never had veal served like this before. Love the creativity!
Ahnya just had some black truffle risotto. No big deal, right? LOOK at all those freshly shaved ruffles on her plate! Need I say more? No. Other than yes, I did steal some bites from her.
Their cheese plate was simple and a perfect portion. The dried fruits were a nice touch, and we didn't see this anywhere else. Cute presentation, too!
Finally, dessert: A strawberry "gratin" with Grand Marnier sauce and sliced almonds. It was sweet, but just light enough to be an appropriate ending to the meal. I loved the thoughtfulness that went into this menu and the creativity. All this for just 40 bucks? Sign me up again.
Le Conty
5 Rue Félix Ziem, 21200 Beaune, France
+33 3 80 22 63 94
These were just the highlights. To see all photos from this trip, including menus, click here.
Up next: How to stay connected in France!