Beat you to the punch (bowl): holiday punch recipes by Honolulu bartenders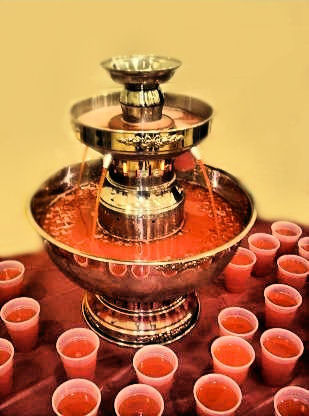 There are many things to love about holiday punch. I mean, it's basically one giant bowl of cocktail. And sometimes that's what it feels like we need to get through the holidays. But in case the spirit moves you to gather some friends around the punch bowl, throw together one of these knockout punches from Honolulu bartenders. (If you're feeling really ambitious and want to assemble a punch showpiece, consider making an ice ring.)
Bourbon cider by Roxanne Siebert, Safehouse and V Lounge
– 56 ounces unfiltered apple cider
– small handful each of fresh sage, oregano, rosemary, thyme
– 1-inch piece of ginger, sliced
– one orange
– one lemon
– 4 whole cloves
– 2 whole cinnamon sticks
– pinch of allspice
– 2 tablespoons honey
– 16 ounces bourbon
– 15 dashes of Bitter Truth Old-fashioned Bitters
Zest the orange and lemon and slice them into wheels. Simmer the zest, fruit, apple cider, herbs, ginger, cloves, cinnamon, allspice and honey for an hour. Strain into a large punch bowl and add the bourbon and bitters.
Serve over ice or hot with whipped cream.
Christingle Punch by Christian Self, 39Hotel and Bevy, his cocktail consulting company
Self's holiday punch is inspired by the Christingle service he used to go to as a child in England.
– 4 medium-sized oranges
– 1 cup sugar
– 2 cups hot water
– 32 ounces Appleton Estate Reserve Rum
– 1/2 tablespoon whole cloves
– 1 whole nutmeg
Juice and peel the oranges. Muddle the orange peel and sugar together to extract the oil from the orange peel. Add the hot water to dissolve the sugar. Chill, strain and add the orange juice and cloves. Let sit for one hour, pour into a punch bowl and add the rum and two cups chilled water. Add a large block of ice, grate nutmeg over the top, pour into small punch cups and serve to friends.
Not feeling punchy and need a drink stat? Then check out these holiday cocktails around town.