Ballin' on a budget: Lunch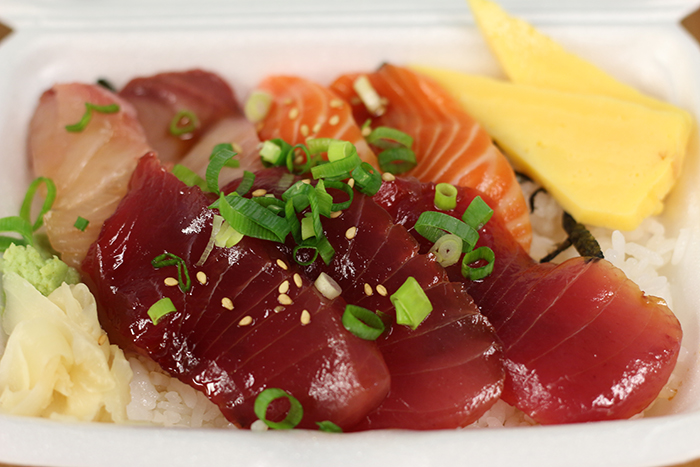 On the prowl for a tasty deal? So is Frolic photog Eric Baranda. Ballin' on a budget spotlights his top picks around Honolulu.
The question has troubled mankind since the dawn of time: where to get lunch? With the plethora of food options available in the modern world, being on a limited budget can help set boundaries to make things more manageable.
I'm here to share my favorite lunch spots that keep me satisfied while staying within my budget. My choices all fall under $10. A caveat: I work in downtown, so most of these places are there or nearby.
Maguro Bros.
I come here so much the owners call me Everyday Man. All I have to say is "the usual," and I get it: three ahi, two salmon and two hamachi sashimi pieces, accompanied by two slices of tamagoyaki egg roll on a generous bed of sushi rice. It's not on the menu, but you can't beat the quality and $9.50 price. The sashimi is among the freshest you can get anywhere on the island.
Tucked amid the stalls of Kekaulike Market in Chinatown, Maguro Bros. is not easy to find. If you don't work nearby, your best bets for parking are the Nimitz/River, Maunakea or Smith street municipal garages. And seating is limited and not good for groups, so plan on having a nice lunch date for two or some quality time with your plate of sashimi.
Maguro Bros. • 1039 Kekaulike St. #113 • 259-7100
Marukame Udon
My go-to bowl is their signature and most affordable, the $3.60 Kake Udon. When I feel like splurging, I cough up 50 cents more for a soft-boiled egg. The noodles are thick and the broth flavorful, with delightful fried tempura bits and green onion. The egg adds a nice layer of thickness to the broth if you break it early. You can also opt to let it sit and cook a little for a bit more firmness if you want to swallow it all in one gulp. If you're a soda fan be warned, as the only liquid refreshments available are water and tea.
Marukame is on Fort Street Mall, so I'd suggest parking at Kukui Plaza and taking a nice walk down.
Marukame Udon • 1104 Fort St. Mall • 545-3000
Menchanko Tei
When I want to sit down, relax and enjoy a pleasant atmosphere over delicious food for an affordable price, I go to Menchanko Tei on Keeaumoku Street. Yes, they offer five other daily lunch sets, but for $9.75 I get their Kakuni Don and Mini Ramen set.
The size of the kakuni pork is what sets off this meal: You get two substantial portions on rice, with an amazing fat-to-meat ratio resulting in a burst of juicy greasy goodness with marinated kakuni in nearly every bite. It's probably not the healthiest dish, but everything in moderation! Or you can trim the fat from the pork, which is a test in willpower. There are other dishes in the set: The salad has a tasty dressing, the tofu is soaked with sauce, while the ramen is a satisfying side.
Parking is tight and limited to two hours, but sometimes security can be overzealous and ticket your car after only one. If you find out who to complain to, let me know, haha.
Menchanko Tei • 903 Keeaumoku St. • 946-1888
Mr. Donut's & Bakery
I truly believe that dessert is an acceptable solo meal option. And sometimes you just gotta have a little sugar after lunch. Or a lot. Mr. Donut's on Hotel Street is your affordable sugar rush solution. They offer donuts nearly the size of your face, which may seem like a slight embellishment, until that sweet ring is sitting in your stomach. Fluffy, gooey and glazed in sugar, their donuts are baked fresh every day and they make me happy. Especially at only $1 each. You can eat donuts every day at that price. I wouldn't recommend it, though, unless you're a pretty active person and even then, I waive responsibility for any consequences.
Since it's downtown, parking sucks. Park at any municipal parking lot near Hotel Street and prepare for a hike.
Mr. Donut's & Bakery • 134 S. Hotel St. (corner of Bishop) • 545-2961
Paul's Poppers
You need to eat something, but can't make up your mind what and only have a few bucks in your pocket. It's Paul's Poppers for you. These little fried won ton bites are stuffed with a large assortment of fillings, making them a good option when you're not sure what you want, especially at $1 a pop, pun intended. Here's what you get in their $7 sampler: pork jalapeno and cheddar, turkey jalapeno and cheddar, turkey melt, spinach and artichoke, pepperoni pizza, caprese and cheeseburger. And that's not even all the flavors they carry.
There's only one or two tables, though, so plan on takeout unless you don't mind standing. Which is a viable option since the poppers can just be tossed into your gaping mouth.
Paul's Poppers • King's Gate Plaza • 555 North King St. #110 • 351-7583 • http://www.paulspoppers.com/