Ballin' on a budget: Breakfast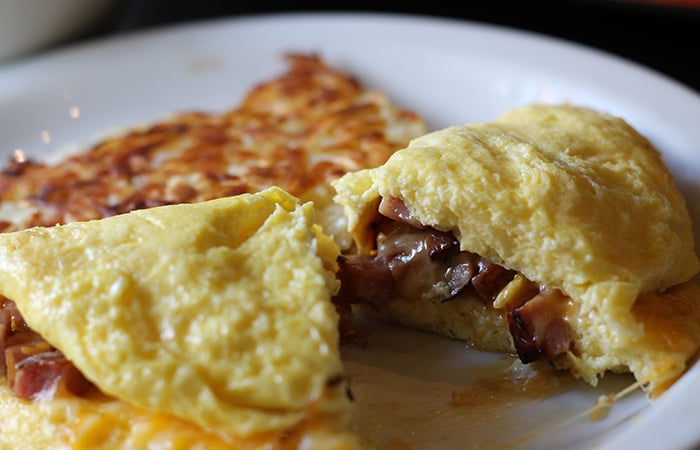 On the prowl for a tasty deal? So is Frolic photog Eric Baranda. Ballin' on a budget spotlights his top picks around Honolulu.
Money doesn't grow on trees. If it did, we'd all be farmers. That being the case, we're all looking for ways to save a buck, especially when it comes to eating out. Which I do surprisingly often, given my modest means, for breakfast, lunch, happy hour, dinner and late night.
Here's a look at places I recommend for the most important meal of the day: breakfast.
Disagree or have better recommendations? Let me know in the comments!
Harry's Cafe
For years it was the home of the famous 99-cent breakfast plate. Now Harry's offers a $2 double breakfast plate. What do you get for your $2? Two eggs, two pieces of ham and two scoops of rice. The eggs and rice are standard fare, but the ham is surprisingly delicious, with a nice blend of salty and sweet. (Note: This may be because I normally get Spam and haven't eaten ham in a while.) The ham is on the thin side, though.
The auntie who owns the joint said that customers always end up doubling the 99-cent breakfast plate, so it made sense for her to just offer the $2 double breakfast plate. The special runs from 5 to 8 a.m. Monday through Friday. Harry's has a tiny parking lot that can accommodate four vehicles, double-parked. Expect to look for street parking.
1101 Waimanu St. • 808-593-7798
Fort Street Cafe
If you find yourself downtown, you won't go wrong with Fort Street Cafe. Their $3.58 breakfast special gets you two eggs, toast or rice and your choice of bacon, sausage, Spam or ham. Here's the rice, Spam and scrambled eggs. The serving is generous and filling. The rice is nothing to write home about, although the the quality of the Spam and eggs make up for it. The Spam slices are thick, with a decent crispiness to the exterior.
The breakfast special is offered daily from 7:30 to 11 a.m. Seating is indoors and outdoors, the latter giving you a nice view of the hustle and bustle of downtown if you like to people watch. If you like birdwatching, leave a few grains of rice on the table and resident birds will swoop down and gobble them up. Since Fort Street Cafe is downtown, parking is horrible. Much as I like it, I only recommend going here if you work or have business downtown.
1152 Fort St. Mall • 808-536-0455
Candi's Cafe
If you're looking for a hole-in-the-wall with a homey mom-and-pop atmosphere, Candi's Cafe in Kalihi is for you. The interior is reminiscent of old-school Kalihi, with a screen door and faded yellow walls decorated with children's artwork. There's a nostalgic and vintage charm about the place.
The value breakfast gets you one scoop of rice, one egg and one breakfast meat for $2.50. It's offered daily from opening at 6 a.m. Monday through Friday and 7 a.m. on Saturday. They're closed on Sundays. While some of the rice was hard, the Spam was thick and juicy. The scrambled eggs were great, being fluffy with a nice hint of butter to them. There's a free water cooler on the side if you need a drink. They have no parking lot, so it's going to be all street parking. If you go right when they open, you can find a few spaces. They go quick, though.
933 N. King St. • 808-848-8748
Big City Diner
With multiple locations around Oahu, Big City Diner is a more convenient option for an affordable breakfast with better parking. Their menu is pricier than the other establishments here, but it won't break the bank and the sheer volume of food helps make up for the price. The cheaper breakfast specials run around $10 and come with white or brown rice, hash browns or paniolo potatoes.
I went with the Ultimate Three Egg Omelet with cheddar cheese and ham and hash browns for $9.99 before tax and tip. The omelet was fluffy with good volume, and stuffed with chopped ham and cheese. The hash browns were thin and not as crispy as I would like, but a little salt and pepper helped to mask those shortcomings. The portion was large enough that I couldn't finish, so I had to request a takeout box. Parking wasn't an issue at their Ward location and shouldn't be at their other restaurants, but your experience may vary.
3565 Waialae Ave. • 808-738-8855 • Pearlridge, 98-211 Pali Momi Rd. • 808-487-8188 • 108 Hekili St. • 808-263-8880 • 94-800 Ukee St. • 808-678-8868 • 1080 Auahi St. • 808-591-8891
Mana Bu's
The combo of great-tasting food at a very cheap price means that you have to be quick when ordering at Mana Bu's. This bright storefront just off King Street specializes in the ever-popular musubi. They have a slew of different musubis to choose from, made with white, brown and multi-grain rice, all under $2. They also offer small containers of vegetarian side dishes, also under $2. With these prices and variety, it's understandable why their hours are listed as 6:30 a.m. (9 a.m. on Saturday) to whenever they sell out. Technically they close at 1 p.m., but often sell out before then. They are closed on Sunday.
I arrived at 9:05 on a Saturday, and there was already a line at the door. This place is takeout only since there is no space for eating inside. Baskets are provided so people can stock up on musubis by the dozen. Being a traditionalist, I got two Teri-SPAM musubis. The rice was sweet, firm and of excellent quality. I could feel each individual grain, yet it was still sticky. The Spam was full of salty goodness. Their parking lot is tiny and shared with surrounding businesses, so expect to hunt for street parking (but don't park in the bike lane).
1618 S. King St. • 808-358-0287