Awesome eats this Friday: Watanabe Bakery treats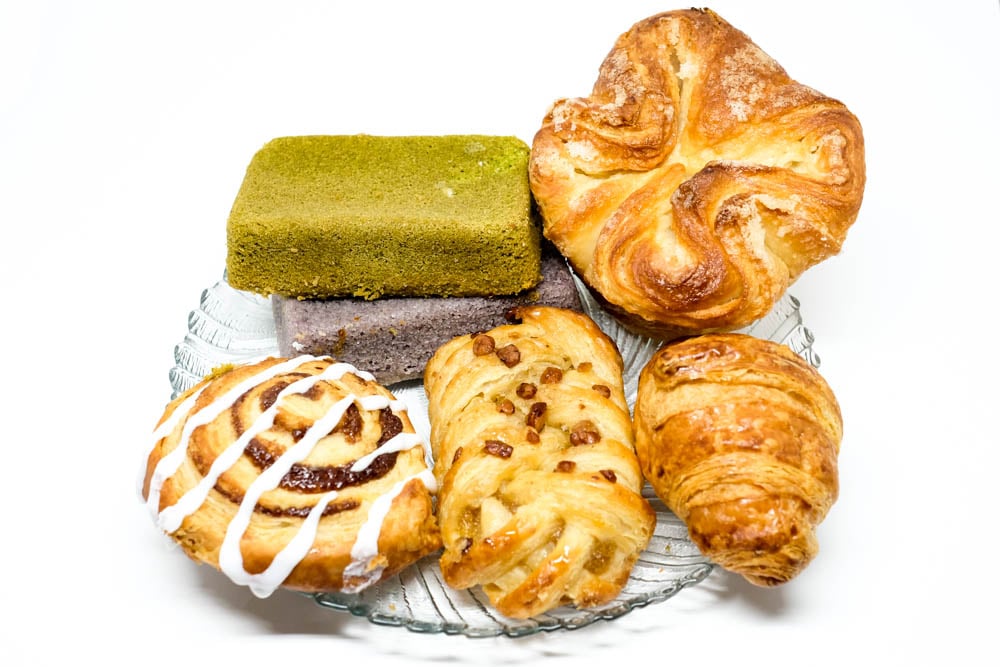 When we saw Watanabe Bakery's poi and matcha mochi cakes on Instagram we drove straight over to McCully to give them a try. At first bite, we knew the satisfyingly chewy cakes would be perfect for Awesome eats. So heads up, townie sweet tooths: The Beretania bakery known for their pillowy Japanese white bread and cute turtle and bear shaped pastries is coming to downtown this Friday.
The cakes are baked in small individual pans, so if you enjoy corners and edges, these are for you. The poi and matcha mochi cakes have a firm texture, similar to that of butter mochi. We loved the wide variety of bread, pastries, cakes and other treats, so Friday's lunchtime pop-offerings will include no less than three different sweet sets, including a mochi box that will only be available through pre-order.
Each box is designed with a different pastry lover in mind. The mochi box is for butter mochi lovers, the "big box" is for those who want to try a little of everything, and the pastry pack is for the traditional pastry fan.
All will be available downtown only this Friday, Dec. 9 from 10 a.m. to 1 p.m. at the corner of Bishop and King streets. Note: We've been selling out of everything each week, so pre-order to guarantee your box.
1. $10 "The Mochi Box": (PRE-SALE ONLY)
3 Poi Mochi Cake
2 Matcha Mochi Cake

2. $10 "The BIG Box":
1 poi mochi cake
1 matcha mochi cake
1 kouign amann
1 mini maple pecan danish
1 mini croissant
1 mini cinnamon swirl

3. $12 "Pastry Pack":
2 kouign amann
2 mini maple pecan danish
2 mini croissant
2 mini cinnamon swirl
*We will be adding emails to our newsletter/Awesome Eats database with every pre-order.
Pickup information:
Don't forget to bring your pre-order receipt when you pick up!
Friday, Dec. 9, 2016
Corner of Bishop and King streets (in front of 24 Hr Fitness and Territorial Savings Bank)
10 a.m. – 1 p.m. (or until sold out)
Here's the rest of the Awesome eats lineup for 2016:
Dec. 13 (Tuesday): MW Restaurant special old-school brown bag lunch benefiting the Friends of the Missing Child Center-Hawaii. $1 from each lunch sold will go to help reunify families, executing keiki ID programs and educating parents, guardians and children about child abduction.