Awesome eats this Friday: Tanioka's bento and spicy ahi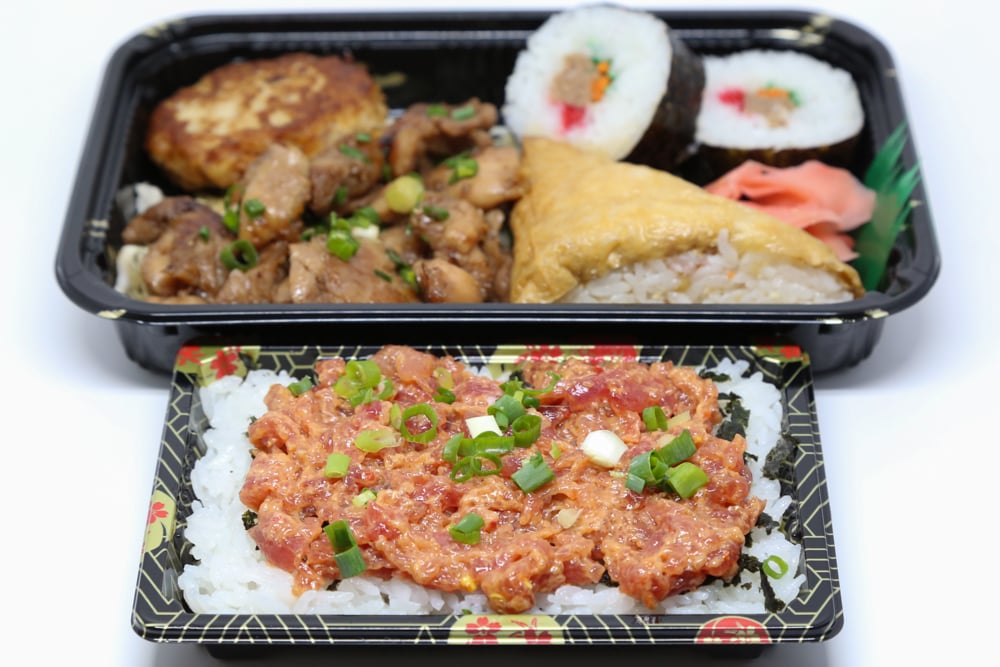 Waipahu's iconic Tanioka's always sells out when we feature their bentos at our Awesome eats pop-ups, so to sate appetites we're bringing them in monthly. This Friday, Tanioka's is bringing something new for the downtown lunch crowd: teri miso chicken bentos.
It's a new dish they've been working on. Think juicy, tender pieces of marinated chicken bathed in the flavors of teriyaki and miso. It's the star of a loaded bento that also comes with a fish patty and cone and two maki sushi. For fish lovers, Tanioka's is bringing a limited number of their famous spicy ahi trays. Find both at the corner of King and Bishop streets this Friday.
Pre-orders are now open. Note: We've been selling out of featured lunches every week, so pre-order to guarantee your lunch.
1. Spicy ahi tray over sushi rice, $7
2. Teri miso chicken bento, $10
*We will be adding emails to our newsletter/Awesome Eats database with every pre-order.
Hungry yet? Both will be available this Friday, Nov. 18 between 10 a.m. and 1 p.m. at the corner of Bishop and King streets, cash only. Spicy ahi trays are $7 and the teri miso chicken bento is $10. See you on Friday!
Here's the rest of the Awesome eats lineup for 2016:
Nov. 21 (Monday) Hawaiian Pie Company's special pre-Thanksgiving pie pop-up
Dec. 5-9 Treat week (details TBA)
Pickup information:
Don't forget to bring your pre-order receipt when you pick up!
Friday, Nov. 18, 2016
Corner of Bishop and King streets (in front of 24 Hr Fitness and Territorial Savings Bank)
10 a.m. – 1 p.m. (or until sold out)