Awesome eats this Friday: MW Restaurant's summer mango shave ice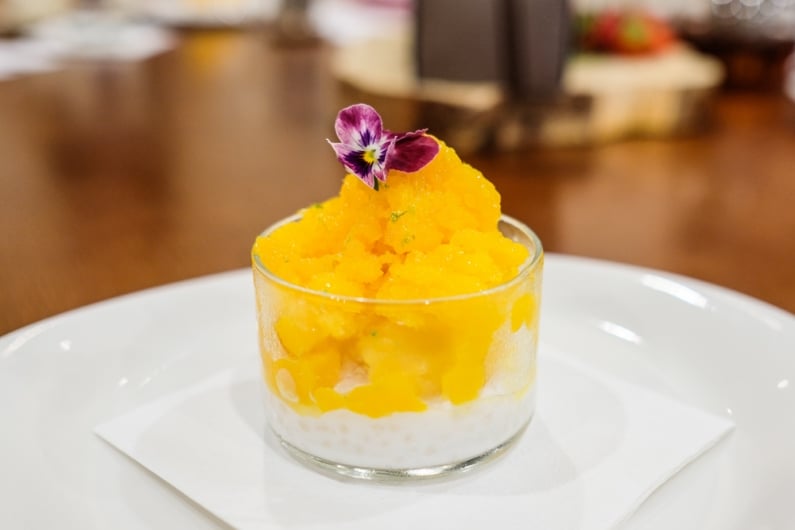 Summer is heating up downtown sidewalks and we have the perfect solution. Awesome eats this Friday is cooling things down with an icy treat at the corner of King and Bishop: a special dessert pop-up featuring gourmet summer mango shave ice by MW Restaurant.
How big a deal is this? Michelle Karr-Ueoka, MW's James Beard-nominated pastry chef, has selected the best Makaha mangoes for a luxe seasonal creation. We love mangoes, so we're stoked that MW has set aside some for Awesome eats!
Friday's shave ice will be a layered dessert with mango ambrosia — which is like fresh fruit suspended in fresh whipped cream — along with frozen fresh mango ice shaved finely, and fresh Makaha mango. At only $5, it's a serious deal.
But here's the thing: It's first come, first served. We are not taking pre-orders for this one. Come to the corner of Bishop and King between 11:30 a.m. and 2:30 p.m. and Karr-Ueoka will make shave ice for you — at least, until she runs out.
See you this Friday!
Friday, June 9, 2017
Corner of Bishop and King streets (in front of 24 Hr Fitness and Territorial Savings Bank)
11:30 a.m. – 2:30 p.m. or until sold out