Awesome eats this Friday: La Tour Cafe lunch box + macarons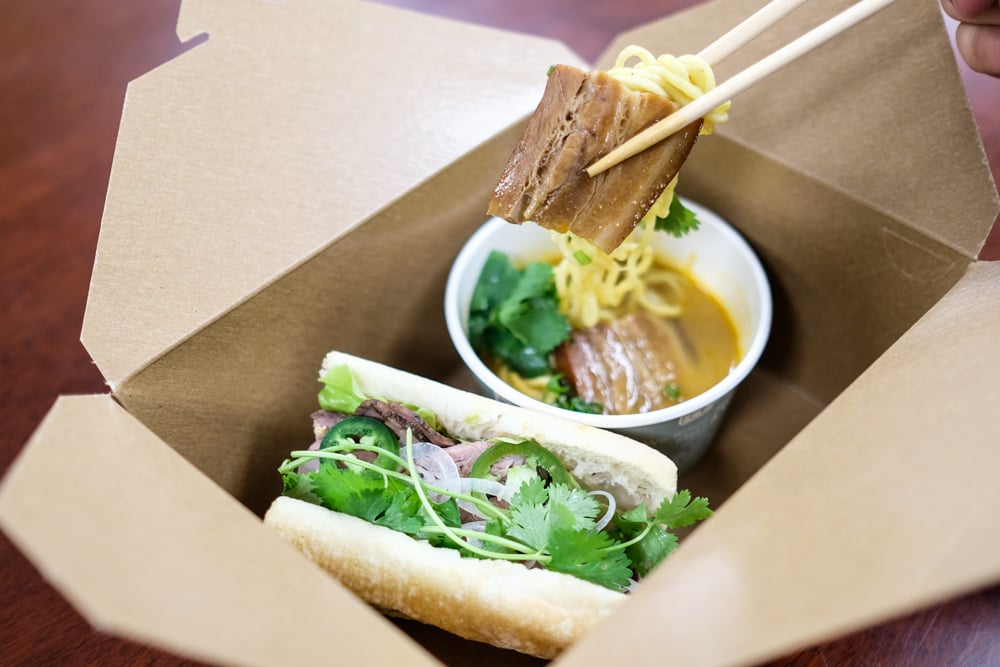 You know La Tour Cafe for their oven-fresh breads, sandwiches, pizzas and macarons. Now Chris Okuhara, formerly of Miso & Ale, has joined the culinary team, and there's even more new flavors and dishes. You'll get a sweet taste when La Tour brings a new lunch box and a six-pack of macarons downtown for this Friday's Awesome eats pop-up.
Coming to the corner of Bishop and King streets on Nov. 4 are an exclusive Frolic lunch box combining Okuhara's new pork belly tan tan ramen and La Tour's pho-ggie, a flavorful hoagie sandwich with all the fixings of a bowl of pho; and a separate dessert pack of a half-dozen airy-sweet macarons. Both are $10. When you consider that La Tour's macarons cost $2 at the restaurants, both are serious deals.
As always, you can pre-order below to reserve your treats for pickup, or come to the corner of Bishop and King between 10 a.m. and 1 p.m. to buy. Pre-orders are for pickup only.
Pork belly tan tan tsukemen (broth served on the side for dipping) + pho-ggie (a bowl of pho on a hoagie: American wagyu beef, "pho" mayo, Thai basil, lettuce, onions, cilantro and jalapenos), $10
Half-dozen assorted macarons, $10
See you on Friday!
Here's the rest of Awesome eats' November lineup:
Nov. 11 Breadshop HNL
Nov. 18 Tanioka's
Nov. 21 (Monday) Hawaiian Pie Company's special pre-Thanksgiving pie pop-up
Pickup information:
Don't forget to bring your pre-order receipt when you pick up!
Friday, Nov. 4, 2016
Corner of Bishop and King streets (in front of 24 Hr Fitness and Territorial Savings Bank)
10 a.m. – 1 p.m. (or until sold out)