Awesome eats this Friday: Hawaiian bentos by Young's Fish Market are back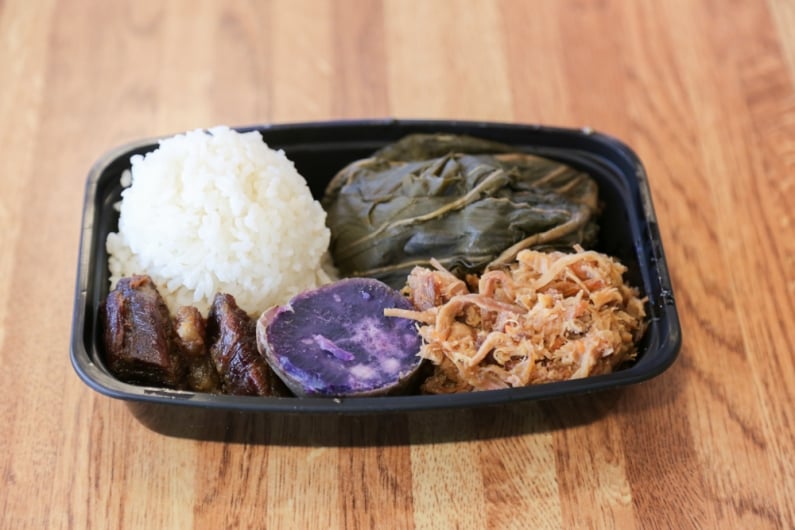 Downtown, it seems, likes Hawaiian food. How do we know? The first time we asked Young's Fish Market to bring Hawaiian bentos to Awesome eats in January, so many of you pre-ordered online that Young's brought 100 extra, just in case.
They sold out in 40 minutes.
This Aloha Friday they're back at the corner of Bishop and King by popular demand, this time not only with bentos of laulau, pipikaula, kalua pig, Okinawan sweet potato and rice, but optional extras of poi ($2), lomi salmon ($2) and haupia ($1) to complete your Hawaiian feast.
What's Aloha Friday without a Hawaiian bento? Young's is packing in a laulau, smoky kalua pig, succulent pipikaula, Okinawan sweet potato and rice, all for $10.61 total.
Since Awesome eats has been selling out, we recommend you pre-order to guarantee your bento. Or you can take your chances and come to the corner of Bishop and King streets downtown this Friday between 10 a.m. and 1 p.m.
See you on Friday!
Pickup information:
Don't forget to bring your pre-order receipt (email OK) when you pick up! No refunds. Any items not picked up by 1 p.m. on the day of the event will be held at our office at 1000 Bishop St., Suite 302 until the end of day (5 p.m.) and then disposed of.
Friday, March 10, 2017
Corner of Bishop and King streets (in front of 24 Hr Fitness and Territorial Savings Bank)
10 a.m. – 1 p.m. or until sold out