Awesome eats on Tuesday: MW Restaurant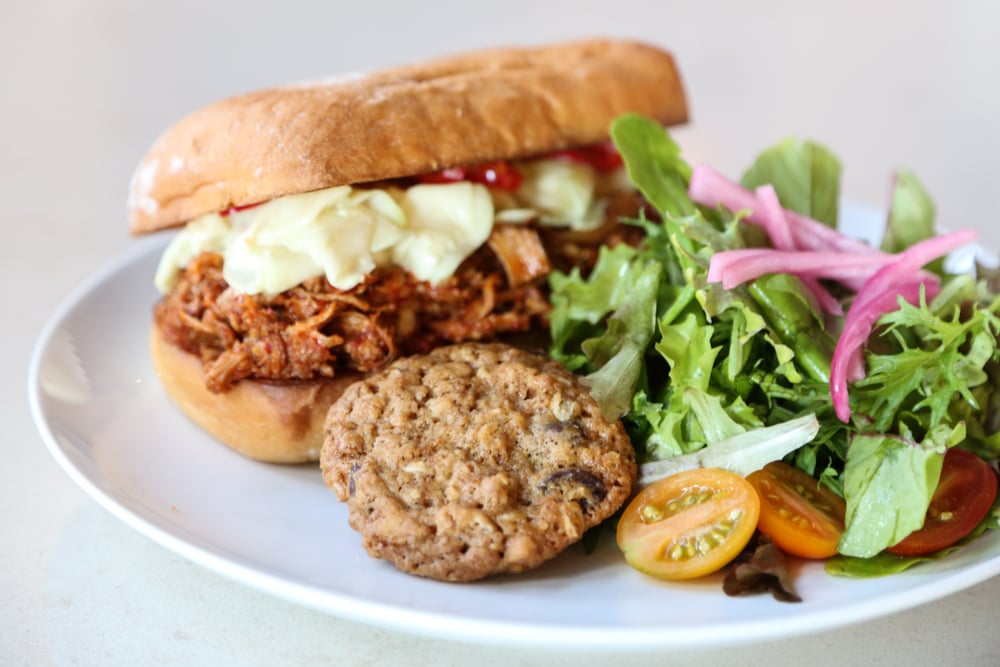 Honolulu's award-winning MW Restaurant is coming to downtown next Tuesday for a special Awesome eats lunchtime pop-up benefiting the Friends of the Missing Child Center-Hawaii. Chefs Michelle Karr-Ueoka and Wade Ueoka have crafted a special brown bag lunch of a Mountain View pulled pork sandwich plus a salad of your choice and a dessert of your choice.
The pork from Mountain View's Waianae farm is already marinating. The sandwich is a special creation for Awesome eats and will be piled high with the succulent pork. You'll get to choose your own salad and dessert from the assortment available at the corner of King and Bishop streets on Tuesday, Dec. 13 between 10 a.m. and 1 p.m.
A portion of proceeds from each lunch sold will go to support the Friends of the Missing Child Center-Hawaii, a nonprofit working to protect Hawaii's children from abduction and exploitation. It promotes, educates and supports the recovery of missing children and helps reunify and care for families.
So our goal for Tuesday's Awesome eats to sell 500 MW brown bag lunches. Bonus: We'll deliver orders of 10 or more to downtown locations for free!
$10 Brown bag lunch has a Mountain View pulled pork sandwich and one selection each from the farmers' salad and dessert bars.
Dessert options:
Fudge brownie cookies
Matcha moringa cookies
MW cookies
Valrhona butterscotch brownies
Gingerbread cookies
Banana bread
*When you pre-order, you'll also get Frolic's foodie newsletter.
This is the last Awesome eats for 2016. See you in 2017!
Pickup information:
Don't forget to bring your pre-order receipt when you pick up!
Tuesday, Dec. 13, 2016
Corner of Bishop and King streets (in front of 24 Hr Fitness and Territorial Savings Bank)
10 a.m. – 1 p.m. (or until sold out)