Awesome eats: Let Them Eat Cupcakes this Friday + October's lineup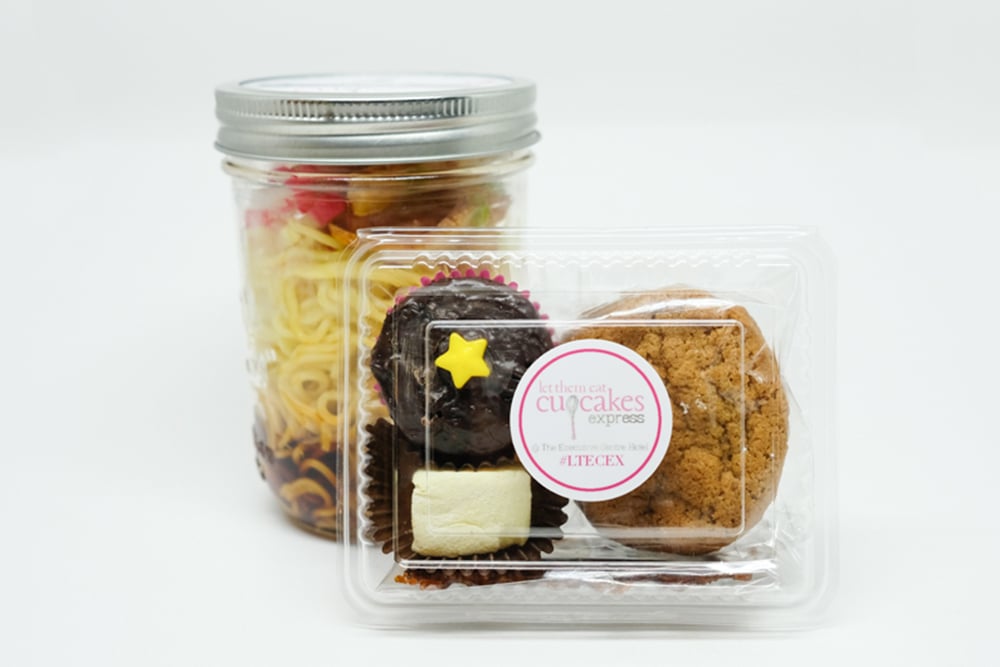 Downtowners, mark your calendars: We have a full month of Awesome eats lined up for October. Every Friday this month we're bringing to the corner of Bishop and King an exclusive Frolic treat, savory or sweet, from an awesome eatery that's not easy to get to.
Debuting this Friday is something new from the gourmet Let Them Eat Cupcakes Express: a flavor-packed two-course lunch of a savory loaded saimin and a mini dessert bento of their best sweets.
Friday, Oct. 7 Let Them Eat Cupcakes Express
The awesome ladies from Let Them Eat Cupcakes have come up with a Frolic exclusive lunchbox with dessert for $10 (regular value: $13) to kick off Awesome eats October. Get your chopsticks in their saimin in a jar, a savory dish of Sun Noodle saimin, kamaboko, Spam, green onion and char siu. For dessert, feast on a pack of sweets including a chocolate chip cookie, caramel choco chip cookie, one of their famous mochi cupcakes, a lilikoi marshmallow and a slice of sriracha candied bacon.
Get your order in early. From the way we're drooling, this one's going to sell out.
Pickup at the corner of Bishop and King streets this Friday.
Friday, Oct. 14 Tanioka's
Tanioka's of Waipahu returns with their monthly exclusive Awesome eats bentos! This month's custom pack is still being concocted, but here's a hint: Expect a choice of bento and possibly one more Tanioka's favorite.
Friday, Oct. 21 Kona Coffee Purveyors & b. patisserie
The newly opened Kona Coffee Purveyors and b. patisserie in Waikiki are putting together an exclusive pastry box just for Frolic. This is the place known nationally for the incredible kouign amann, a flaky, airy pastry with a rich, buttery flavor.
Friday, Oct. 28 The Pig and the Lady Halloween special
The talented pastry chefs at the Pig and the Lady are creating a very special party mix for Halloween. Pick up your bag on the Friday before Halloween to snack on while you shop for your costume.
Every Friday in October 2016
Corner of Bishop and King streets (in front of 24 Hr Fitness and Territorial Savings Bank)
10 a.m. – 1 p.m. (or until sold out)