Attention Honolulu: Ramen Burger is coming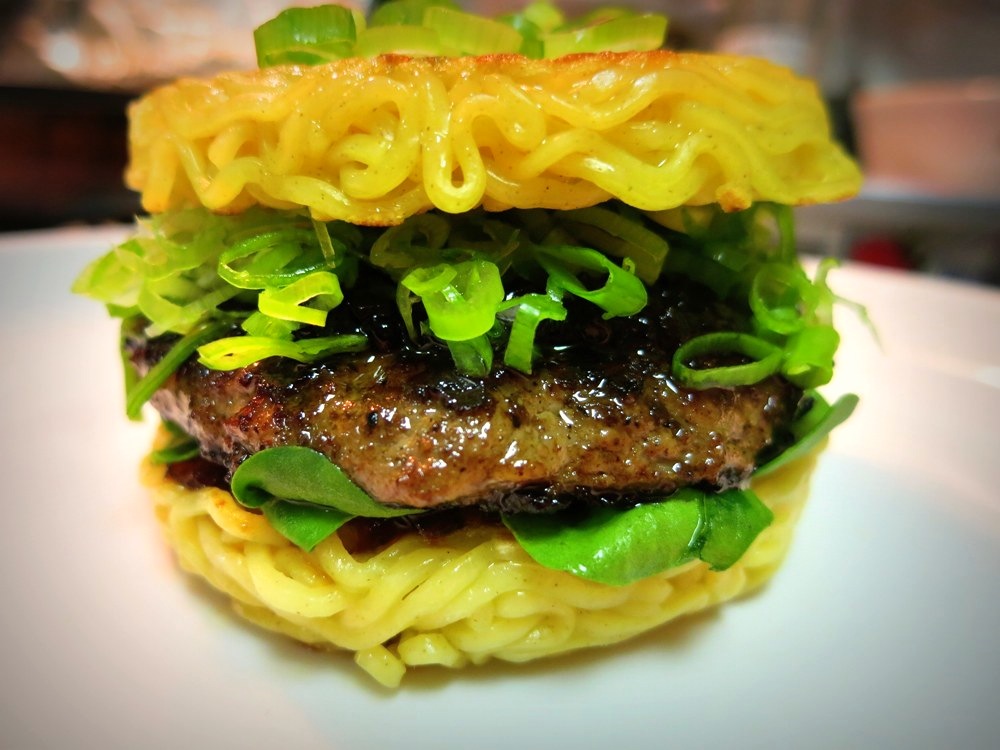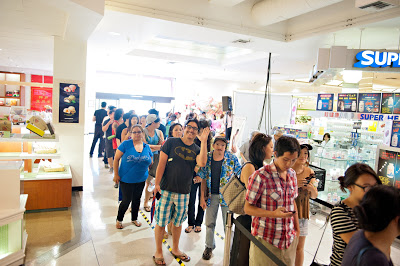 You know the one. The mashup food phenom of 2013, the one 1,000 people lined up for in Torrance, California, the one that sells out every week in New York, that since August has popped up in L.A., San Jose, Chicago, Brazil (seriously)?
THAT one. Ramen Burger — a juicy beef patty topped with secret sauce, baby arugula and green onions and served hot between two freshly grilled ramen noodle buns — is coming to Honolulu next Wednesday, Jan. 15 for a one-day popup at Kakaako's Taste Table. And it's being served up by its creator himself, Keizo Shimamoto of GoRamen.com blog fame, who famously quit his job in subprime mortgages, went to Japan, ate 55 bowls of ramen in 28 days and ended up staying there to work in ramen shops.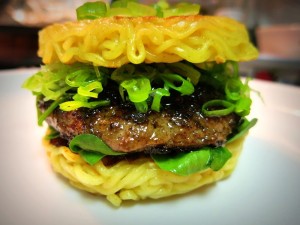 Shimamoto is bringing 700 Ramen Burgers to Taste from 11 a.m. until sellout, divided into two varieties. There'll be the original Ramen Burger, described above, and a one-time collaboration burger with Shimamoto supplying the ramen buns and Taste's Mark Noguchi crafting the patty. Both will feature local beef and cost $10, maximum three Ramen Burgers per customer.
Anything else? "Not sure," Shimamoto texts. "Will decide when I get there but would love to do Spam! Haha."
SPAM Ramen Burger? I die, I die. I've had the original. I stood in line for it, at the Joy of Sake New York last September, where thanks to an introduction by Ken Uki of Hawaii's Sun Noodle, which supplies Shimamoto's ramen, Shimamoto cut the Ramen Burger into fourths as appetizers to go with world-class sakes. It killed. A brewer wanted to import it to Japan. Joy of Sake's Instagram that night lit up with Ramen Burgers. My quarter-burger was delectable, with flavors deep and meaty and peppery with a satisfying ramen chew. I wanted more.
Shimamoto already wanted to come to Honolulu. When I found out, I put him in touch with Noguchi and plans took shape from there. "It's way toooo cold here," says Shimamoto, who's based in New York. "My grandfather was born in Hawaii and I have relatives there. If you know any Shimamotos out there, they're probably related to me."
Ramen Burger is part of Taste Table's final month in Kakaako, part of a series of last popups and last hurrahs by former vendors. Here's the lineup so far. Taste says more are coming, including Vintage Cave's Chris Kajioka; they just need to be confirmed.
Thu Jan. 9 — Poi Dog Philly 10a to 2:30p, Local girl goes go Philly, comes home with Philly-Mexican spins on local food. Like Philly cheesesteak lumpia and mochi nori fried chicken tacos
Fri Jan. 10 — Hawaii Fresh Farms 10a to 2:30p, Gourmet dishes including local fish fry, all locally and sustainably sourced. Poi Dog Philly 5 to 10p
Sat Jan. 11 — Mimi's Place 11a to 3p, Peruvian dishes like anticuchos, mahi mahi ceviche, lomo saltado. Poi Dog Philly 6 to 10p
Tue Jan. 14 — Good Clean Food 10a to 2:30p, Paleo cuisine: no to gluten, dairy and soy; yes to meats, fish, veggies, nuts and bacon
Wed Jan. 15 — Ramen Burger 11a until sellout. See above
Thu Jan. 16 — Poi Dog Philly 10a to 2:30p
Fri Jan. 17 — Lee Anne Wong's Noodle Bar 10a to 2:30p, Farm to noodle bowl, seasonal and local, featuring Sun Noodles and small Oahu farms. Poi Dog Philly 5 to 10p
Sat Jan. 18 — Mimi's Place 11a to 3p, Poi Dog Philly 6 to 10p
Tue Jan. 21 — Good Clean Food 10a to 2:30p
Wed Jan. 22 — Melt 10a to 2p, Yup, that Melt: the phenomenal gourmet grilled cheese sammie truck. Poi Dog Philly 5 to 9p
Thu Jan. 23 — Poi Dog Philly 10a to 2:30p, again 5 to 9p
Fri Jan. 24 — Melt 10a to 2p, Mimi's Place 6 to 10p
Sat Jan. 25 — Miso & Ale 6 to 10p Just crazy
Tue Jan. 28 — Good Clean Food 10a to 2:30p
Thu Jan. 30 — Onda Pasta 10a to 2:30p, Handmade pastas with sauces featuring local ingredients
Fri Jan. 31 — Mark "Gooch" Noguchi with Christopher Sy, lunch and dinner, Totally TBA
Taste Table
667 Auahi St.
www.tastetable.com