Asian Flavors spices up Ohana Hale Marketplace
Ash Thaira introduces Hawaii to Lao-style food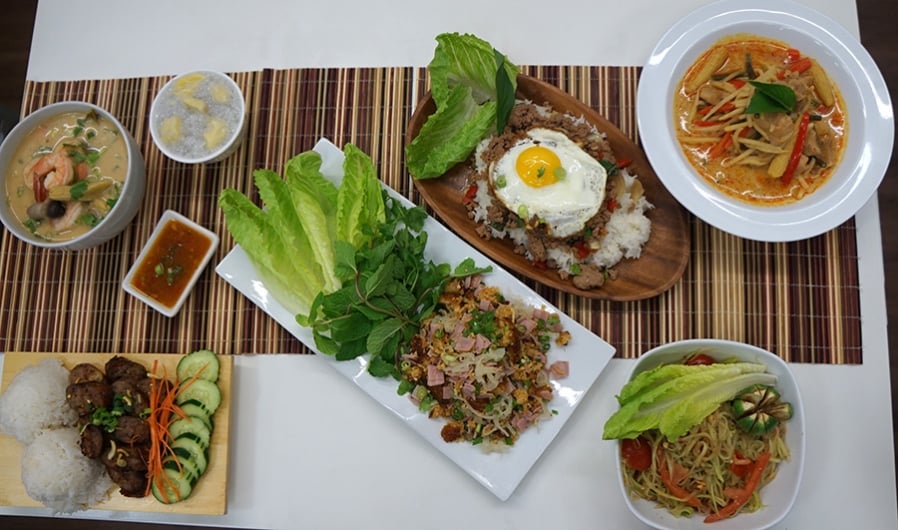 Most people in Hawaii easily recognize Thai, Vietnamese, and Filipino food, but few — including me — know anything about Laos cuisine. In fact, I'm sure when people try it, they simply lump it in with Vietnamese and Thai food.
Laos is, in fact, its own country, located north of Thailand but south of Burma, and known for its mountainous terrain. A major difference is that Thai food uses a lot of coconut milk, whereas Laos does not, and Lao food is more salty while Thai food is a little more sweet. There are other differences, of course, but you can understand best by trying it yourself. And now you can, with Asian Flavors.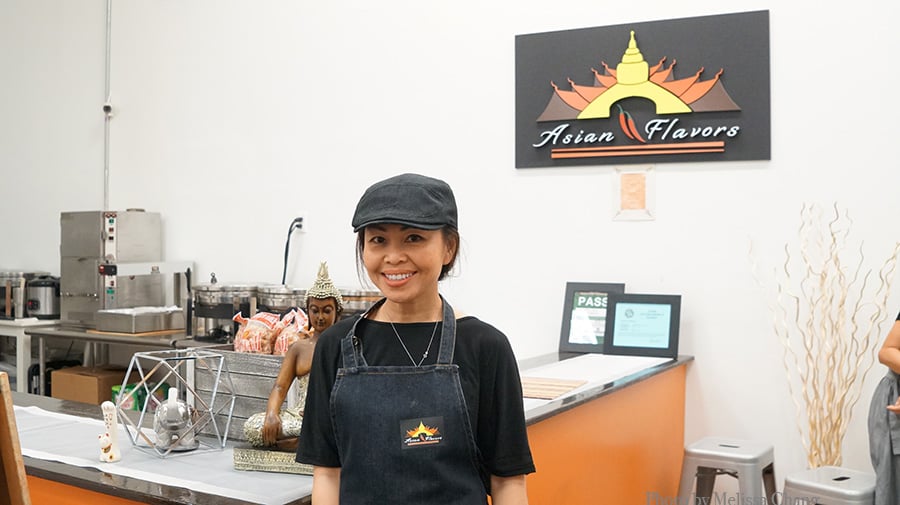 Asian Flavors is in a back corner of the newish Ohana Hale Marketplace, and owner Ash Thaira draws customers in with colorful instagram photos of her constantly-changing menu. She makes some traditional Laos food, but also gets creative and mixes Thai, Vietnamese, and/or Filipino styles to make brand new dishes. I guess you could say Thaira's food takes your mouth on a tour of Southeast Asia.
I've had Thaira's food before, when she had a booth at Night in Chinatown and then popped up at Wang Chungs. It's nice to see that she has this spot now —her first brick and mortar — so I can satisfy my craving for her cooking. Here are some items from recent visits, but keep in mind that her menu changes daily, so you may find something different when you go.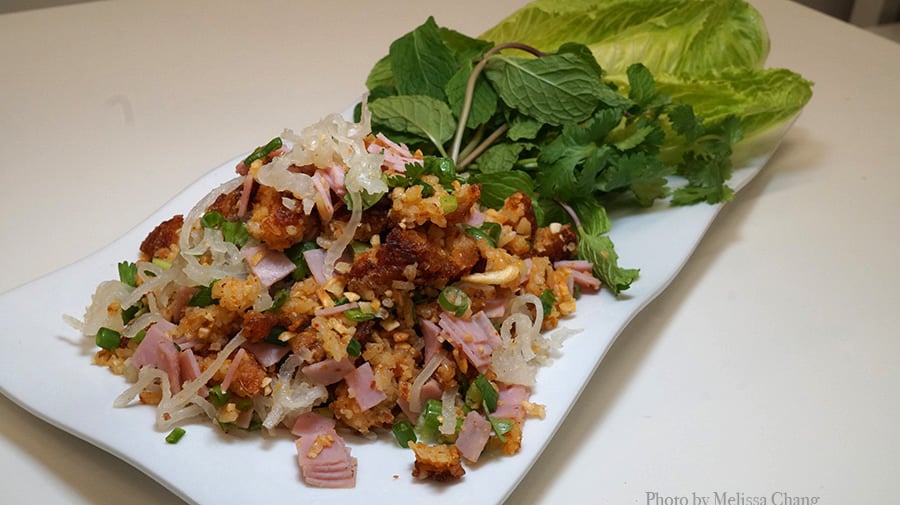 One of my favorites is the nam khao, partly because you get all flavor profiles at once, in addition to the crunchy rice and fresh lettuce. It gets its saltiness from the pork and ham bits, but you can taste brightness of lime amidst the tingling spice in every bite.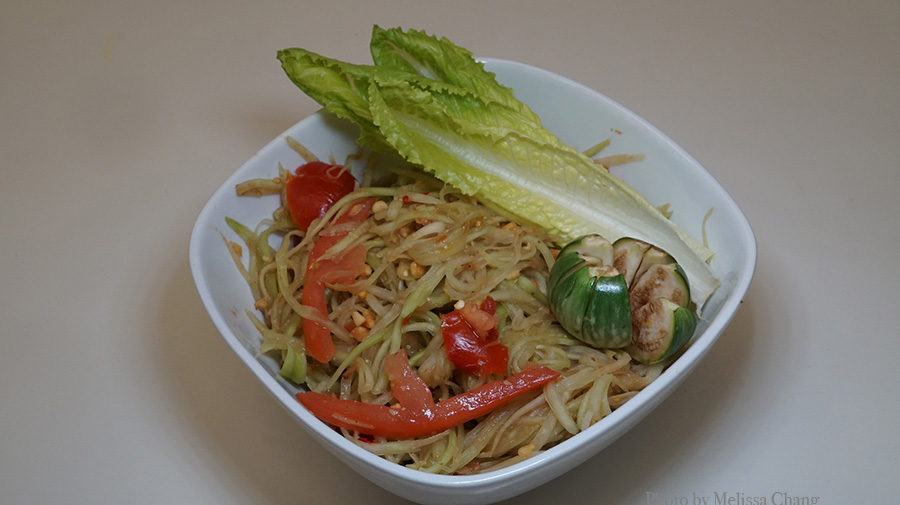 The papaya salad at Asian Flavors is very similar to other ones you may have had, but it's spicier and more pungent due to more fish sauce.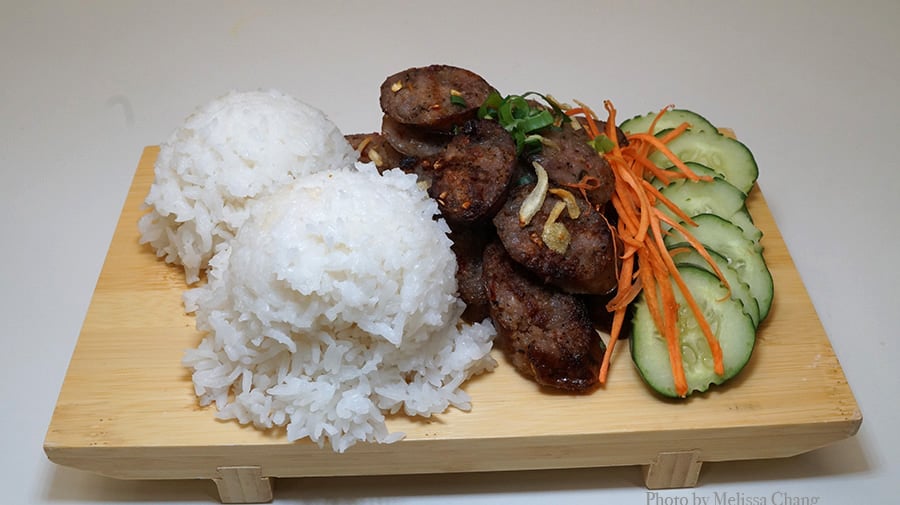 Another favorite was the Laos sausage, which was moist and savory, and of course spicy. It's good on its own, but eating it with the accompanying vegetables provides nice contrast in flavors and textures.
Thaira often has noodle creations on the menu. One day she made kung pao spaghetti. What?! Yes, it was spicy, but there was a slightly rich sauce and then a myriad of textures from the vegetables and peanuts in it. Another time, she came up with a dish called "Laopinoghetti," which incorporated Lao flavors with Filipino flavors, as a tribute to her Filipino boyfriend.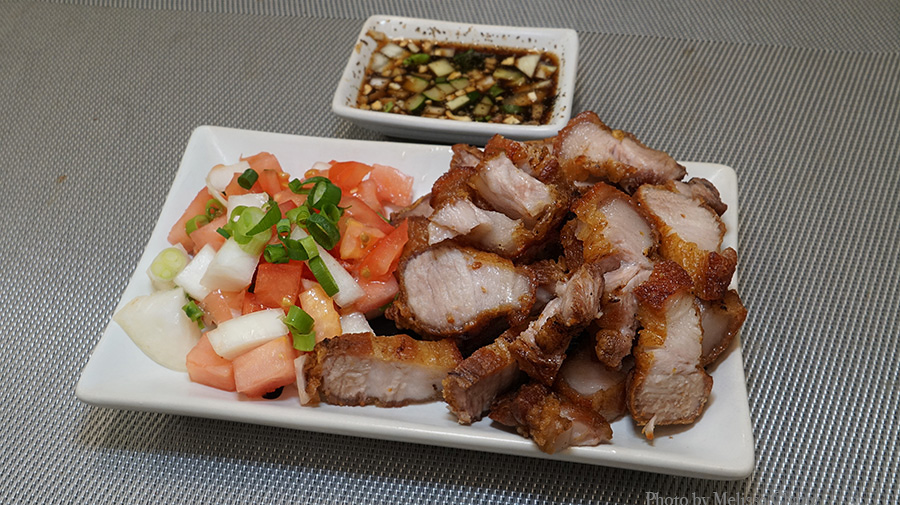 Speaking of her Filipino boyfriend! That's why you'll find straight up Filipino dishes on the menu sometimes, like the lechon kawali. Thaira puts her own little spin on it with the dipping sauce, which has a little spiciness.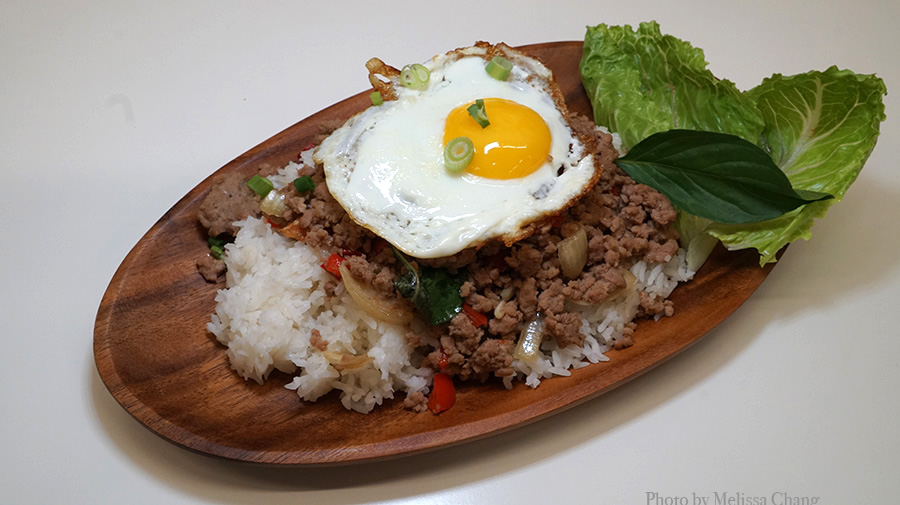 This is popular street food in Thailand, using ground pork stir-fried with aromatics and minced veggies. It's good on fluffy rice or in a lettuce cup, with or without the egg (but of course I prefer the egg!).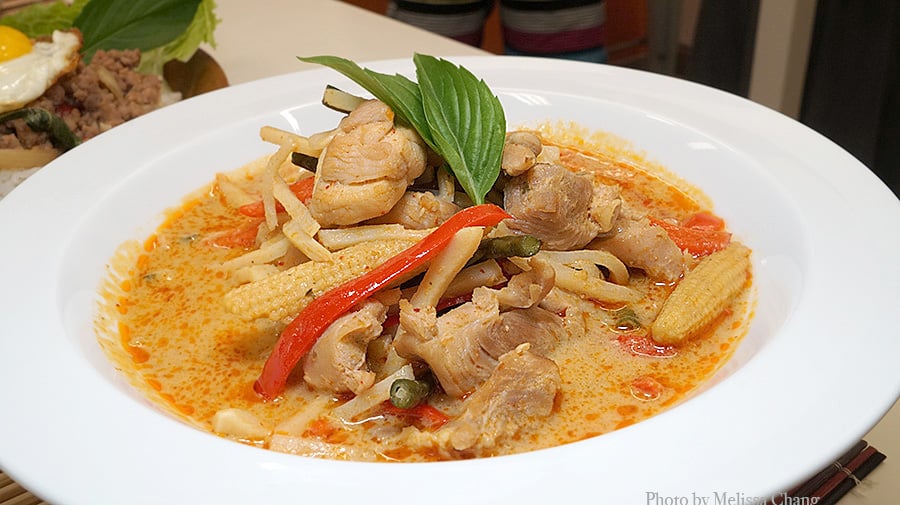 I couldn't get enough of the red chicken curry. This is Thai influenced, of course, with the use of coconut milk.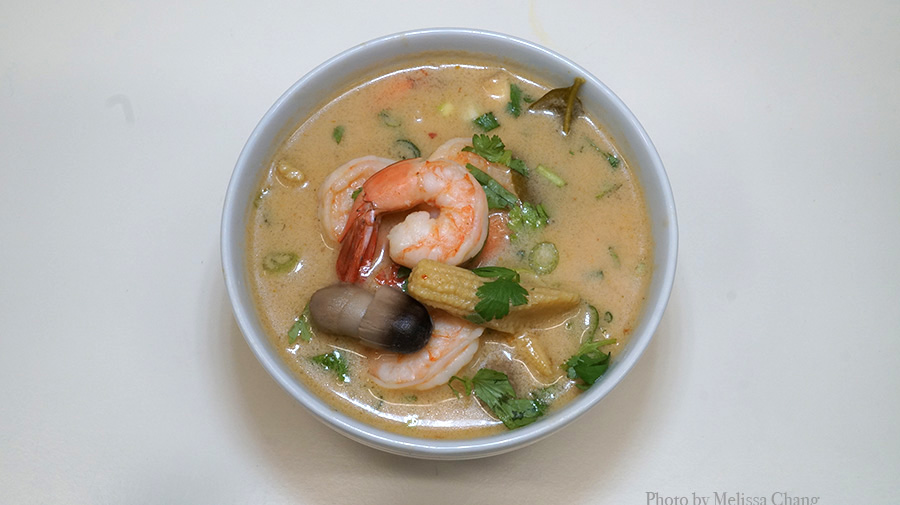 I'm usually not into soups, but this one from Asian Flavors was so good, I emptied the bowl. She didn't have a name for it at the time, but it was very comforting, with a rich, savory, slightly spicy broth filled with vegetables and shrimp.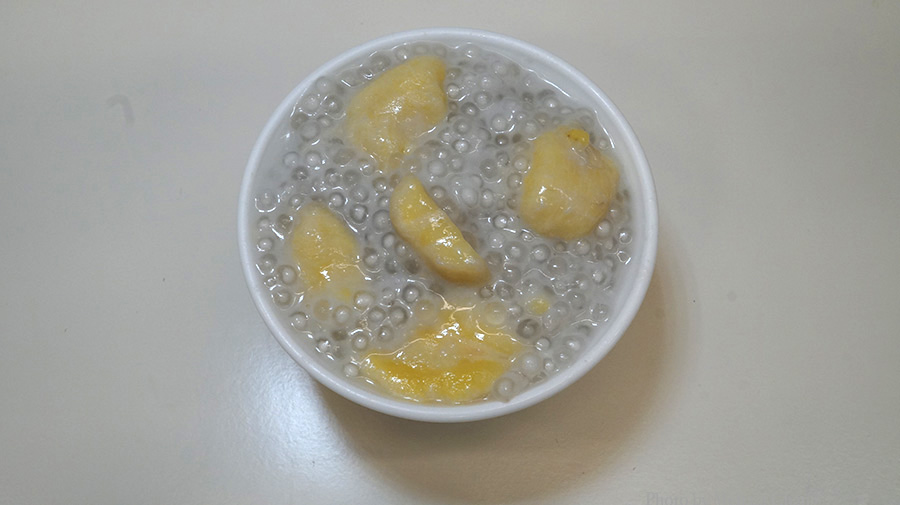 No Southeast Asian meal would be complete without tapioca for dessert, right? I loved Thaira's dessert, with large chunks of bananas. She brought out some ice cubes to make it colder, and said that's how they eat it in Laos. The ice cubes make it coldeer on the spot, and she said it tastes better. I was fine with it the way it was, but it was nice to try it a slightly different way.
You can find Asian Flavors in Ohana Hale Marketplace from about 11 a.m. to 8 p.m. daily, but it's best to go earlier as she sells out every day. Follow their instagram at AsianFlavorsHI to see the daily specials.
Asian Flavors
Ohana Hale Marketplace
333 Ward Ave.
808-200-3994