Art, scotch and soba in Kobuchizawa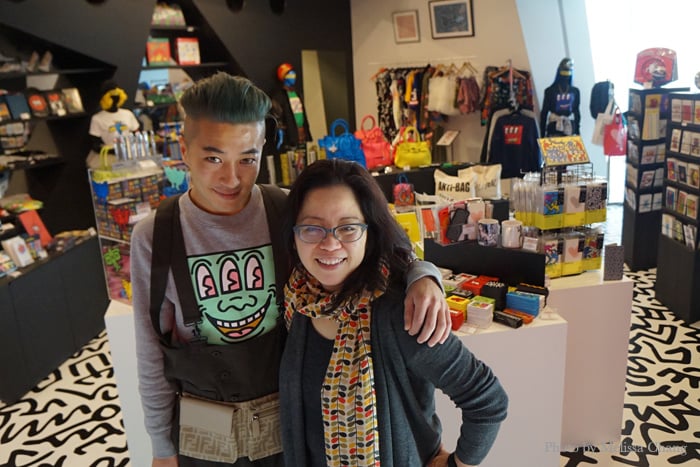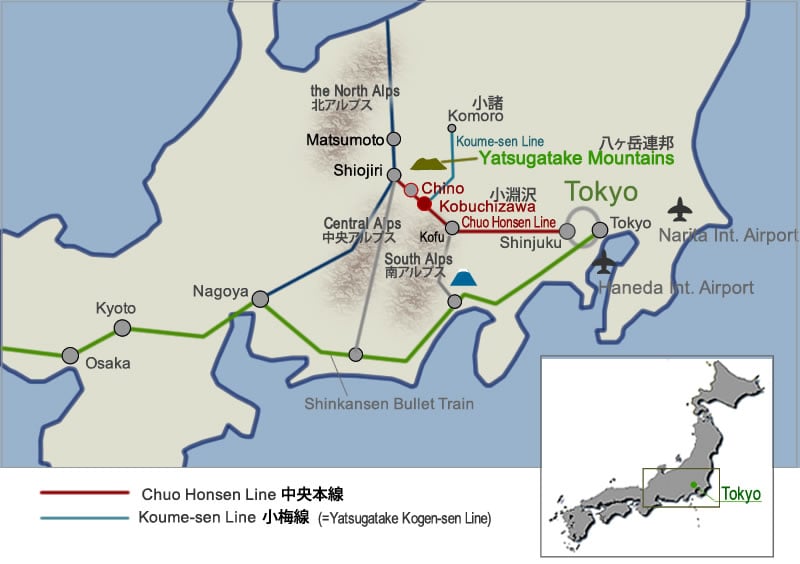 If you randomly look at Kobuchizawa on a map, you may wonder why people would ever peg it as a destination. It's kind of on the road to the middle of nowhere and it doesn't seem like there's much around it. The ride from there to our next destination, Karuizawa, looked like the forests from "My Neighbor Totoro" — I fully expected to see a cat bus or monster jump out from the trees.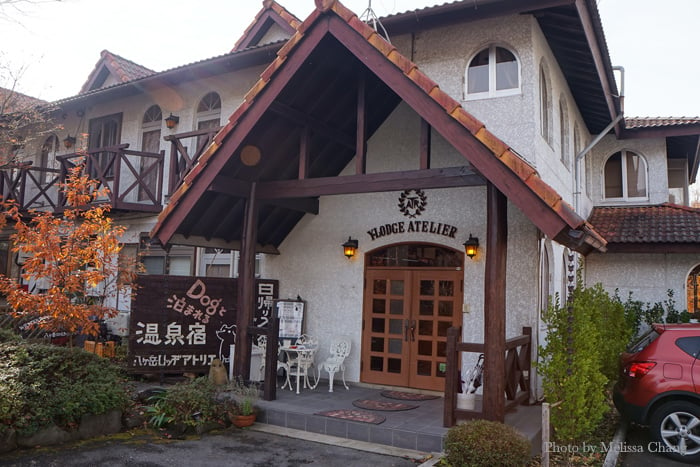 We stayed in the modest Lodge Atelier, which was a very clean and comfortable "Showa" style hotel. The interior is a little dated, but the art on the walls are interestingly hip and modern … and Western. Our room featured works by Jean-Michel Basquiat, who was a friend of Keith Haring. As a novice in the art world, I learned that if you are into Haring, you're also probably into Basquiat, and Mr. Nakamura — who apparently owns these hotels and museums in the area — was all about that edgy art.
If you stay in the Lodge Atelier, you get free admission to the Nakamura Keith Haring Collection down the street. You can also get drinks at the Nakamura Whisky Saloon across the street in the über chic Keyforest Hotel, but we were so tired that we passed out and missed last call. That was a huge regret, but realistically, we really couldn't have dragged ourselves there and back that night. This means we have to return.
In the morning, we had a gorgeous, fresh breakfast in the lodge.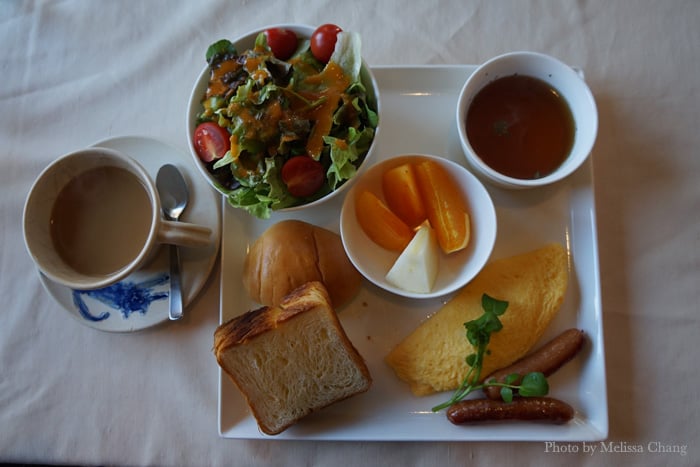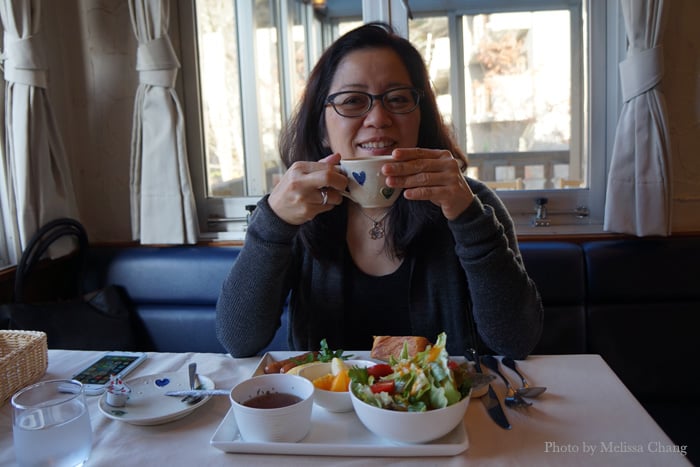 Look at that. A lovely salad with a typically light Japanese dressing, a lovely broth, lovely home made breads, and a lovely French-style fluffy omelette with lovely sausages. We each got a piece of apple — which was super sweet, of course — and perfectly ripened, juicy persimmons. Why can't I get a breakfast like that at restaurants at home without requiring a critically acclaimed badass chef in the kitchen?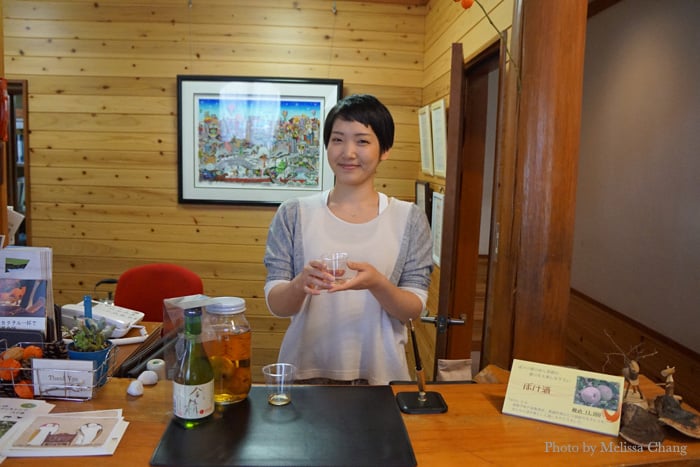 At the front desk, Ms. Akane Kobayashi gave us a taste of bokeshu, or sweet wine made from quince. This is only made in this area; it's delicate, sweet, and quite different from umeshu. Of course, we each bought a bottle, and now I'm sorry I didn't buy two.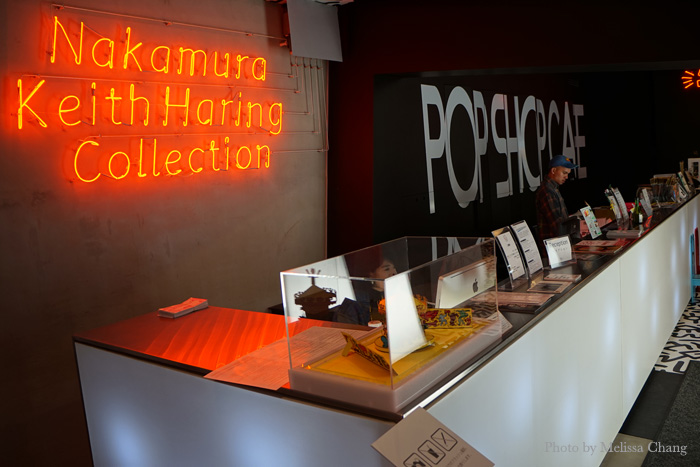 When you see how very rural and peaceful Kobuchizawa is, you'll be surprised to see such a huge, super-chic building housing the Nakamura Keith Haring Collection. It's not an eyesore; it's just a very surprising element in the middle of nowhere. But it's part of a whole art village, and once you get there, you'll find that there are many more museums to take in, and of various styles.
It's pretty clear, though, that Mr. Nakamura is really into Keith Haring. There is wall-to-wall, 360-degree Keith Haring everywhere, including his early chalk works and art for children's books. It seems like this is a home for just about every piece Haring ever did.
This section, above, compares his work to early Japanese sculptures.

You can get access to the roof, where they apparently have special events. The view of the fall leaves from here is quite nice.
Toward the end, there's also a couple of walls full of photos of his works or history, with iPads nearby to help walk you through their significance. I have never seen a museum like this, and probably will not see one like it again for many years.

This is a panorama of the amphitheater on the ground floor, outside the gift shop and cafe. It looks like a great area for concerts and events, but who would think that such a huge facility existed out here? Not me.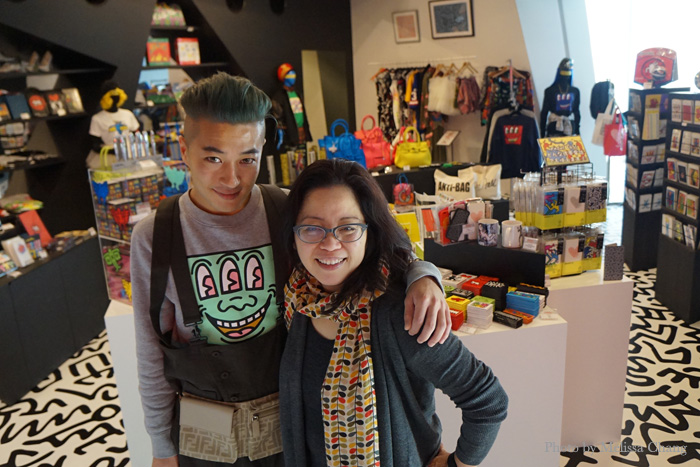 And then as an added surprise, we heard someone speaking English to us with a Western accent. Hiraku Morilla, who is originally from New York, is the art and fashion director of the Nakamura Keith Haring Collection. By the time you read this, his friends from Hawaii will have come to Kobuchizawa to get married. Talk about a very, very small world.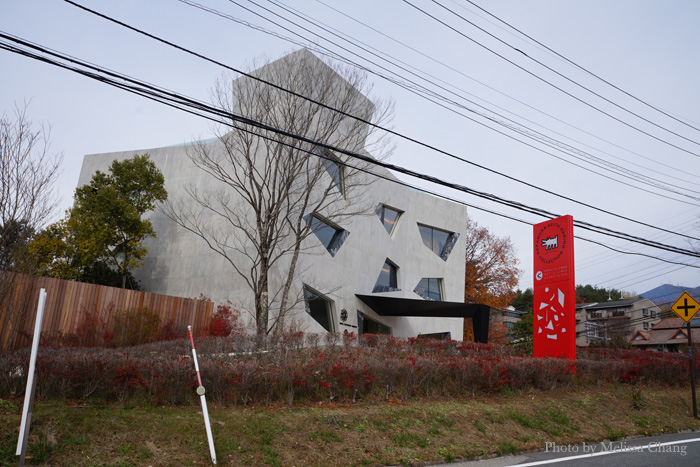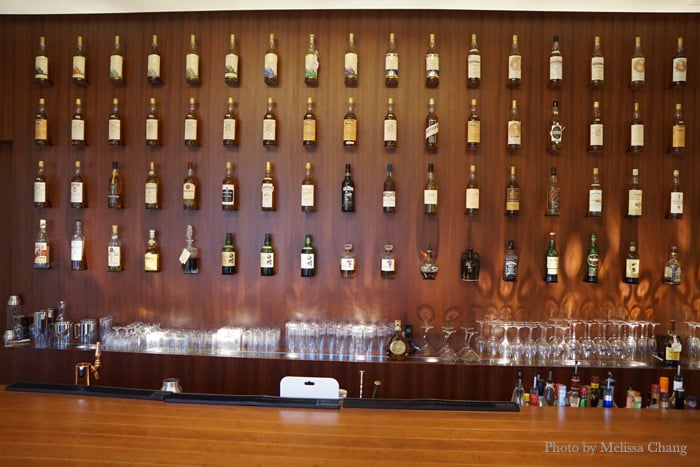 As we left the art village, we got a look at the Keyforest Hotel, which sits at the front of the area. It is another Nakamura project, with just six rooms and a super modern lobby that can be sectioned off into a private karaoke room. More importantly for us, it was home to the Nakamura Whisky Saloon, with one of the most extensive whisky selections we had ever seen. The bartender is a Brazilian artist, and we were sorry to have missed him, too. If you are into colored spirits, you'll enjoy seeing Mr. Nakamura's display around the corner, which features 200 rare whiskies that he bought from a French collector.
On our way out of Kobuchizawa itself, we decided to wander the town just outside of the train station to find a temple that was supposed to be a nice photo op.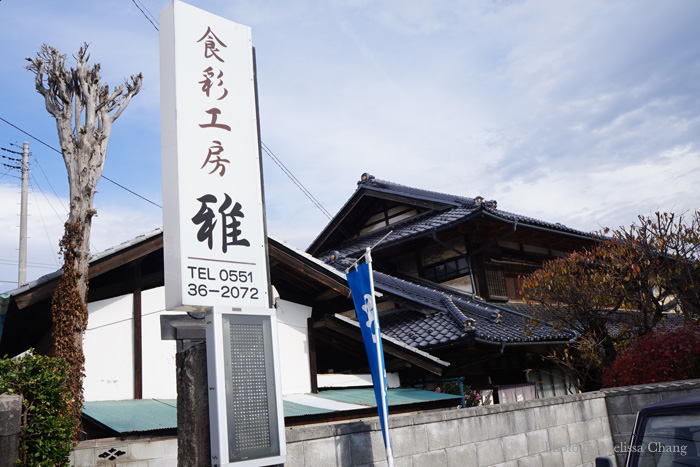 We wandered. And wandered. No temple. We did, however, stumble on this soba place in the middle of a residential area.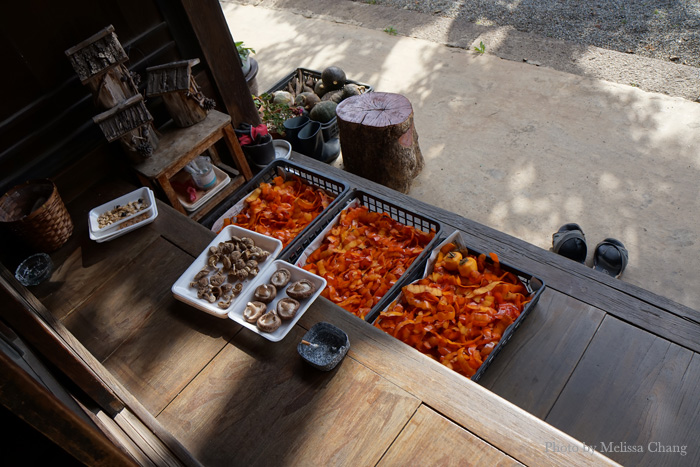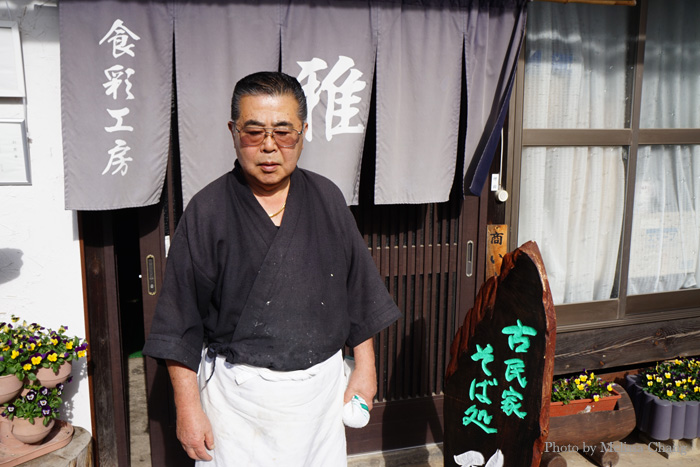 Miyabi looked pretty promising, with uncle smoking his cigarette and peeling persimmons outside. Oh, and no English is spoken here, and there's no English menu.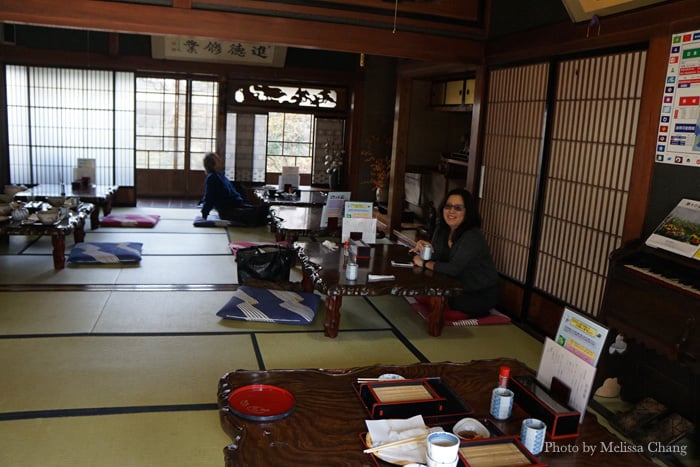 It was like eating in someone's home, with a home piano and a bookshelf displaying a few high school sports trophies as part of the decor. The people eating here were super local, including ladies who lunch.
Tip for eating here, since they have no photos, either: "tsumetai" means "cold." This is to indicate cold soba or udon, not the weather. You can still say "atsui" for "hot."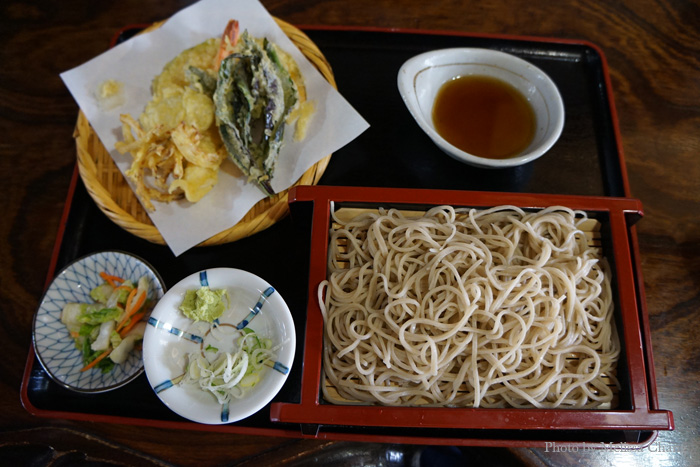 This ended up being one of our best meals of the trip. Fresh soba with a delicate shoyu broth (not shown) was amazing and light. The tempura was delicately crisp, not oily, and made with local vegetables. That green leafy tempura on top, in fact, was a mystery to us, but we saw it growing in everyone's yards there.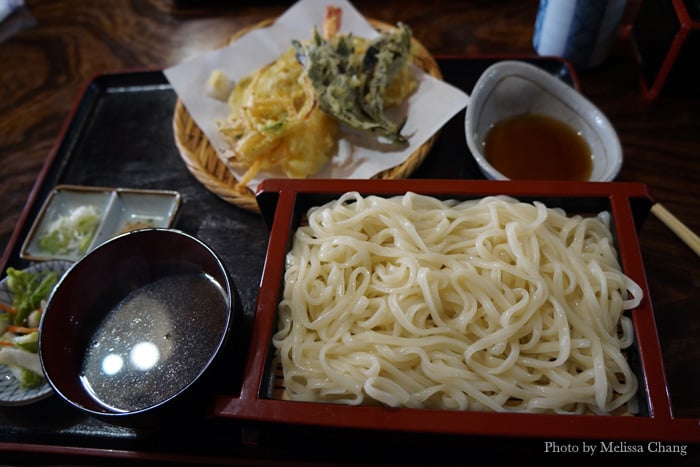 If you like udon, you will absolutely love Miyabi's fresh noodles. The dipping broth is a hearty mushroom soup, something we had never seen before. It was delicious, and had all the rustic flavor that you would expect at your favorite Japanese aunty's house. At the end, don't forget to pour some of the soba water into your leftover dipping broth and drink it.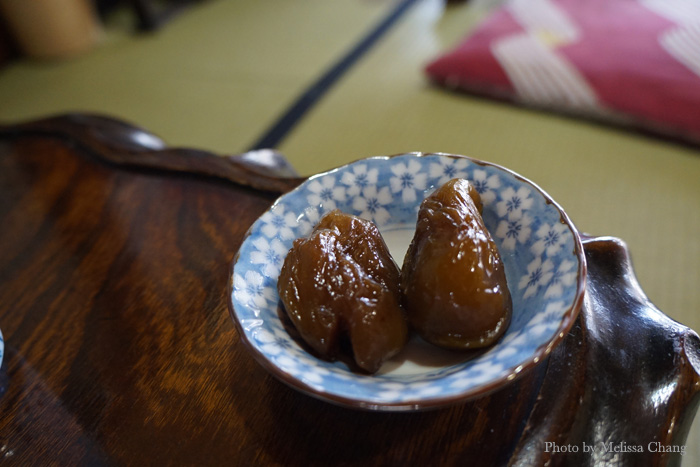 Dessert was just something sweet to end the meal: figs soaked in wine. So good!
Miyabi is walking distance from the Kobuchizawa train station. I highly recommend you try this place. (I think we liked it better than the unagi at Itutuya!)
Miyabi
2045 Kobuchisawacho
Up next: The ski resort town of Karuizawa, where John Lennon and Yoko Ono used to hang out!
To see more photos from this trip, click here.