Are Kapolei's New Crumbl Cookies Worth a 35-Minute Wait in Line?
Here's our cookie-by-cookie review of all six weekly flavors and a PSA: They're closed Sundays.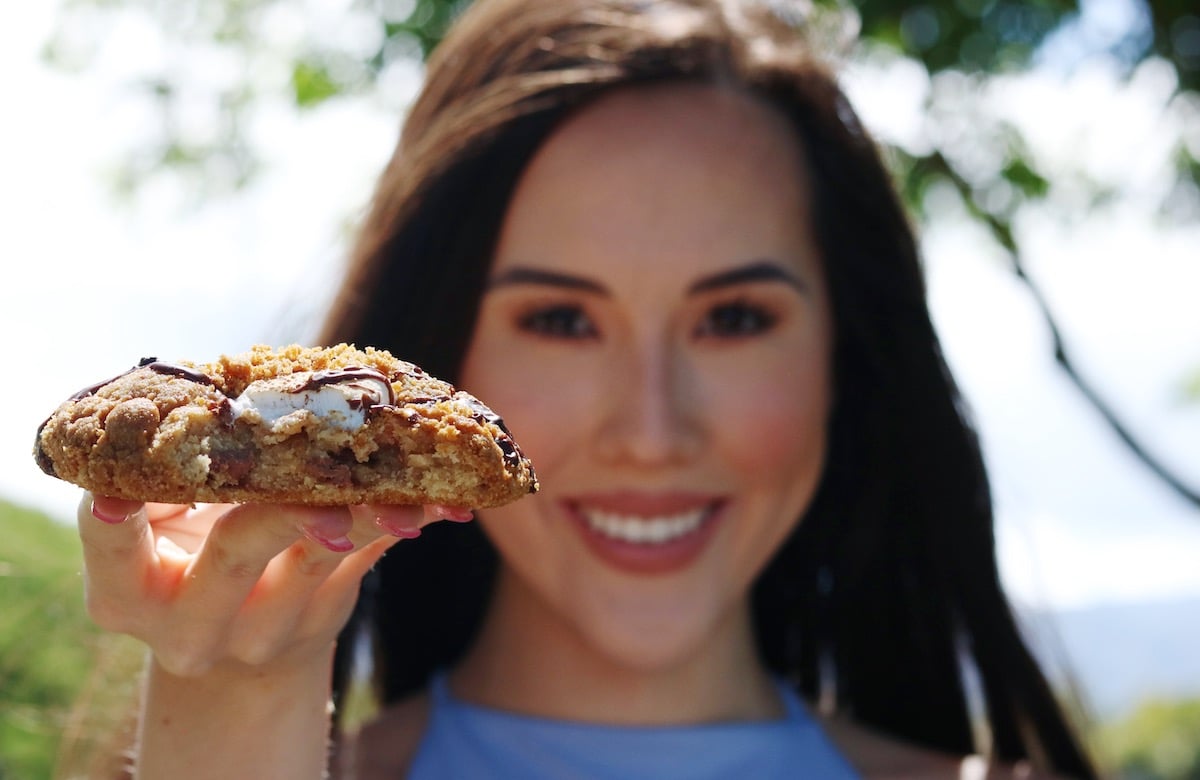 I am a huge sugar lover. Cookies, chocolate, frappuccinos and more: It's gotten to the point I don't even want to know how many grams of sugar I consume in a day. So even before I spotted the sign for a coming Crumbl Cookies store at Kapolei Commons, I was already watching video after video of people trying the different Crumbl flavors of the week. I even followed TikToker @stephpappas for the weekly Crumbl cookie reviews that she does in her car. I was obsessed.
It's about more than just sugar. Every Crumbl flavor seems like an ode to my childhood. In one video I saw a Cinnamon Toast Crunch cookie that brought back memories of waking up on a school morning and pouring myself a bowl of my favorite cereal. Same goes for the molten lava cookie, which—untasted—sent me into reveries of going to Chili's with my family and splitting a hot, gooey chocolate cake.
I am hardly alone in checking Crumbl Cookies' social media every Sunday for the week's new flavors. This is the fastest growing cookie company in the nation. In Kapolei, where the store finally opened on May 20, lines are typical, even though Crumbl opens Monday through Thursday from 8 a.m. to 10 p.m. and Friday and Saturday from 8 a.m. to 12 midnight. It's closed on Sunday—which I found out (with not a little anguish) by arriving on Sunday, May 30.
My time finally came at 11:55 a.m. on Memorial Day. The line wrapped from the storefront to the back of Marshalls. After about 35 minutes, I made it to the door and was greeted by a worker who told me that this week's flavors were pink doughnut, s'mores, cookie dough, lemon crinkle, milk chocolate chip and walnut fudge brownie. They were short on the dough for walnut fudge brownie, so were replacing it with Funfetti until more dough came in. I recommend calling beforehand to make sure your desired flavors are available. Each cookie is huge—larger than an average person's hand. Single cookies are $4.59; a six-pack is $22.41.
At 12:30 I walked in for my first real-life Crumbl experience. The air was filled with the scent of vanilla extract. On my right was a large Crumbl logo; to my left a pink accent wall. The open kitchen lets you see the entire cookie-making process. By 12:35, I was holding a pink box filled with six freshly baked cookies.
Pink Doughnut
If there were an award for Best-Looking Cookie, I would give it to the pink doughnut. Part of Crumbl's popularity is because of their original design elements. Pink doughnut's vibrant frosting, rainbow sprinkles and hole in the middle made looking at it as exciting as biting in. The cookie was nice and moist, the outside perfectly crisp with a chewy inside. I was hoping the pink frosting would have a subtle flavor such as strawberry, but it tasted purely like liquid sprinkles. Pink doughnut is special when it comes to visuals, but it tastes like your average sugar cookie.
S'mores
Texturally, this was my favorite. The base is your regular chocolate chip cookie, but it's adorned with crushed graham crackers, melted marshmallow and chocolate drizzle. The graham crackers give a nice bit of crunch, the marshmallow a gooey center and pull, and the cookie itself is moist. My pet peeve with chocolate chip cookies is barely getting any chocolate because the chips are so tiny. These have large chocolate chunks. But even for me, this cookie is on the sweeter side, so I was only able to eat half.
Cookie Dough
Cookie dough is universally liked, so I would say this is the safest bet when looking for a flavor that you know you and your family will like. The frosting is a tan color to match the color of cookie dough, but it tastes like vanilla. The showstopper is the cookie dough pieces on top. Biting in, you get the crunch of salt and sugar granules. While the actual cookie tastes exactly like pink doughnut, the vanilla frosting and cookie dough pieces elevate it. Crumbl's cookie dough cookie is the best I've ever had—instead of tasting straight up like sugar, it has a salty aftertaste that contrasts and complements.
Funfetti
This cookie was my favorite. I loved it so much that I had to get my mom to try it too, and she enjoyed it just as much. Between us we ate the gigantic cookie in one sitting. I typically stay away from Funfetti cookies because it's rare that someone makes them correctly. Playing with sprinkles can be tough, especially when you put them inside a moist cookie. The dye bleeds everywhere and they end up soggy, which makes the cookie texture wet. This cookie did not have these issues. The sprinkles are the largest I've seen, with little to no bleeding, and the exterior is a lot tougher than the other cookies—ideal for me because I love a thicker, crunchier crust and a softer interior. These textural elements paired with a classic vanilla flavor make for a perfect afternoon snack.
Lemon Crinkle
Crumbl flavors rotate every week, some repeating from previous weeks. Lemon crinkle just debuted this week. I give it a 10 out of 10 on the nostalgia scale because the smell and taste remind me of the Lemonhead candies that my friends and I would eat during middle school recess. If you are not a diehard sugar lover, steer away from this cookie—it has the level of sweetness that makes you feel like you have a toothache after. This cookie is thick, with the texture of cake. It's rolled in sugar crystals, which does give a nice crunch, and topped off with powdered sugar. It may be an acquired taste, so if you're unsure, skip this one.
Milk Chocolate Chip
This is Crumbl's most popular cookie—so much so that it's the only flavor you can get every single week. Crumbl calls it a "classic," and I would agree. It's everything you need in a chocolate chip cookie, with large milk chocolate chips and a vanilla cookie base. The thickness of it almost makes it like a cookie cake. While I enjoyed its saltiness, the word "milk" is in the name for a good reason: It has an overwhelming aftertaste of milk—in fact, skip any plans to drink milk with this one. If Crumbl ever replaces the milk chocolate chips with dark chocolate, I would buy these every day in a heartbeat.
So, was Crumbl all that? Was it worth the dough and the line? Keeping my whole Crumbl experience in mind, I would say yes. Covered walkways kept us in shade while waiting in line, and workers came out to talk to us about their personal favorites. The price is reasonable considering that these are very large cookies packed with flavor. All the cookies looked delicious and visually pleasing. If you love sugar, I recommend trying Crumbl at least once.
4450 Kapolei Pkwy, Suite 277, (808) 204-9665, crumblcookies.com, @crumblcookies