Arancino at the Kahala celebrates their two-year anniversary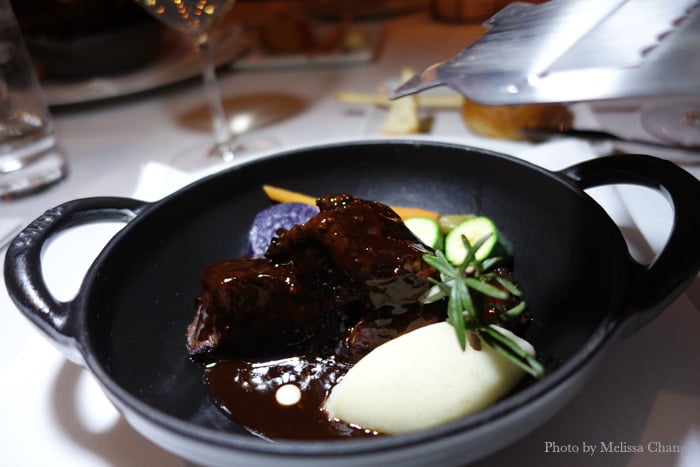 Time flies. I can't believe it's been two years since Arancino opened their third restaurant at The Kahala Hotel & Resort, but here they are celebrating their second anniversary in business.
To celebrate, Executive Chef Daisuke Hamamoto has created some new dishes (starting June 1) to add to their signature favorites, and we got to try some last night to show you. One of them, the duck, was something we had before as a one-time special, but they've put it on the new menu so more people can try it.
I loved Arancino's corn foam amuse bouche, so was a little sad when I saw this pea foam starter with pancetta. We all loved it, though. Even if you aren't into peas, try this — it's not like any peas you've ever had.
You've seen us post this medley of local seafood before, but for the anniversary, Daisuke has made the plate fuller with uni, ika, abalone, scallop, and amaebi shrimp; they also added slices of spicy ahi (previously a separate appetizer).
If you like foie gras, this delicate terrine is nicely done. The foie is marinated in cognac and brandy, then served with brioche and assorted berries. The round disks are actually onions, and not too strong!
This grilled muscovy duck dish was created for Valentine's Day, but it did so well that they brought it back for the anniversary. The risotto features sangiovese red wine, so that flavor is a subtle balance with the cheese. The fried leeks add a very subtle crunch. I think when people see this, they don't know what to expect, but once they pop the first piece into their mouth, they are pleasantly surprised at how good it is.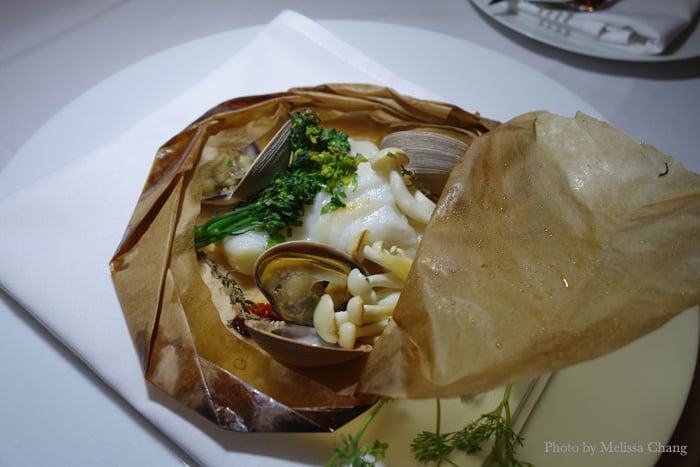 Our Diane Seo had to leave us after the duck dish, so I'm showing her what she missed: We got to eat her parchment paper bag filled with peace (fish) di giorno, Manila clams, shimeji mushrooms, broccolini, sun dried tomatoes, and white wine. We loved that the flavors were subtly rich, and of course the steam made everything super tender. I was getting full, but I had to finish my piece of fish because it was so good. To be honest, this was a perfect dish to split with the next dish, so you get surf and turf.
This braised short rib is great on its own, but if you want to kick it up a notch, adding freshly shaved truffles make it amazing. The beef is tender and almost silky, especially with the Sangiovese wine reduction. It's served with seasonal vegetables and a bit of truffled mashed potatoes. If you go with a friend, split this and the fish to make your own surf and turf.
I love almond tofu/almond float, so this roasted almond panna cotta was more than the perfect way to end the meal. It's light, but you get that lovely almond flavor with hints of coconut in the house made gelato and coconut granita. (Not to mention, anything coconut is all the rage right now.)
Mahalo to Aya Ina and Daisuke Hamamoto of Arancino at the Kahala! I was happy to have my friend, NHK meteorologist Sayaka Mori join me for dinner. She's visiting from Japan and was excited to see The Kahala for the first time, too.
To see Arancino's regular menu and hours, click here. The new menu items featured here start June 1.
Arancino at the Kahala
5000 Kahala Ave.
808-380-4400