April 14 – News, Tears and Joy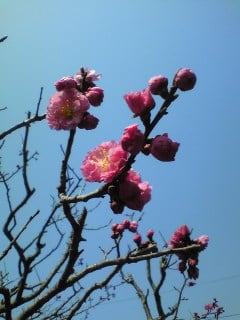 Spring is in the air but a daily dose of the cold hard facts still hit home
Spring has finally arrived! The plum tree in my mom's garden is blooming with about half of its buds flowering. After the plum trees blossom, the sakura (cherry blossoms) cannot be far behind. I might be able to enjoy the sakura at a park near the hospital as early as this weekend.
I did get some discouraging news today. The shopping center nearest my house has been closed since the large 7.0 magnitude aftershock struck April 7. They had only just reopened in early April after being damaged in the 3/11 quake and I was so happy to finally have shopping close by. Well, the grocery store and drug store now say they do not know when they will reopen because of the aftershock damage.
That shopping center was only a few minutes drive away. Now, the closest shopping center is about 20 minutes away. Of course, one month ago none of the stores were open so I cannot complain about a 20-minute drive, especially considering we do not have any trouble getting gas now. I still have a small vegetable shop within walking distance. Also, many downtown Sendai stores are open now and I can shop there when leaving the hospital.
I have started every day since 3/11 the same way. Every morning, after eating breakfast, I read the newspaper and cry. There are so many sad stories from tsunami survivors and they just keep pouring in. The newspaper publishes many of them every day.
However, I did find some happy news in the paper today. There was a Tohoku University Hospital patient who needed an organ transplant. Because Sendai Airport just reopened yesterday, the organ was able to be flown from a hospital near Kanto Koshinetsu to Sendai Airport and then on to Tohoku University Hospital in less than two hours. Thank you again to the U.S. military for assisting in opening Sendai Airport. You made this life-saving operation possible!
Inside the airport, there is still no running water, natural gas or electricity. It will take about six more months to recover completely. They are using generators, portable toilets and water trucks to operate the airport now. However, this is the beginning of the recovery and a huge first step for us. That's something we can all be thankful for while viewing the sakura.