April 10 – After the Aftershock, Again.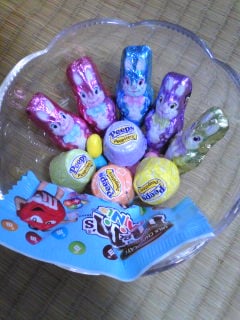 Yasue catches us up on what has been happening since the huge aftershock struck April 7.
When the large aftershock struck late on April 7, I was lucky that the Stars and Stripes reporting crew was still staying with me. At 11:36 p.m. when it struck suddenly, I was in the living room and they were nearby in an adjoining room. It was so strong that we had to all hold onto something just to stand up. I was holding onto a cabinet trying to stay upright while simultaneously grabbing items in the cabinet to keep them from crashing to the floor. The others did the same wherever they were standing.
The aftershock was nearly as strong as the 3/11 quake but it did not last as long. We were lucky to still have power and water, two of the lifelines we need. The neighborhood right across the street was pitch black and without power. The news said that many areas in Sendai were without power. However, the natural gas that had just come on a few days earlier was out again at our house. Many TV networks immediately switched programming to the news as the government issued a tsunami warning. Thankfully, there was no tsunami to speak of.

Yasue received medicine, vitamins, instant coffee, freeze-dried meals and Easter candy from family in Florida.
On Friday morning, I drove to get gas, but the station was closed because they had no power. Once again, many grocery stores were closed due to lack of electricity and their stock was damaged in the aftershock. I decided to stay home because traffic might be a mess with the traffic lights not functioning. A neighbor taught me how to reset the natural gas box at my house and the gas came back on. Now, I have all three lifelines!
Later Friday night, most of the houses nearby got power back. The gas station opened and there was no line! Some convenience stores and drug stores opened as well, however many grocery stores were still closed because of the aftershock damage. Many buildings in Sendai—already weakened from the 3/11 quake and more than 1,100 aftershocks—were severely damaged in this aftershock. Sendai Station was flooded and the hospital my mother is in flooded on some floors as well due to busted water mains.

Chiemi and Yasuko in Tokyo sent Yasue some Spring clothes as the temperatures begin climbing in Sendai.
According to the newspaper article, we can expect these strong aftershocks for six more months. I will keep things off the shelves and will keep storing food and water. I will buy a big water jug so I can store and carry water from the water station if needed. Even if we have a gas shortage again, I will be OK because I have the new bike from my friends.
On Saturday March 9, I had a care package from my sister-in-law Sharon in Florida. I loved everything in it! She even put a little bag of Easter candy in it. I totally forgot about Easter coming up. The care package included lots of instant meals, many kinds of medicine, vitamins, lip cream, etc. I could tell these items came from a family of doctors! I needed vitamins so bad. Thank you Sharon, Nick, Jacob and Sam for thinking about me.
I also received a care package from my Tokyo friends Chiemi and Yasuko that included some much needed Spring clothes as it is finally getting warmer in Sendai.