An eating adventure on the Pi'iholo Zipline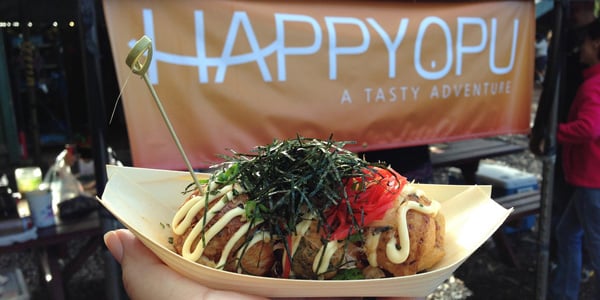 There's a lot of good food in Hawaii, but have you had a real dining adventure? I got to have one, literally, when two Maui businesses decided to collaborate and take their entities to a new level.
One is Happy Opu, an event/catering/pop-up company that creates unique dining experiences. Their tag line is "a tasty adventure," and they do have some fantastically themed dining events spearheaded by Daryl Fujiwara. The other is the Pi'iholo Zipline, located in upcountry Maui on the slopes of Haleakala. There are several ziplines on Maui, but this one offers some unique views as well as the longest side-by-side zipline in the state (about half a mile long). The lines cross over forests, gulches and meadows on a corner of the vast Baldwin family ranch. Pomai Weigert has been working with them for the last year to re-brand their operations.
Put these two together and you have a truly original dining adventure. Happy Opu launched in a big way, having participants zipline over the trees to get to each course of a progressive meal, all prepared by chef Kyle Kawakami of Maui Fresh Streatery. And these dishes weren't simple picnic food, either! They were fine dining creations that would normally be served on fine China — except you can't lug porcelain through the wilderness.
Now, I had ziplined once before — in Tsitsikamma, South Africa, with Mari Taketa — so you'd think this might be old hat for me. It was actually just as thrilling as the first time, with that little twinge of fear as you take that initial zip. Even the guides said that they see something new every time they do it. But here we are, five years later, and technology has changed the way we zip. I was able to grip using just one hand, while video'ing with the other.
First, here's a quick video of our "eat and zip" adventure:
And here's some photos (but I think the video tells a better story). These are just the highlights; if you want to see more, click here.
Eat and Zip
After ziplining, we had some time, so Pomai took me around the upcountry area: the Pi'iholo Ranch store in Makawao, Hui No'eau Visual Arts Center, Lumeria resort, and Paia Town.
Now, I did ask if the Pi'iholo Zipline would be offering such eating adventures again, but there aren't any planned for the near future. It's a neat concept, though, and I hope it becomes a featured premium event. Happy Opu, meanwhile, has more events planned out for the rest of the year, featuring Maui locations and chefs who are willing to step up to the challenge. Follow them both on Twitter, Facebook and Instagram to find out more about their next events!
Disclosure: The trip and event was hosted by Happy Opu and the Pi'iholo Ranch Zipline.