An amazing HIFF comes to an end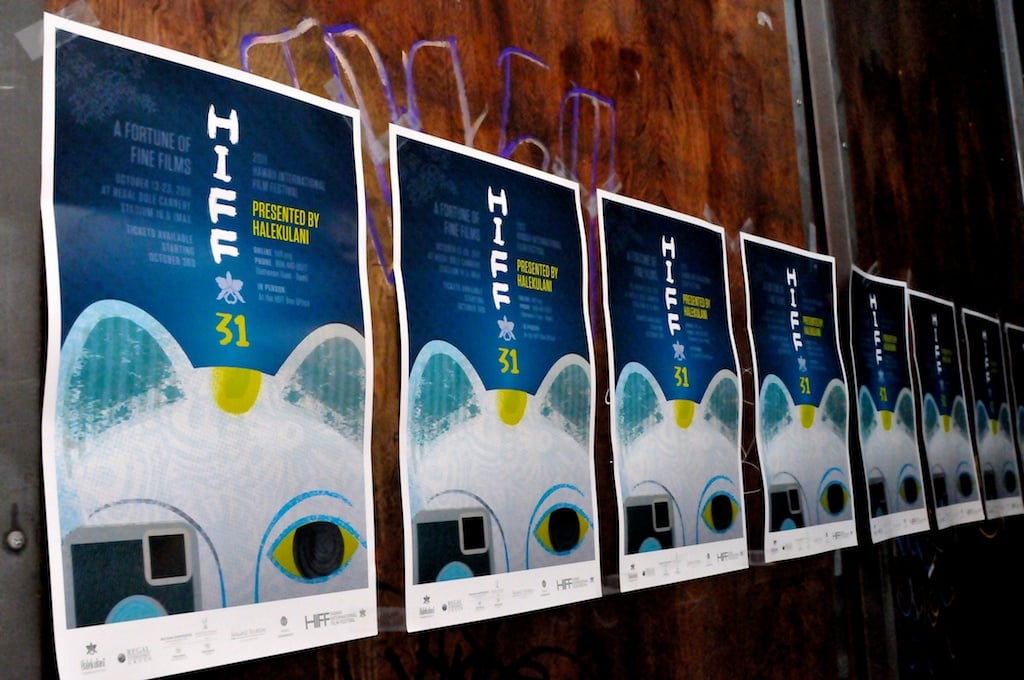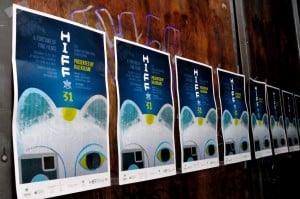 Another awesome HIFF has come to an end, and it was truly a marathon 11 days for me. The thing that really wore me out this year were the number of events. There was an event virtually every night of the festival, so I was spending my afternoons at the theater and nights at awards ceremonies and after-parties. Even so, I wasn't able to make half of the scheduled events or any impromptu after-parties, since I had to get home to post photos and reviews. By Day Four, I realized unless I started injecting Red Bull, I needed to stop burning the candle at both ends.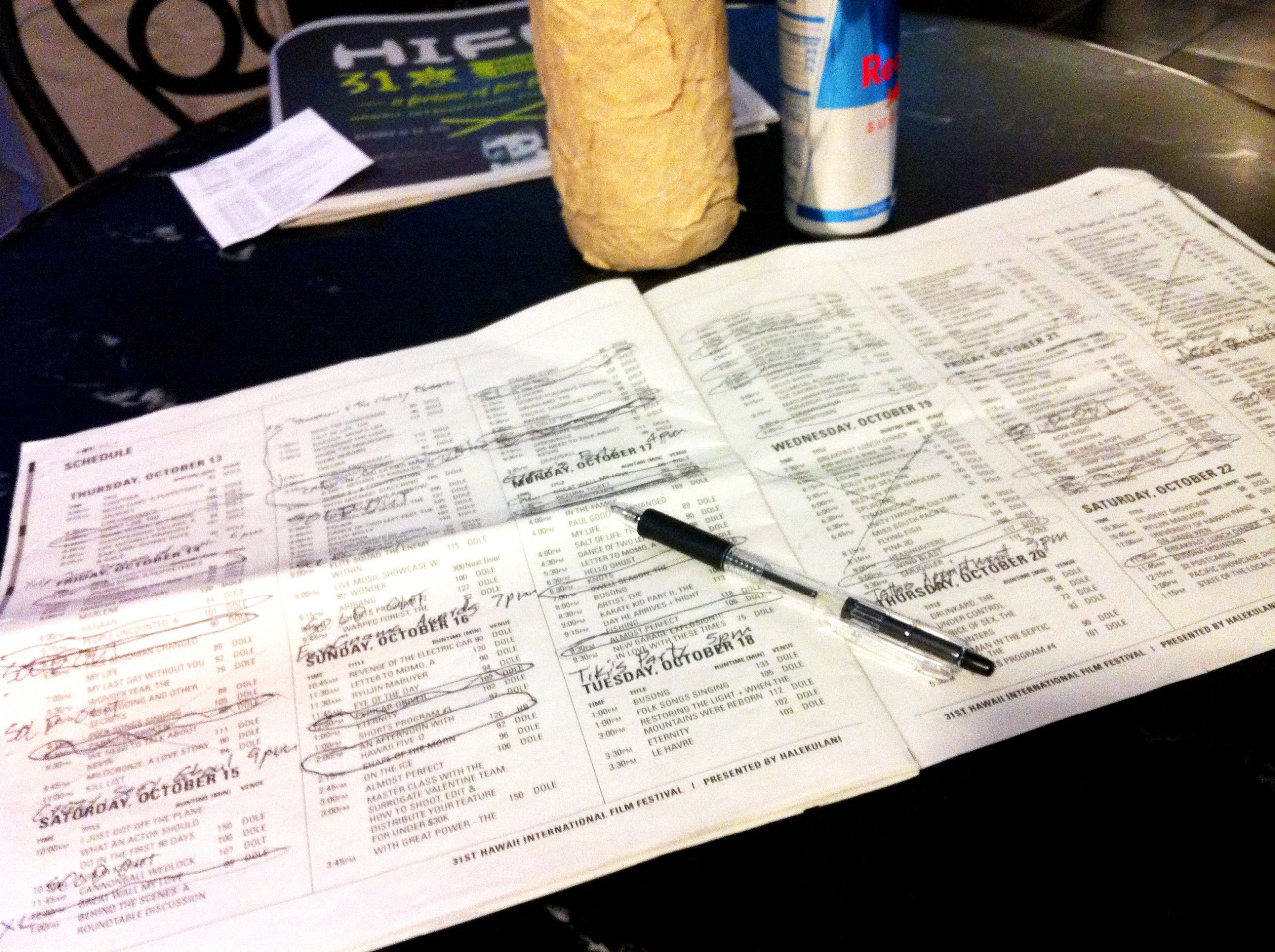 Before the festival, I spent a long time trying to plan out my schedule. As you can see from the notes in my program guide, I put a lot of thought into my film and event selections. It still proved difficult, since many of the films I wanted to see were shown simultaneously or were screened on the same nights as events I had to cover. My schedule constantly changed as events popped up and buzz for different films grew, prompting me to exchange my tickets for other ones.
HIFF opened with a press conference at RumFire. I picked up my credentials, and from the start, I heard talk about various events planned for that weekend, including the opening night party at the Halekulani. As much as I wanted to meet the filmmakers, I knew there would be plenty of opportunities for that, so I opted to attend the Yelp screening of "Jiro Dreams of Sushi." HIFF does a phenomenal job every year featuring great food films, and this year they didn't disappoint with this film about an 85-year-old sushi master Jiro Ono.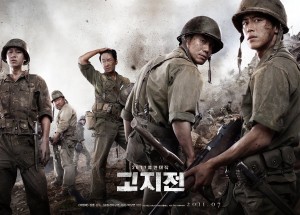 Day One concluded with another amazing film from Korea called "The Front Line," about a group of soldiers caught in a back-and-forth struggle over a strategic hill during the Korean War. Grand in scope and unflinching in depicting the horrors of war, this character-driven drama was a fantastic way to cap the first day of the festival.
Day Two started with a screening of "Being Elmo: A Puppeteer's Journey," a documentary that chronicled the life of Kevin Clash, the puppeteer behind the insanely popular "Sesame Street" character. Clash started from humble beginnings in Baltimore, where as a child he made his first puppet out of the lining of his father's coat. With the support of his parents, he started putting on neighborhood shows until he was recruited for a Baltimore children's show in high school. Through his innate talent, hard work and a little bit of luck, he eventually found himself working with his idols, Captain Kangaroo, Kermit Love, Frank Oz and eventually Jim Henson. He later became not only a puppeteer on "Sesame Street," but the show's co-executive producer.
I followed that documentary with another, "A People Uncounted," which told the story of the Romas, otherwise known as Gypsies. Like Jews, Romas were targeted by Nazis, but their stories often went unheard because they weren't allowed to own property in many European countries, and thus, weren't counted among the Holocaust's victims. Factor in their high illiteracy rate among, and they became the forgotten casualties of the war. A striking statistic from the film was that if you look at casualties in terms of percentages, 40 percent of the Jewish population survived the war, while less than 10 percent of the world's Roma population survived the Holocaust.
After an afternoon of documentaries, I headed to Chinatown for the 9th Wonder Music Showcase and the screening of the film "The Wonder Year," which explores a year in the life of DJ 9th Wonder. After the screening, film viewers made their way to NextDoor for the after-party and to hear first hand the mixing skills of 9th Wonder.
9th Wonder Music Showcase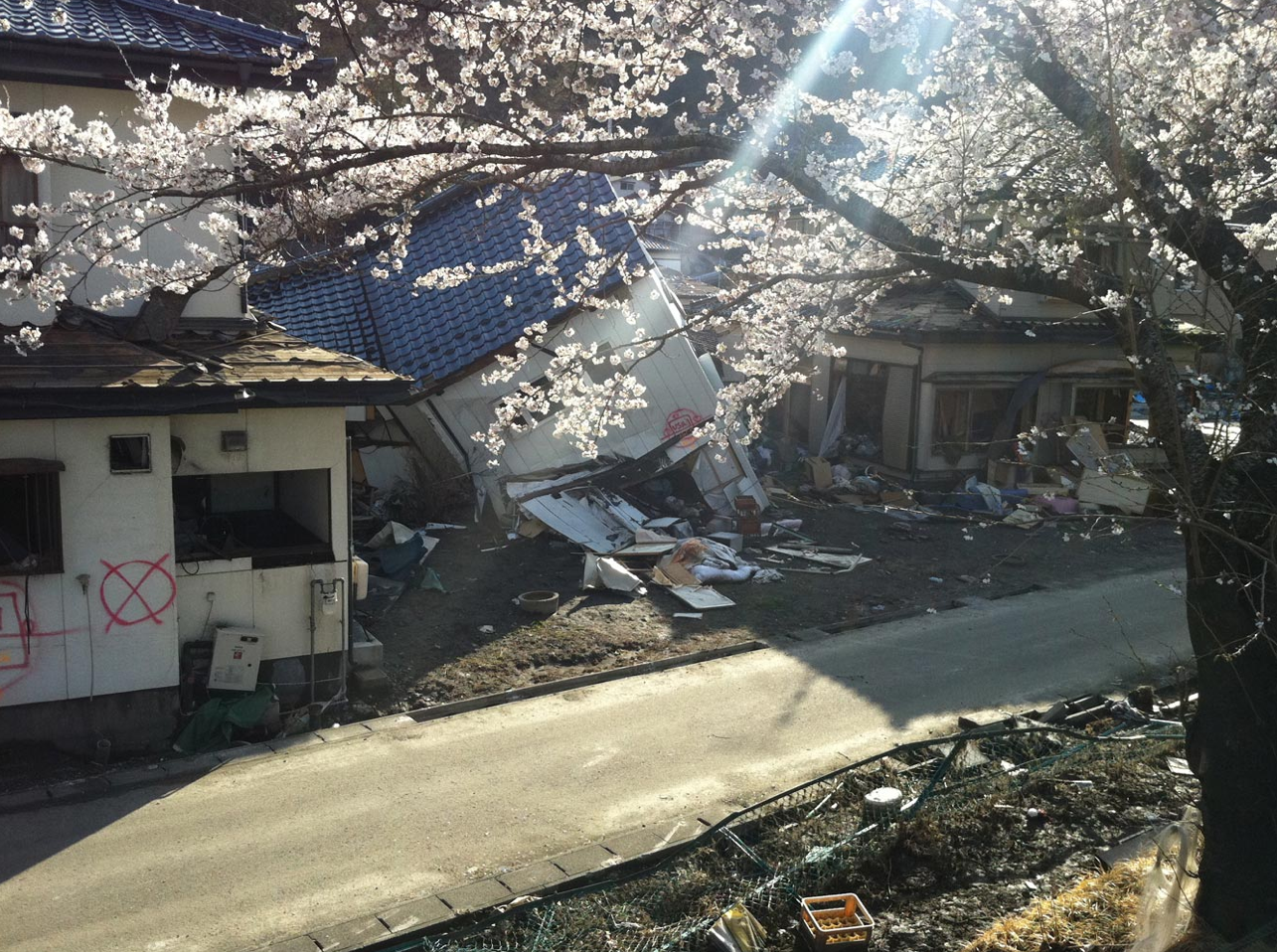 I took a trip to Japan on Saturday with the film "Kasaan Mom's Life," but it was another, "The Tsunami and the Cherry Blossom," that blew me away. It opened with raw, awe-inspiring footage of the tsunami rolling through the the city of Fukushima. The film starts out with interviews of survivors — many of whom are still living in shelters and dealing with the constant threat of radiation from the power plant. Just when it seems too much for anyone to rebound, something miraculous happens — the cherry blossom trees begin to bloom, which becomes a sign of hope for the Japanese people. It's an amazing film that's reportedly being considered for an Academy Award in the Best Documentary (Short Subject) category.
Following my afternoon at the theater, I got dressed up for the EuroCinema Hawaii awards at the Moana Surfrider Hotel. Here are shots from that event.
EuroCinema Hawaii Awards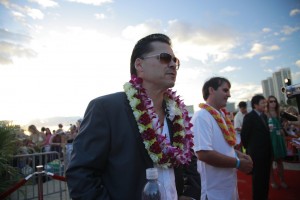 I then headed out to the Halekulani for Day Four to sit in on the "Afternoon with Hawaii Five-0" panel. The panel — moderated by HIFF programing director Anderson Le — featured executive producer Peter Lenkov, director Steve Boyum and cast members Alex O'Loughlin, Daniel Dae Kim, Grace Park, Lauren German and Taylor Wily. Despite the fact that no cameras were allowed in the room, I found myself sitting in a row with "Hawaii Five-0" bloggers, madly scribbling notes. Here's Part One of my coverage, and Part Two.
One of the things I love at HIFF is when they show an old movie that I've seen television or DVD. These are great films that take on a whole new dimension when viewed on the big screen. Last year, that film for me was "Ip Man 2," with all its Kung Fu awesomeness. This year, HIFF showed a digitally remastered "La Dolce Vita," and I couldn't pass up this opportunity to see this classic film on the big screen.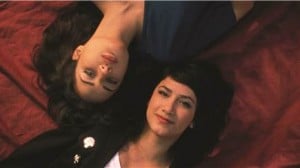 HIFF was starting to take its toll on me by Monday. I showed up to the theater sleep deprived and a little hung over, but that was all forgotten when I saw what became my favorite film of this year's festival — "Circumstance." I knew a film about lesbians growing up in Iran was going to push boundaries, and it didn't disappoint. This tale of wealthy girls Atafeh and Shireen offers a look into the hidden world of Iran's youth culture. Living in an oppressive society, Atafeh and Shireen must hide their true feelings and dream of a time and place where they can be free of the boundaries. Their secret life is thrown into turmoil when Atafeh's brother, a former drug addict-turned-religious zealot, returns home. Well deserving of the Audience Award at the Sundance Film Festival, "Circumstance" is a film that any serious movie buff should see.
Probably the most unexpected thing to happen to me at this year's HIFF was meeting actress Tamlyn Tomita. While at Halekulani for athe Immigrant Filmmakers Reception, I shared a table with Eric Nakamura of Giant Robot, who I didn't realize was a member of the HIFF jury. As a result, I was shocked when fellow jury members Nate Kohn, director of the film festival, Ebertfest, and actress Tamlyn Tomita walked over. I stood quietly as they talked shop, until they turned to me and asked why I was at HIFF and what films I had seen. I explained that my primary interest was to see food films, which turned the conversation to food. Before I knew it, they were all asking me where to eat while they were in Hawaii. I gave them a list of places and was tickled later when Kohn and Nakamura reported back that they had enjoyed my recommendations (Doraku for Kohn and Paina Cafe for Nakamura). Tomita, on the other hand, was already well versed in the eats of Hawaii, and we spend an hour talking about new places she should try and places on the Mainland we liked. One thing I found interesting was that Tomita loves donuts and makes a point to seek out the best donut in whatever city she's in.
Immigrant Filmmakers Reception
After the the reception, I made my way back to Dole Theatre to shoot Myong Choi's interview of Tomita for Nonstop, and then to attend the screening of Kelly Hu's film, "Almost Perfect."
Upon arriving, I found myself in the center of a vortex of Asian actresses, including Grace Park, Kelly Hu, Traci Toguchi and Tamlyn Tomita. People were clamoring to talk to them and take pictures with them. Unfortunately, I wasn't able to get them all together for a picture. Park and Toguchi left, and Hu had to go to the "Almost Perfect" screening. After doing a quick greeting in the "Karate Kid II" screening, Tomita came out for Myong's interview.
Tamlyn Tomita pics
Tamlyn Tomita Interview
On Tuesday I was at Dole Theatres for an afternoon screening of the dialogue driven "18 Meals." I then headed over to Washington Place for the HIFF Awards.
HIFF Awards
After "Splinters" won the Golden Orchid Award for best documentary, I made it a point to go see it on Thursday afternoon. "Splinters" takes place in the Papua New Guinea village of Vanimo, where in 1980, an Australian pilot left a surfboard. Now 20 years later, an entire surf culture has grown from that one board. The village is divided into two clubs, the original Vanimo Surf Club and the upstart Sunset Surf Club. As they prepare for the country's first national surf competition, tensions build between the two clubs. Featuring some great surf scenes and a stark view of village life, "Splinters" is a film that shows how surfing can be an escape from both the harshness of life and social standings.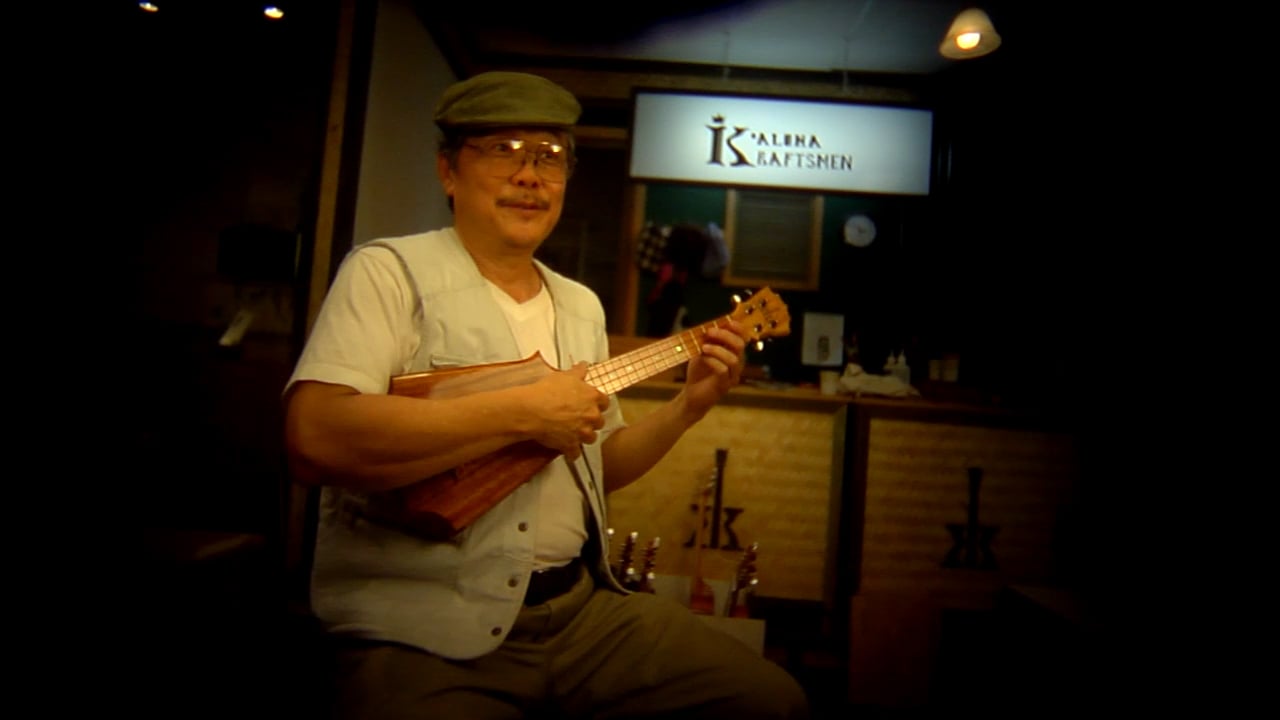 I then went to see a film I had been waiting all week for, "My Koaloha Story," which tells the story of the family-owned business, Koaloha Ukulele. Featuring emotional interviews of the Okami family as well as the musicians who love Koaloha ukes, this "talk story" style documentary did a great job of showing the love members of the Okami family have for each other and what they do.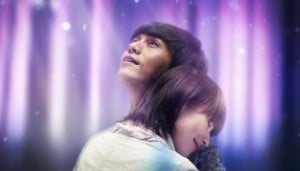 Another of my favorites from this year's HIFF was, "Rest on Your Shoulder," a fantasy film with great animation and memorable characters that centers on a biologist, Guo, who's searching for a cure to an illness that has gripped the world. While doing his research, he becomes ill himself, so his fiancee, Bao, makes a pact with a spirit to live as a butterfly for three years in exchange for Guo's recovery. The animated insect world comes alive once Bao lives among them. She finds her way back to Guo, but watches helplessly as he begins a new romance with a reporter, Yang Lin. Still, Bao's love is unwavering.
Even after 10 days of great cinema, there was still one big event, and what better way to close out this year's HIFF than with the Hawaii premiere of a major Hollywood film, The Decendants," which had more buzz than any other film. Although I showed up just to take photos outside the theater, I was fortunate to get a last minute seat to see the film based on the novel by local author Kaui Hart Hemmings. It's a must-see film that showcases Hawaii in a way no other film has done before.
"The Descendants" Premiere
"The Descendant's Post-screening Q&A: My question is at the 28:32 mark