An agricultural business plan competition by Kamehameha Schools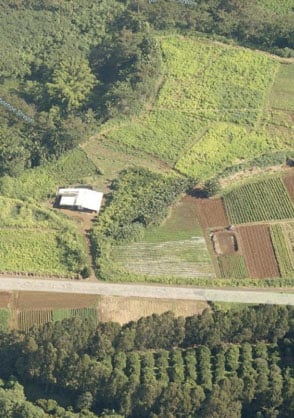 How do we get more farmers? It's a frequent question for those concerned with the food system and agriculture, which is losing acreage and farmers. The latest idea from Kamehameha Schools, which owns about 180,000 acres of agricultural lands throughout Hawaii: a business plan competition for six of its ag land parcels.
Awardees will be given free rent for five years as well as some seed money (the exact amount is still to be determined as KS looks to sign on more sponsors from now until the winners are selected in February).
The land parcels available range from one acre to 90 and are on Oahu, Molokai and Hawaii Island. "Every region lends themselves to different things," says Kaeo Duarte, director of Strategic Initiatives at KS. "We're really trying to throw it out to the wind and maybe somebody has a really cool idea."
On the 90-acre parcel in Kau, he says it would be easy to lease it out to a rancher to put cattle on it, but this plot is unique in that it's along the highway. "The zoning and highway frontage lends itself to who knows," he says. "Maybe someone has an idea with community or kids, or commercial activities … or mixed livestock and vegetables, or something that we can't think of."
Business plans should align with KS's Strategic Ag Plan, which has goals including locally-produced food, ag research and clean energy, though Duarte says there's a slight preference for plans that produce food for the local market. Seventy-five percent of Kona coffee is produced on KS lands, according to Duarte; KS finds organic food produced for local consumption underrepresented in its portfolio. Still, Duarte emphasizes that the competition is open for "whatever comes. We hope it doesn't limit people. We want innovative proposals and we really want to encourage creativity."
Also, he says "besides the winners, we're hoping to snap up some other good farmers along the way" for other parcels that are not included in the competition.
Five years rent-free isn't nothing. But in agriculture, in which crops can take years to mature, it's relatively short. Case in point: some agricultural loans require 30-year lease contracts. But KS hopes the seed money will give the beginning businesses a kickstart, and after five years, that the businesses will be successful enough to sign on for longer leases.
Mahi'ai Matchup: Find more information and the entry form at pauahi.org/mahiaimatchup/index.html