Aloha Tokyo! Quick trip through the Big Mikan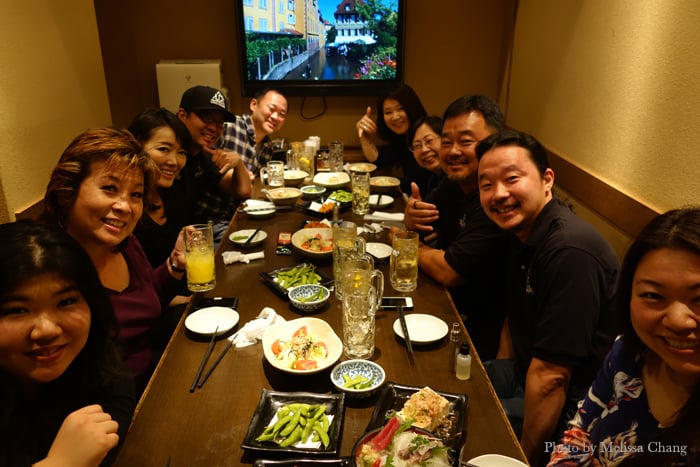 Whoosh! I'm back in Tokyo for a few days, and everyone is asking why I'm only here for a short time. Well, it is actually a perfect alignment of different things that brought me here.
I'm actually headed to France to meet my niece, Ahnya, who has been traveling around the country for the past couple of months. It seems like the best time to visit, right? Plus I get to see her use her French, and I can report back to her mother that I have left her in good health.
Unfortunately, at this time of year, round trip air fares from Honolulu to France are astronomical, and using Delta awards will pretty much eat all my miles. My foodie friend Sean Morris had a brilliant idea: why not fly the other way around the world? As it turns out, I could use my United miles to do a cheap round trip to Tokyo, and then I could book a trip from Tokyo to Paris for just $600. The catch is, I have to stop in Qatar — and that sounds exciting to me, too.
Two chef friends, John Iha of Hiroshi and Keith Endo of Vino, have been planning a research trip to Tokyo and wanted me to join them. This little stop in Japan enables me to hang out with them for a couple of days. In the meantime, I have friends like Alan and Paul Okami, and Pali Kaaihue, who are also traveling though the Big Mikan … so it's like one big field trip.
I spent my first day meeting up with Tokyo friends, as well as Pali, Alan, and Paul.
First things first: I can't stress enough how convenient it is to take the limousine bus to and from the airport. It costs about $30, but it takes about as long as the train and is door-to-door (or close to it). The Japanese rail system is kind of complicated, and you don't want to be lugging your bags through train stations — especially in rush hour. If you don't have any bags, kids, or parents, then I guess training it can be okay (and cheaper), but really … you don't want to start your trip being lost or frustrated or thinking too hard. Catch the bus.
Hawaii ex-pat Kurt Saito once again got some friends together for a night of food and drinks. We went to Tengu, an izakaya near Meguro station. It's located on the third floor of its building, but is a large space with dining tables, tatami rooms, and private karaoke rooms. You can opt for a course menu or all you can eat and drink for about 3,000 yen.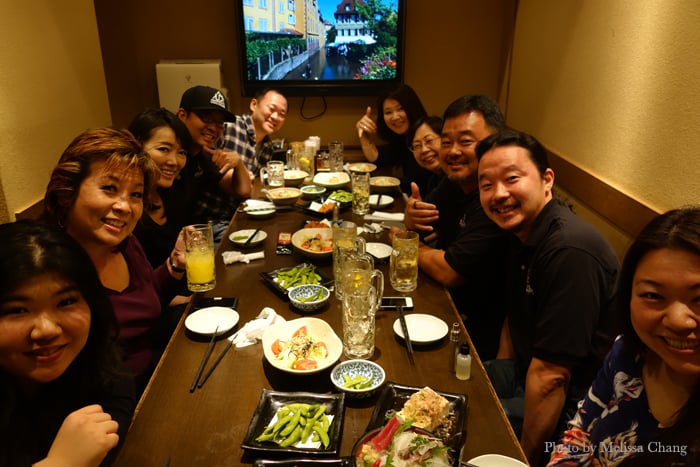 Cheers! Clockwise from left: Deanne Matsushima, me, NHK Meteorologist Sayaka Mori, Vance K (a Hawaii expat who is now a DJ in Japan), Kurt Saito, Naoko Chimaru, Leila Okazaki Kumei, Alan Okami, Paul Okami, and Ai Ando. This is in a private karaoke room!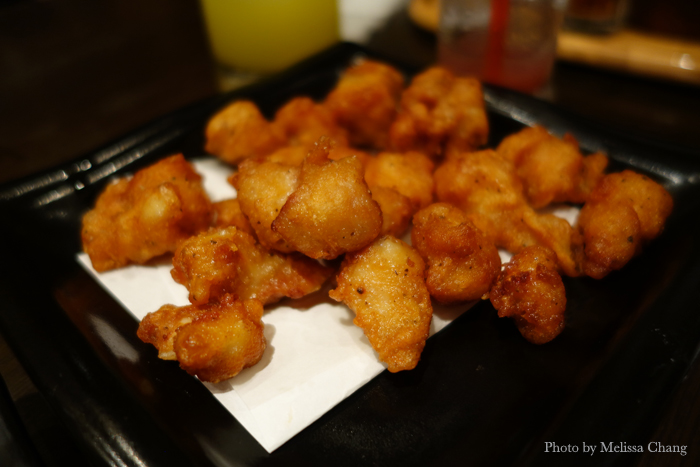 We actually ate more than what I'm showing you, but you can see the rest of my photos on Flickr. This is one of my favorite izakaya snacks, deep fried chicken cartilage. They are way too easy to eat!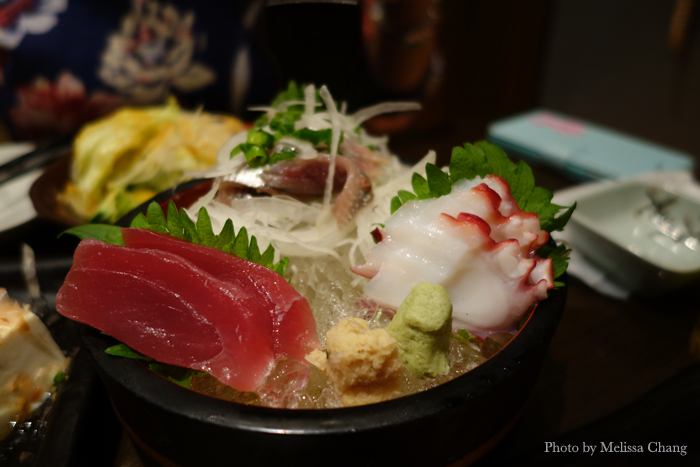 A little sashimi bowl. This was good. Not fabulous, but it was definitely something you'd have to have, since you are in Japan.
OMFG. I never had motsu nikomi before, and now I want more of it. If I understood correctly, the broth is made from pork innards, and it has tofu, thin slices of pork, onions, and a hard-boiled egg. The broth is rich and savory, and the meat, veggies and tofu are silky soft. It's something I would want to dump rice or noodles into, to get every last bit.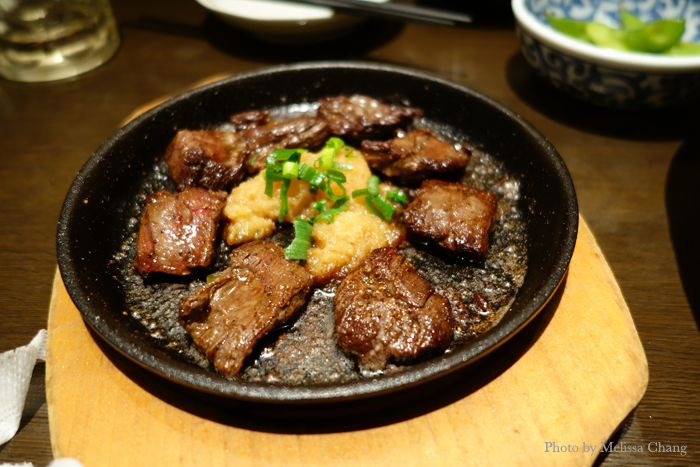 I liked the steak on a sizzling platter, with a strong shoyu/sugar sauce and grated daikon in the middle. This was another one that needed rice, but it is good food for when you are drinking.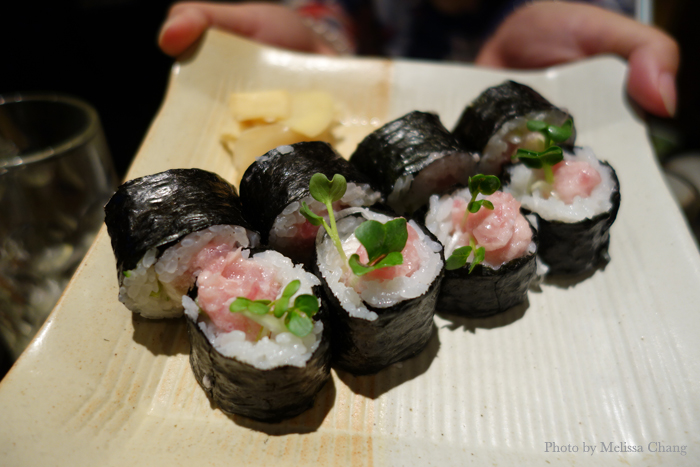 Negitoro roll. Need I say more? It's so hard to go back to eating fish and rice in Hawaii when it's so plentiful and awesome here.
We could only stay in the room for two hours … well, we could stay longer, but would have to keep ordering. Some people went home, but Kurt, Pali, and Pali's friend Yoko and I headed to Ebisu for more food and drinks. We went to Koyo Musashimaru's restaurant, 67 Gyoza, located across Ebisu Yokocho. Do you know why it's called 67? Hawaii-born Musashimaru was the 67th sumo yokozuna.
Inside 67. It's small, so go early. There's also a chef counter at the back.
If nothing else, get the garlic gyoza. This is their most popular gyoza, filled with meat and lots of garlic. See how the gyoza are smaller than normal? This is so that women can eat them daintily, with one bite. This made the restaurant more popular with women, which in turn brought in more men. Brilliant.
And here's Kel with me and Pali! We didn't get to hang out too long, but I'll be seeing them again in November.
That was a long first day! I landed at 1:30 p.m. and was on the go until 1:30 a.m. Mahalo again to Kurt Saito for putting this first night event together!
These were just the highlights. To see more photos from this day, click here. To see the whole trip (I will keep adding albums), click here.
Up next: Visiting Hachiko and the 47 ronin!