Aloha Tokyo! Final day in Japan … for now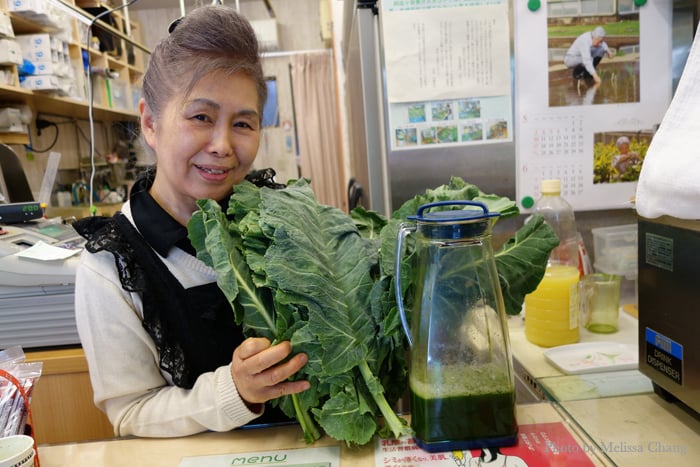 I had one final day in Japan before heading home, so met up with my friend, Hawaii ex-pat Deanne Matsushima. She, like many of my Hawaii friends, used to live in an area called Asagaya. It is an older, established neighborhood, but new real estate developments are making it a more popular up-and-coming type of place.
If you are like me and are coming from Haneda Airport, it's pretty easy to get there: Take the monorail — and that route is very scenic — to Hamamatsucho, then transfer to the Yamanote line. At Shinjuku, transfer to platform 16, the Chuo line, and Asagaya is five stops away. It's important to go to platform 16, NOT the Chuo train across you when you get out.
When you get out at Asagaya, there will be a shopping arcade called Pearl Center, kitty corner from the exit. This arcade has everything — clothes, groceries, restaurants, spas, and more — so if you live in the area, you almost never have to leave.
In this mall, you'll find a restaurant called O Sakana Shokudo. It can get crowded, with a line, at peak hours, so try to go at an off hour.
It's a family-run establishment, with chef Takashi Izawa creating the food, and his mother manning the cash register.
Deanne's favorite thing on the menu — and now mine — is the maguro menchikatsu. The lunch set, above, is about $10 and comes with tofu, miso soup, and some veggies. The soup in the top left corner is a special, additional one with salmon and vegetables. I have to say, that soup had an intensely homey flavor to it. Neither of us could quite describe what it was, but it was deep and complex … and mostly full of comforting, homestyle goodness. If they have this soup on special, get the soup!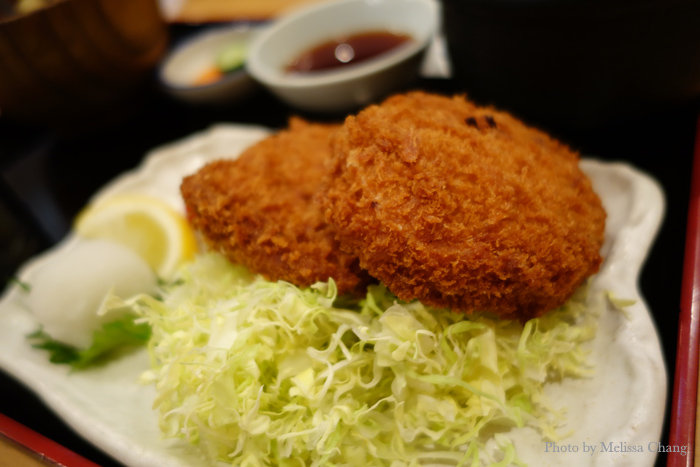 The maguro menchi patties are crunchier than croquettes, even more sturdy than katsu. But the fish inside is fluffy and savory, a very complementary contrast to the crunchy outside. You can eat it with their homemade katsu sauce, or a special ponzu (pile on the grated daikon when you do this for extra flavor and texture). It was so good, I bought two for the plane. It doesn't stay crunchy after that many hours, but the flavor is still there.
I ordered a lunch set to be different from Deanne. This sashimi set (there are a few) is about $15 and features maguro, ikura, and uni, all on that fabulous Japanese rice. The miso soup is filled with tiny Japanese clams, which you may recall from my Osaka trip are very good for your health. You can get a refill on this soup, too.
Dessert is not included, but Chef Izawa sent out a bowl of almond tofu for each of us, topped with a smidge of ume jam. I love almond tofu, but it was a perfect ending because it was so light and refreshing, too. Next time, I'll bring home some of that ume jam.
O Sakana Shokudo
Suginami-ku, Tokyo Asagaya Minami 2-14-12
03-3311-3871
If you recall, earlier in the trip, I failed to find Yakitori Alley with Keith Endo and John Iha. While wandering around Pearl Center, we found this yakitori stand that featured … well, everything.
You order what you want, and they grill it on the spot for you. Many residents of the area order it to take home for lunch or dinner. I kind of regret not buying their home made sauce (bottom right corner) to take home.
We ordered the nankotsu (cartilage) and bonjiri (chicken butt) yakitori to try. Amazing! Also, farther in the background is a store with all kinds of household goods and chef accessories. There's also a store that features ingredients from all over the world, so I went to town shopping in there, as well.
Now, as you are standing at the train station looking at the end of Pearl Center, you can veer to the left and go down a side street. Walk back, past the takoyaki stand (I also regret not buying takoyaki for the plane) and down a side street on the right. A few doors down, you'll find a little store called Asagaya Aojiru Stand on the left (I don't think there is signage).
Mrs. Naito, shown here, has been serving up kale shots for over 20 years in this area. (When I showed people the photo of her greens, though, they all said it was collard greens. So maybe it's a combination.) The shots taste different depending on the time of year, since she gets them fresh and seasonally. You can opt to get your shot with honey, which helps with the flavor, and later you can sprinkle ground sesame seeds on top to help kill the smell. Deanne and I split a shot to attempt to be healthy, and maybe try to look like Mrs. Naito when we get older.
That was it for Asagaya, at least for that half day. I would definitely go back to see what else is there; by the time I return to Japan in November, maybe some of the new condos will be up so I can see those, too.
I hope you enjoyed following this trip. Blogger Eric Baranda is there now, so you can follow him on Instagram to see what he's discovering! For more photos from this trip, click here.