Aloha Tokyo! Exploring Nakano Broadway and revisiting Narukiyo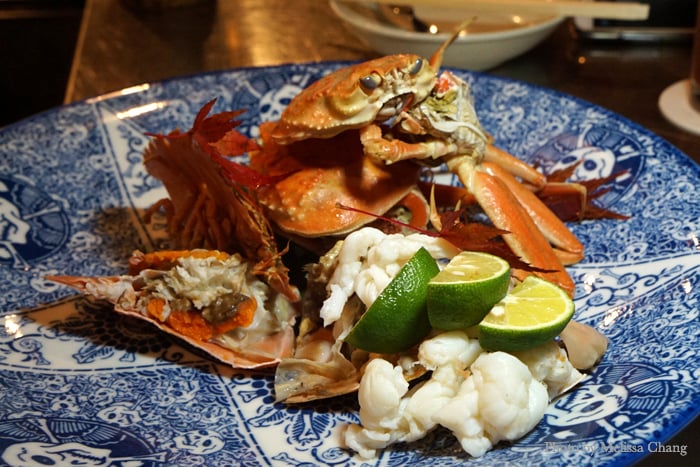 Tokyo fanatics who geek out on the vast amount of comics, games, anime and more should head out to Nakano Broadway, a whole mall with collectible stuff from old-school classics to the current popular characters. Deb Aoki always tells me about it, so although I am not a collector, I've been fascinated with the culture. We decided to take a day to skim the surface.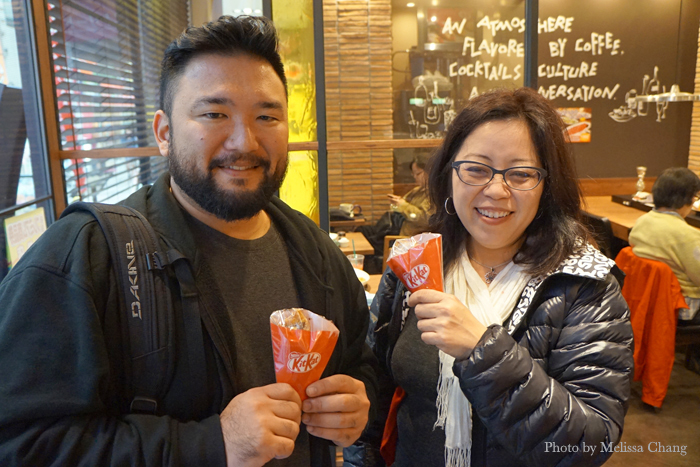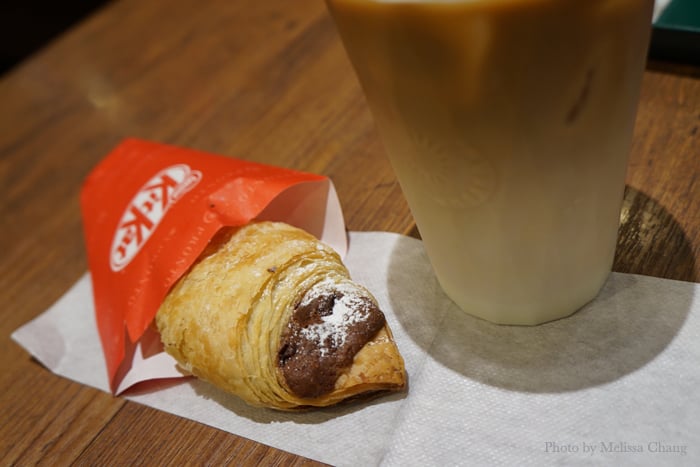 But first, breakfast: You know how everyone loves the different-flavored Kit Kats from Japan? The restaurant chain Pronto has taken it a step further and created a Kit Kat croissant. These are less than $2 and go well with their coffee — they're small, and not too sweet. Our friend Nate Gyotoku, who was visiting from Hawaii, met us for a quick bite. (Deanne Matsushima, who doesn't like to be in photos, declined.)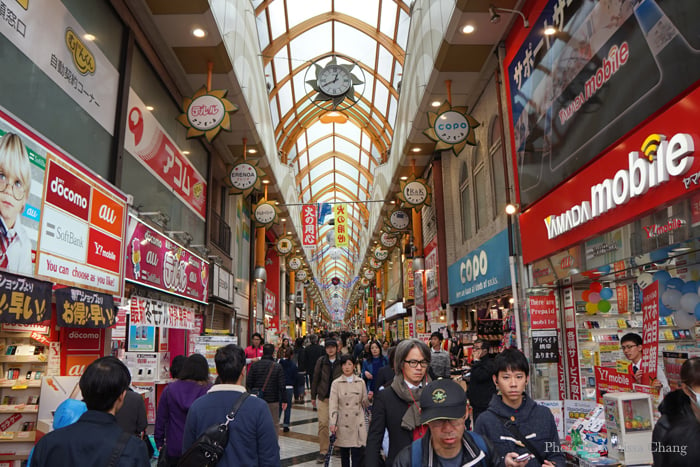 If you are into nostalgia, manga, anime, and other collectible items from Japan, Nakano is a geek's dream. Here's the shopping mall heading to Nakano Broadway. If you're a Tokyo otaku, I think you can easily spend a few days here just getting lost in the maze of shops with wall-to-wall stuff. That is, unless you're Deb and know exactly what you're looking for.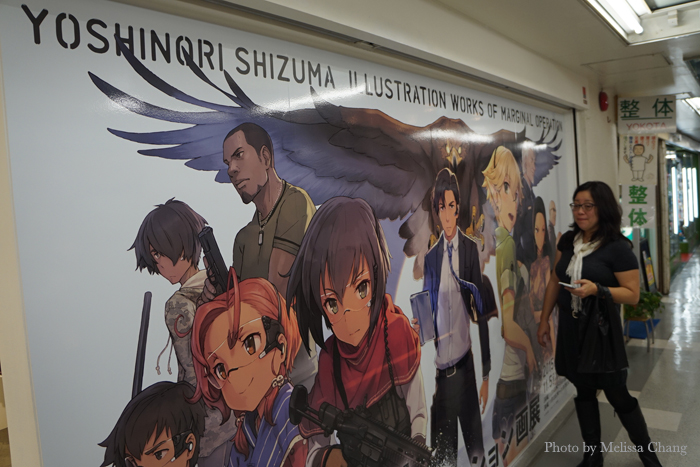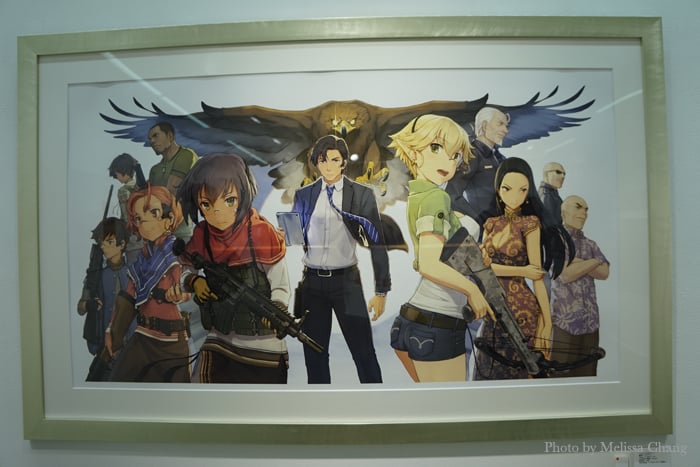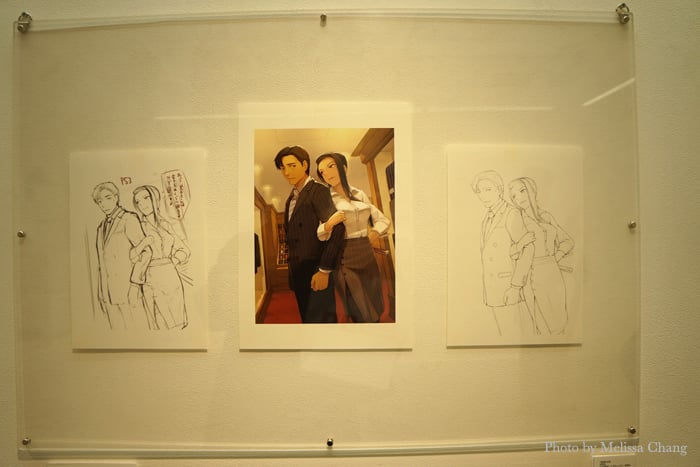 I couldn't take photos in the stores, but they did encourage photos at the pop up gallery there. Yoshinori Shizuma is a popular character designer for games, and some of his works were on display showing the development from sketches to the finished product.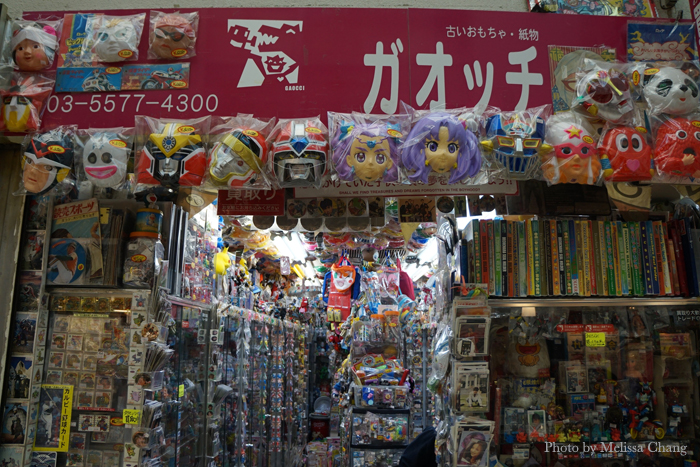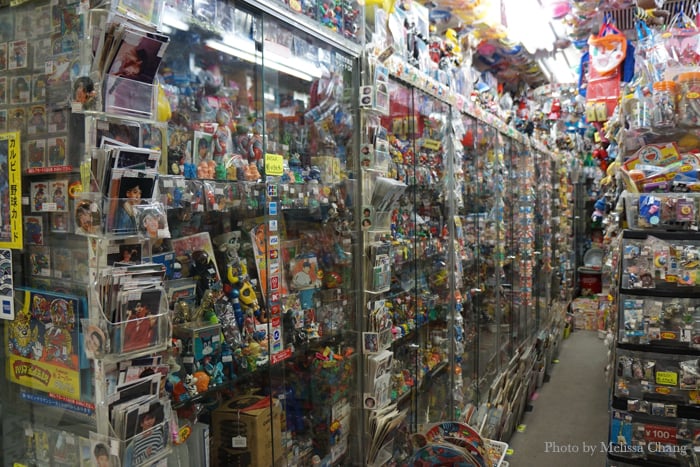 This photo is for my friends who are avid collectors of "natsukashii" or nostalgia stuff. This place is called Gaocci (pronounced "Gow-chi"), which is apparently the sound Japanese monsters make when they are hit. There's everything in here: good guys, bad guys, girl stuff, boy stuff, things that you may not even have heard of unless you are a collector. In fact, these two photos may not even make sense to you unless you are or know a collector of such things. But my classmate Dan Hahn came here and went crazy buying things, possibly so much that he will take the next two years to pay it off.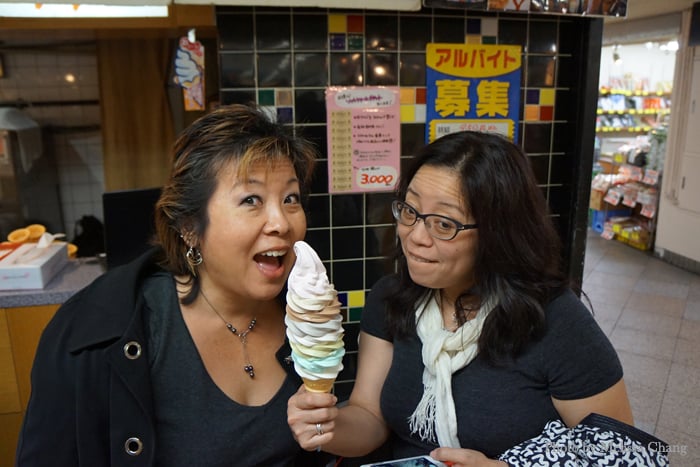 Downstairs, there is food! A famous soft-serve shop called the Daily Chico serves various flavors, but their most photogenic one is this eight-layer monster. From the top, we got: strawberry, milk tea, chocolate, sesame, grape, matcha, ramune, and vanilla. Be sure to have a friend nearby to write the flavors down, though, because the flavors sometimes change. Guess how much that cost? Just 480 yen, which is about $4.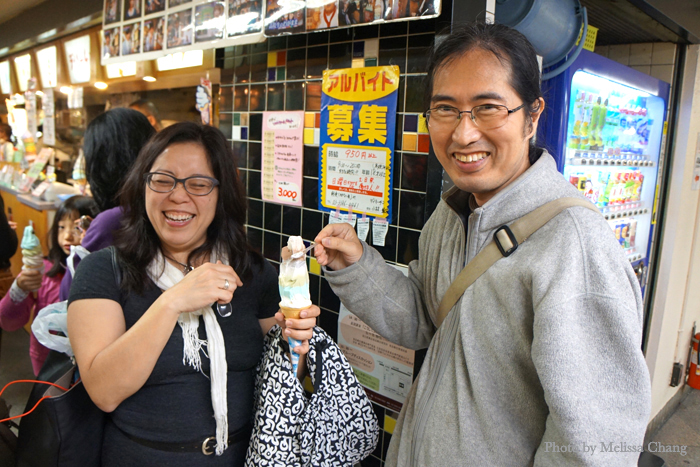 Next to us, Hiroya Ikuni was eating the whole cone by himself. While talking story with us, he said it was the third time he had done so. What?! And on top of that, after the three of us tapped out, he accepted our offer to eat the rest of ours, too. I bow to Hiroya-san! I'm not worthy! Look, he's so skinny, too!
Daily Chico / デイリーチコ
Tokyo-to, Nakano-ku, Nakano 5-52-15, Nakano Broadway, basement level 1
東京都中野区中野5-52-15 中野ブロードウェイ B1F
Open 10 a.m. to 8 p.m.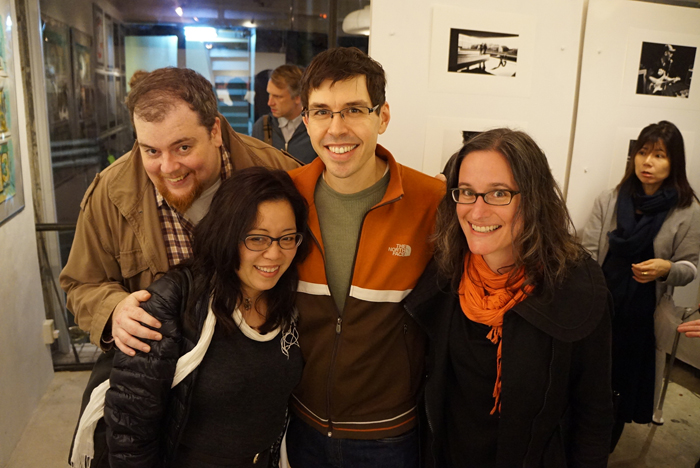 We took a little detour from there to a reception in Asagaya (remember how I went there in April?) for the Toronto Comics Art Festival, put on by Christopher Butcher (top left). Also shown here with Deb are Japan TV personality Matt Alt of AltJapan, and longtime manga translator Jocelyne Allen (also from Toronto).
With all that snacking, you'd think we were done for the day, right? Wrong! We had reservations at our favorite izakaya, Narukiyo. We loved it so much when we ate there last year, we had to go back. Big mahalo to Amy Setsuko Hanashiro for helping us with the reservation, because little or no English is spoken here.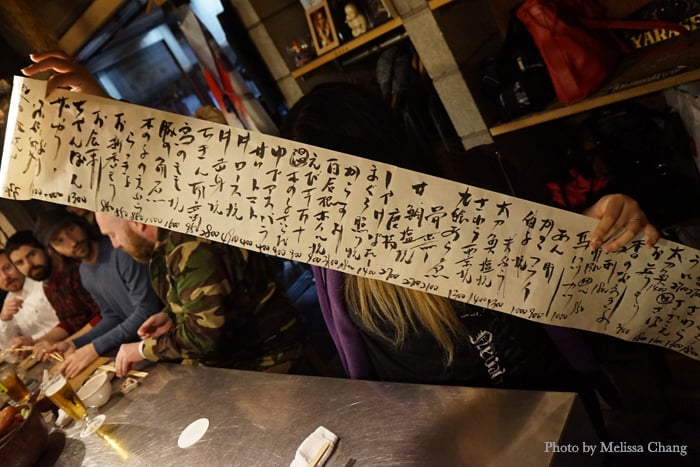 If you would like to order ala carte, this is the menu. (That's Deanne, by the way.)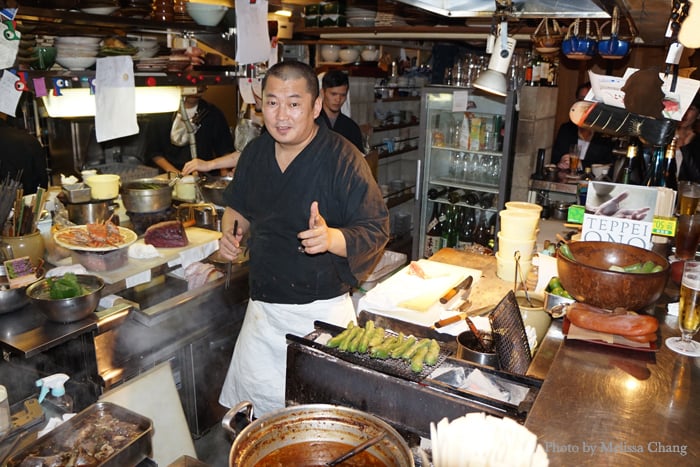 Narukiyo Yoshida, the izakaya's chef/owner. Instead of ordering from the menu, we said, "Osusume!" (Which means "recommendation," short for "Osusume wa nan desu ka?") Another way to ask is if they have "omakase," which is the chef's choice.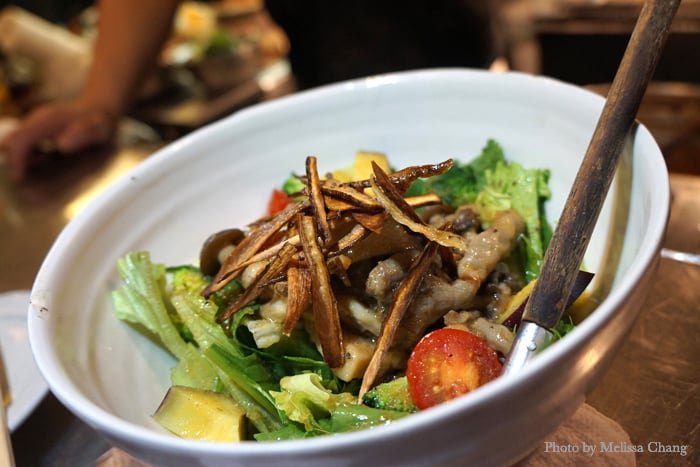 We started with a simple salad tossed with some pork and a house made vinaigrette. It was so simple, but so full of flavor!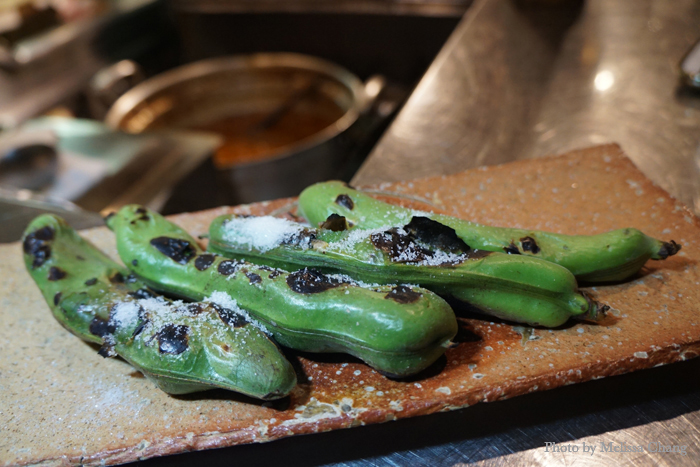 I've never seen fava beans in their pods before, have you? These were grilled and sprinkled with salt, then eaten much like you would edamame. Kinda cool!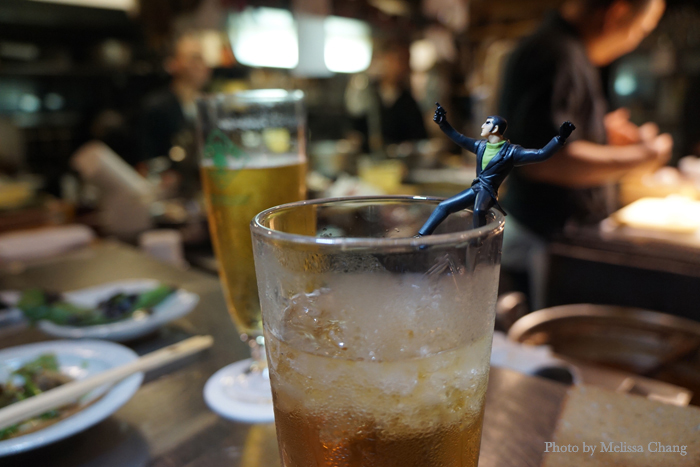 Deb's drink with a "gatchapon" action figure from Nakano Broadway.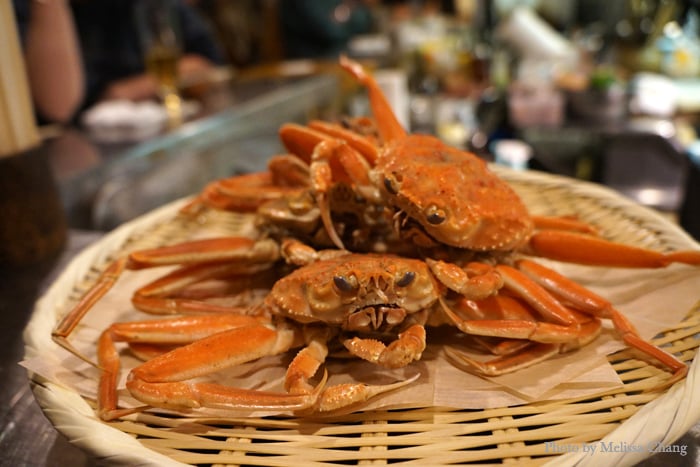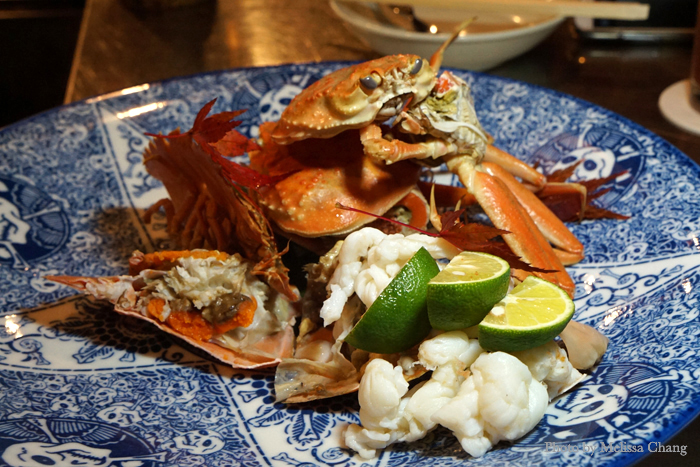 Before and after: little crabs steamed and halved, then sprinkled with lime. Again, really simple, but super delicious — you get a taste of every part of the crab without over indulging. Everyone got some meat and miso in each serving.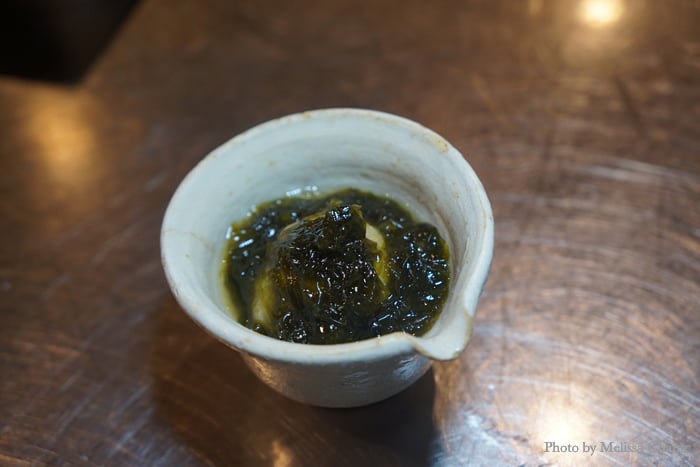 Speaking of simple: What. The. Heck. This is a little bowl of potato balls with aonori, so it was a simple, savory broth with hints of the ocean. Deanne and I practically licked the bowl, and were very sad when it was gone. Who knew this would have been so good, and so memorable? We are still talking about it to this day.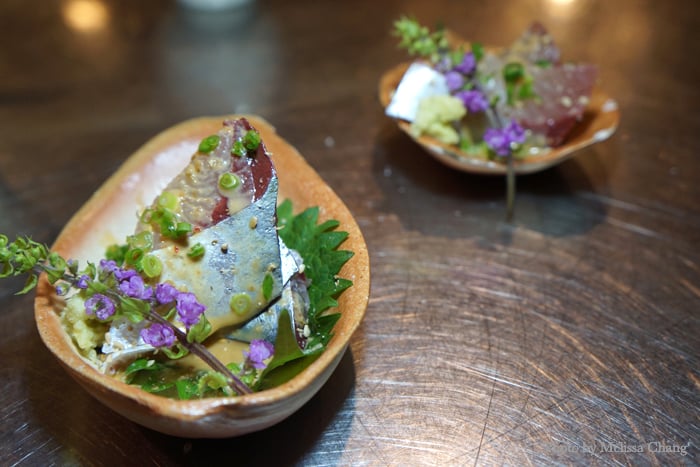 Many of us don't like mackerel — it's too oily and fishy — but this didn't taste like mackerel at all. The shiso, shiso flowers, and sesame-miso dressing transformed these fish bites into a whole other kind of experience, with the bright, salty and rich flavors all working together.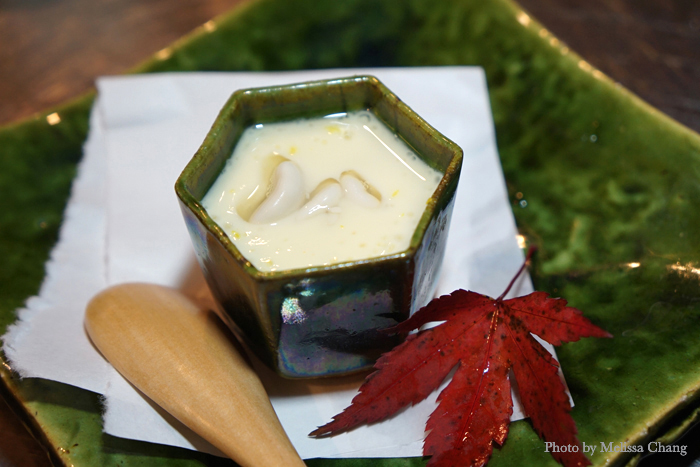 Some of you may be squeamish about eating shirako (cod sperm sac), but I assure you it's good! This treatment in a chawan mushi, however, made it a little tough. Sperm meets egg? I get it. But I'll stick to the more traditional ways of eating the sperm sac.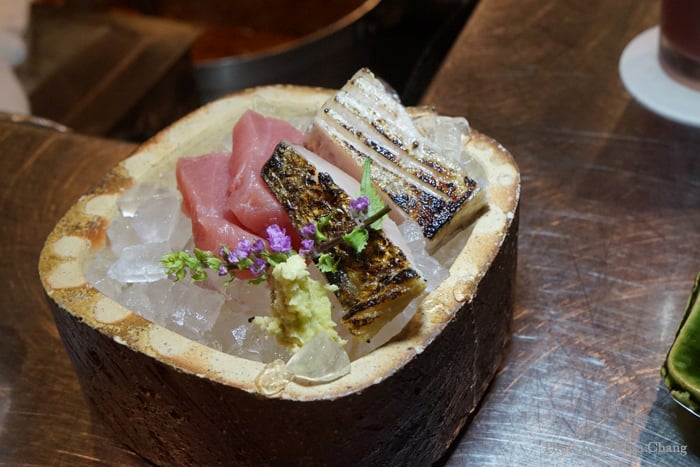 Sashimi plate with seasonal items: Maguro, seared buri, and one more that we couldn't pronounce. Each one just melted in my mouth.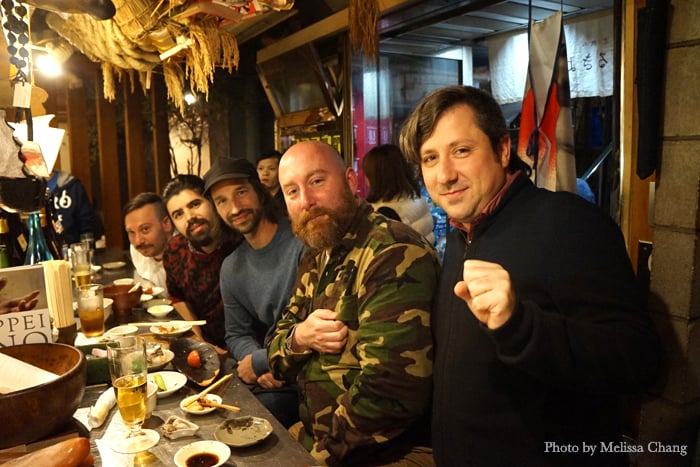 Do you drink Blue Bottle coffee in San Francisco? We met the guys (and their friends) who brought the brand to Tokyo. Fun!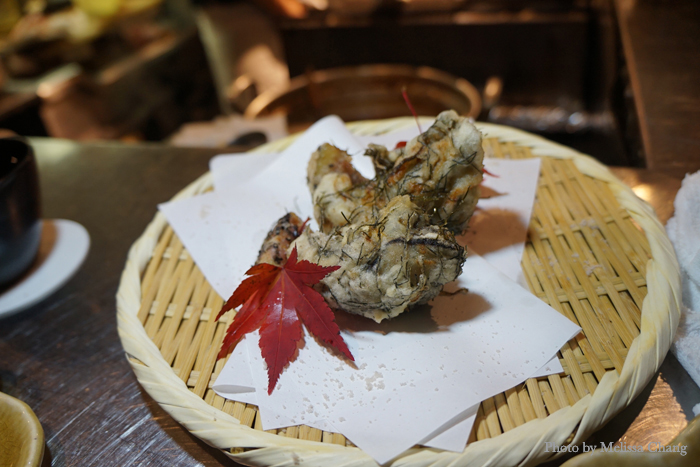 Fried oysters, Narukiyo style. Tender and tasty!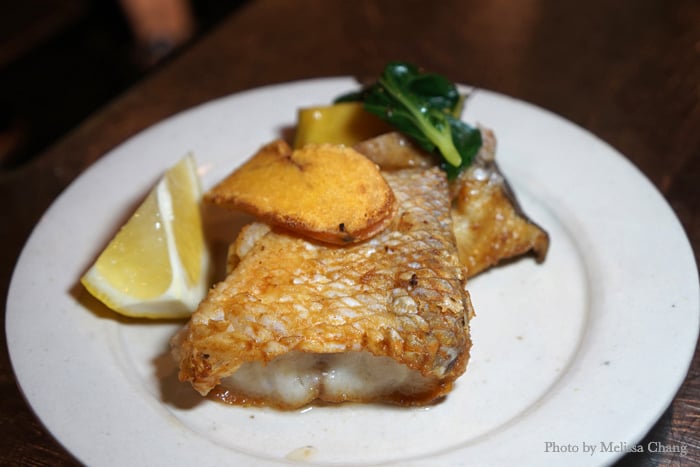 Snapper with a garnish of dried karasumi, or mullet roe. The roe is really good when drinking because of its saltiness.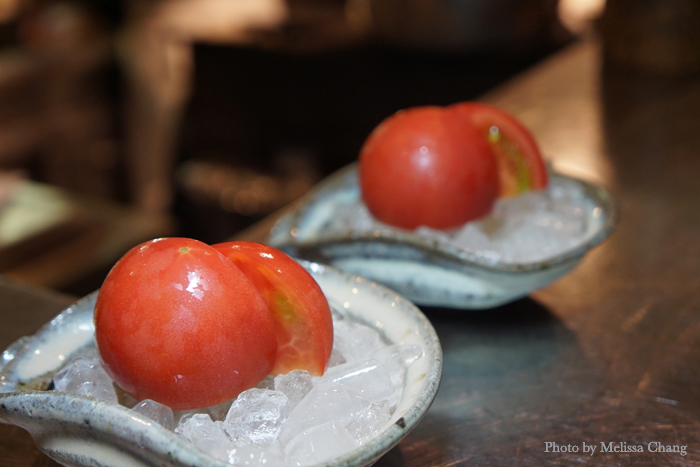 Fresh, sweet tomatoes to cleanse our palates.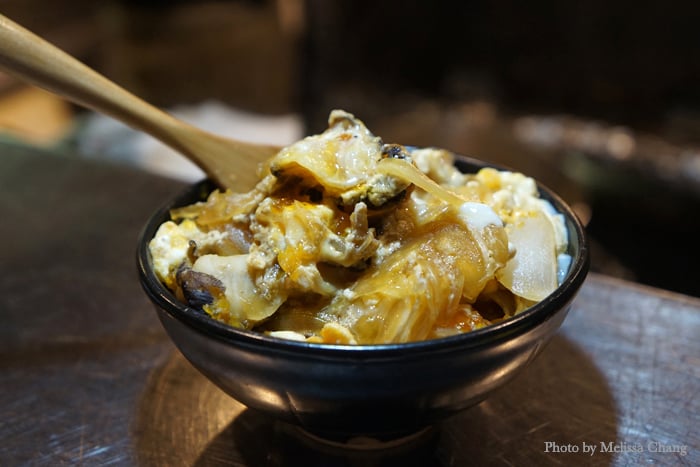 We weren't sure what kind of donburi this was, but we were all so full that we could only take one or two bites and be done. Which was really sad, because it was so good, and so comforting.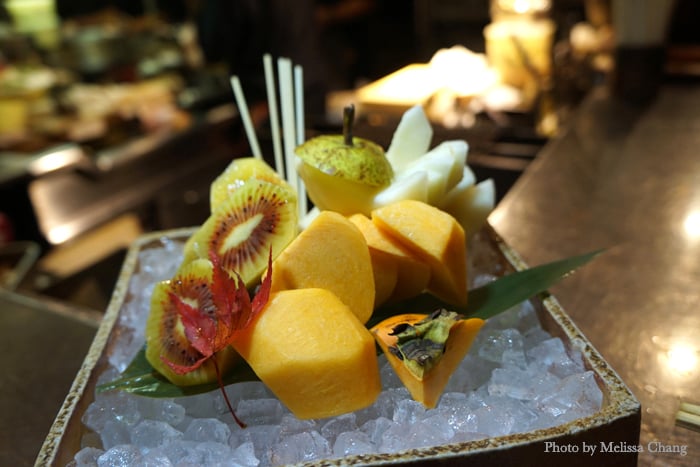 Seasonal fruit for dessert. More persimmons! And that ended the meal. It cost about $100 per person, and well worth it.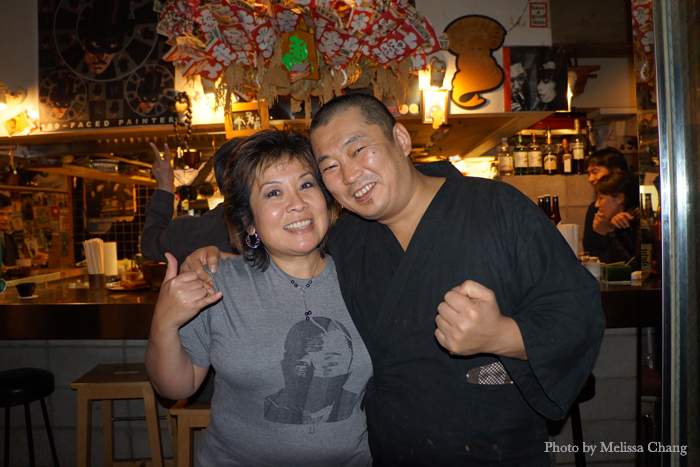 Since we were repeat customers, Narukiyo gave me and Deb T shirts with his face on it. I know that sounds kind of wacky, but these aren't given to everyone. We loved it! And we loved our meal, again — one of our top three from the trip. Thanks again, Narukiyo san, we'll be back.
Narukiyo
B1F, 2-7-14 Shibuya, Shibuya-ku, Tokyo
03 5485 2223
Up next: Touring the Cup Noodle Museum!
To see more of my photos from this trip, click here.