Aloha Tokyo! Exploring Harajuku, Omotesando and Nakano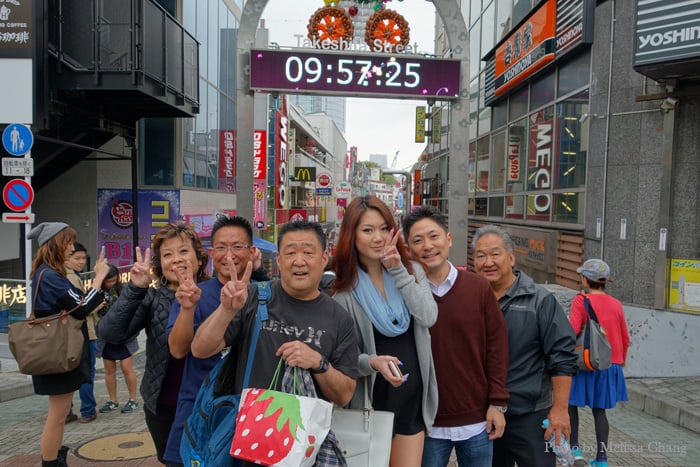 My last day in Tokyo before heading out was a full day of hanging out with friends from Hawaii as well as Japan. The entourage (below) was a group that started with Hawaii folks and my friend Deanne Matsushita, who lives in Tokyo. I'm just showing you the highlights; if you want to see all photos from this day, click here.
First stop: Harajuku! This is the famous Takeshita Street, where you can shop, eat, and see all kinds of cosplay types. The street doesn't open til about 10 a.m. but if you don't like to fight crowds, go early.
Some people have to have a Harajuku crepe every time they come to Tokyo. If nothing else, this is a reason to get there early, as the lines for the crepe stands are always so long. Most are sweet, but this one is a savory salmon crepe.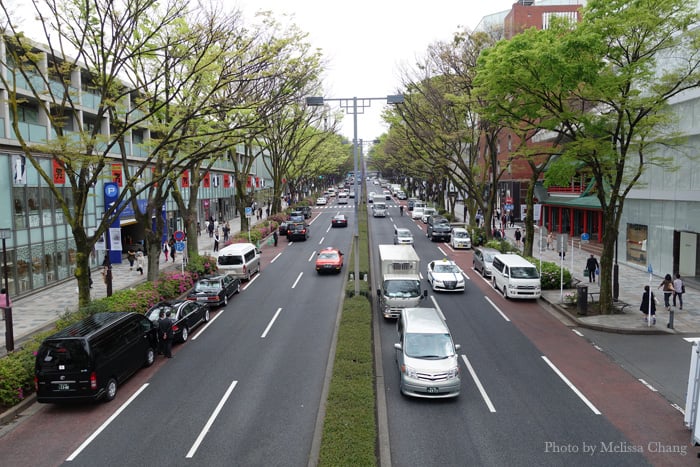 We walked the length of Takeshita and ended up at the base of Omotesando, a high-end shopping district. On weekends, this street is crawling with people.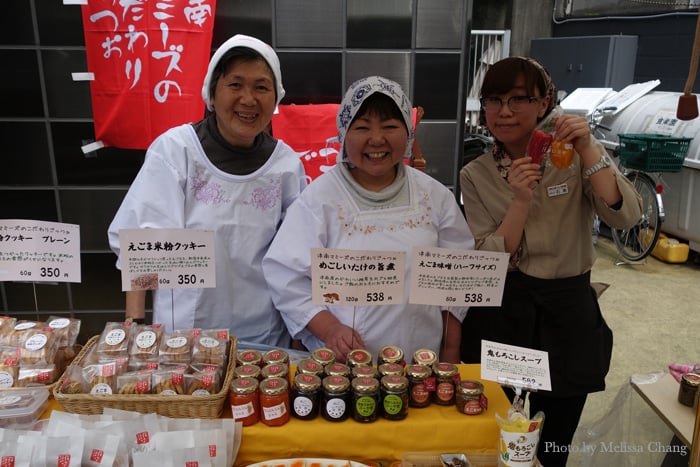 It's not all high-end shopping. We found a store that specialized in Niigata products, and we went crazy buying snacks! These ladies were outside selling special kakimochi from the area as well as preserved veggies.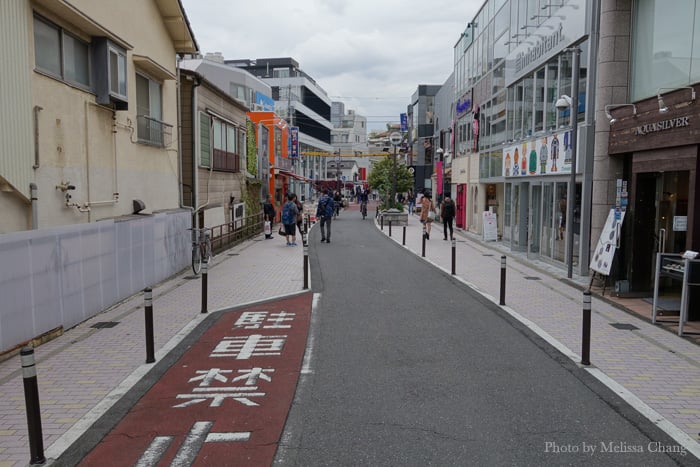 A side street off Omotesando is a quirky, funky, hip and cool place called Cat Street, and I highly recommend you visit. One of the stories about why it's called Cat Street is that it's named after its shape of a wavy cat tail.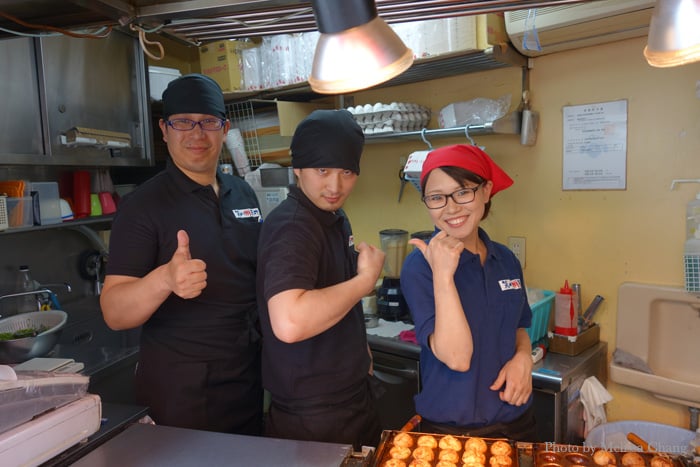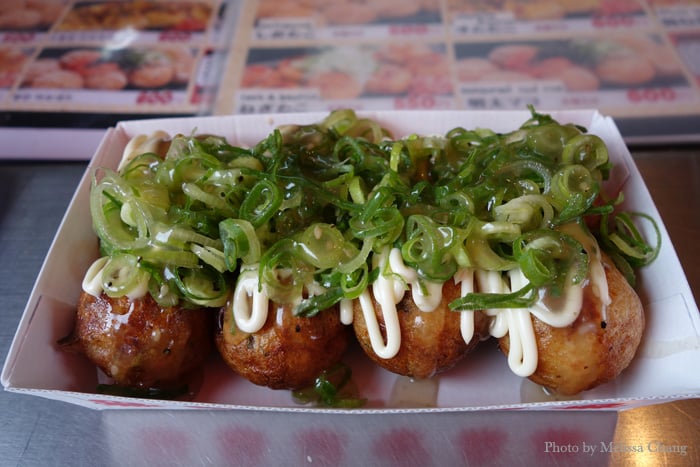 We stopped to snack at this takoyaki stand on Cat Street. The chefs proclaimed it legit! It was lightly crunchy on the outside, and soft on the inside.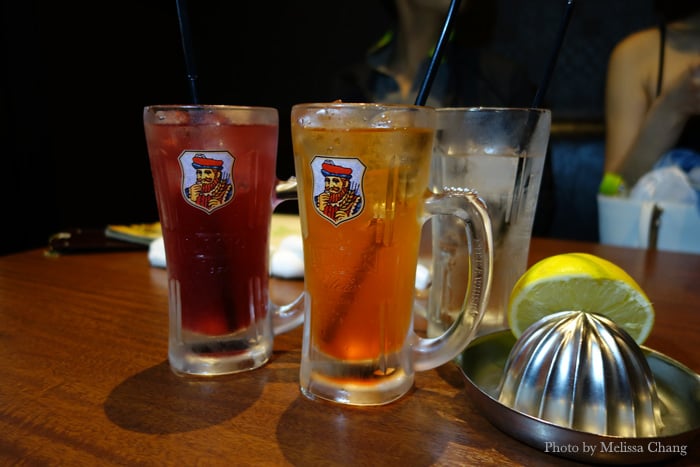 By the time we were done, it was time for a (late) lunch, so we crossed over toward Shibuya and found this restaurant, Hokkaido, specializing in dishes from my favorite place in Japan. If you go, get the red grape sour or the melon sour. These were the best cocktails!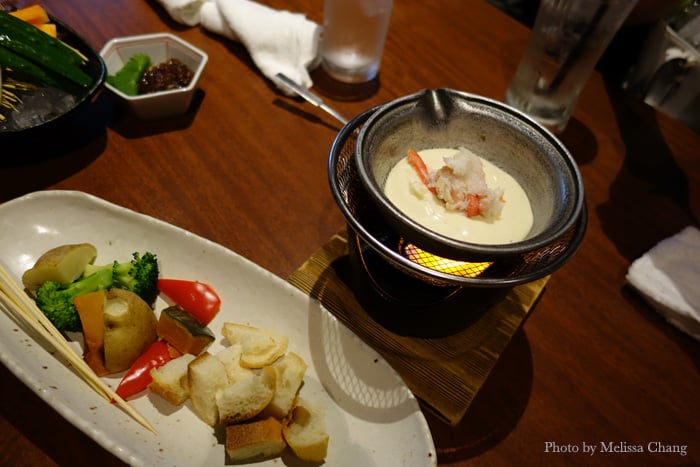 The fondue using Hokkaido cheese and crab. Winna.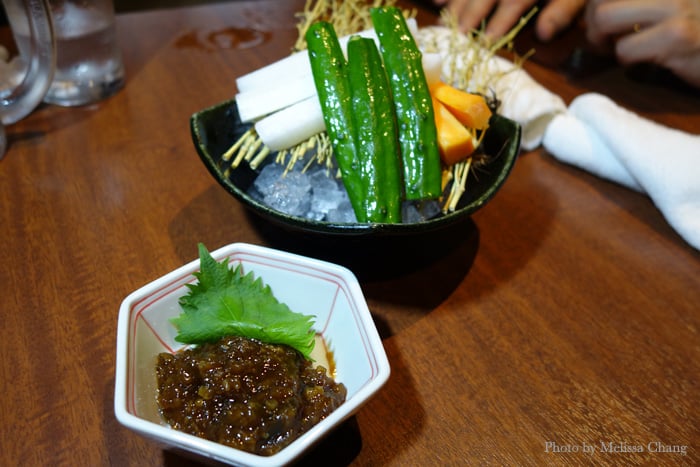 Crudite of vegetables with a special pickled vegetable dip. Also really good (and nice, since we needed to eat more veggies).
Special Hokkaido fish! Sorry I can't tell you the names as the notes were in my phone, which was stolen (more on that later).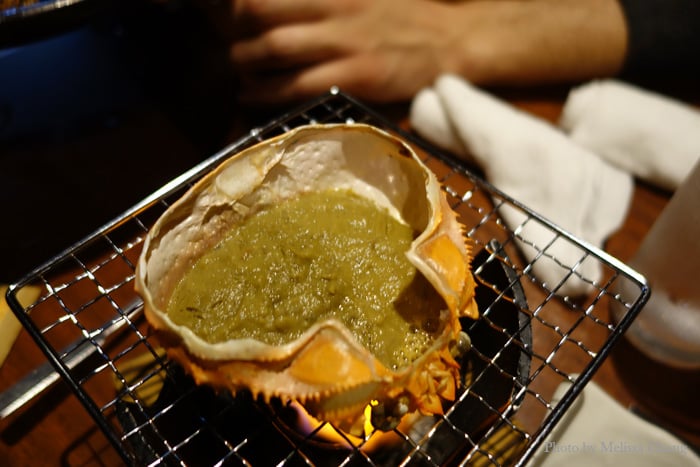 Crab "miso," served fondue-style. It's accompanied by a plate of crab so you can dip it in.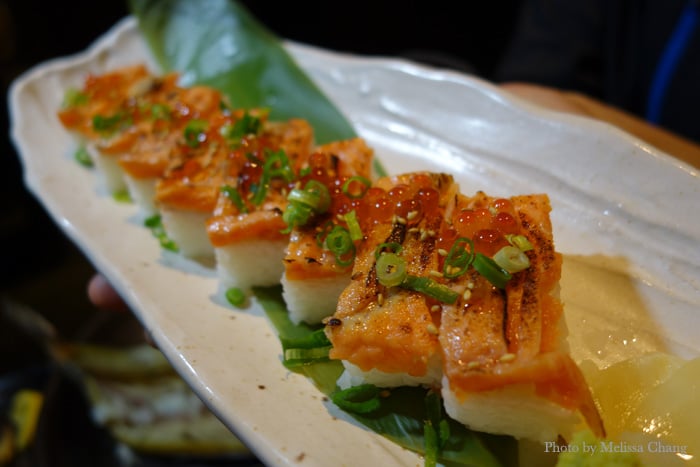 Salmon nigiri with ikura, which was excellent. Some of the guys don't even care for salmon sushi and they loved it!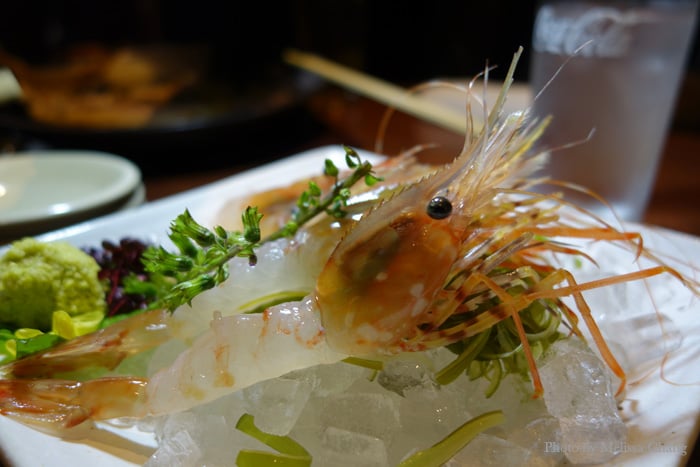 And, finally … live shrimp. They were on ice so stunned and numb, but still moving nonetheless. I can do raw, but not live, so I needed John to help me rip the head off. The tail was sweet and clean, though. Talk about fresh.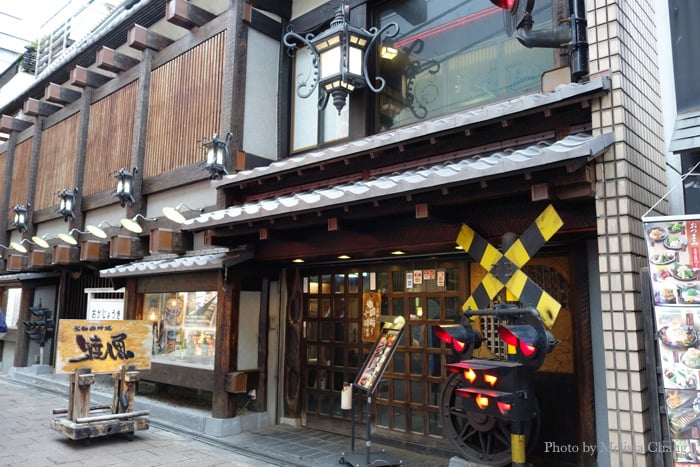 We spent a few hours in the Tokyu Hands basement, working up an appetite for dinner at Nakano Okijoki. This is a traditional "irori" restaurant in a very residential area.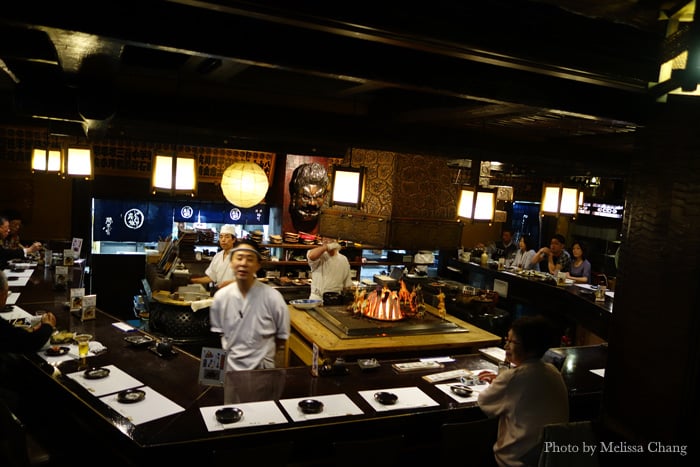 "Irori" is a traditional Japanese sunken hearth. In this case, it's a large hearth, and things are cooked in the middle of the restaurant.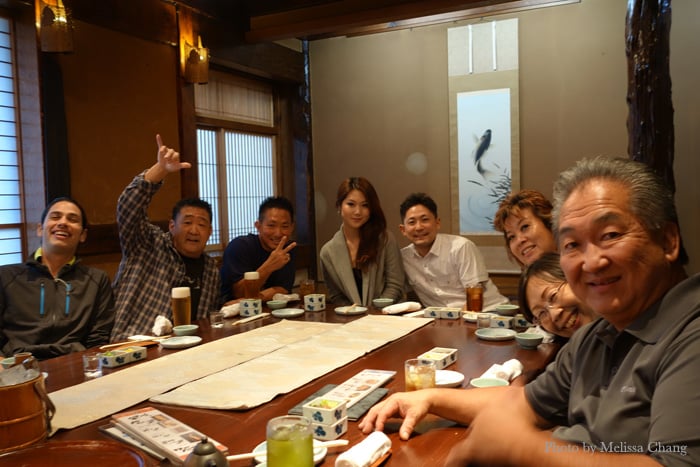 Here, Deanne is replaced by my friend Leila Okazaki Kumei (between me and Garrett), who lives in Tokyo. On the far left is Paul Kimi, who joined us in the morning to also help tour us around.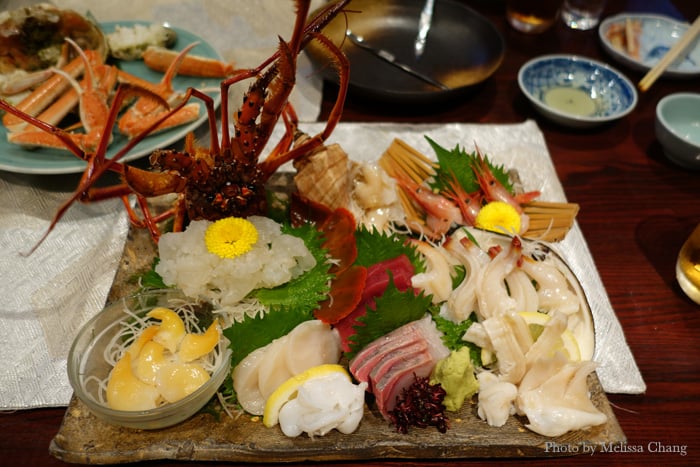 I guess today's food theme was live action, since our sashimi plate included a lobster head that was still moving!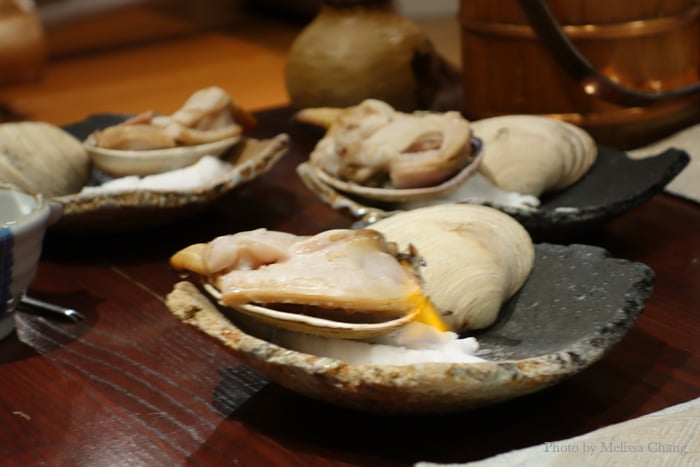 Special giant littleneck clams (o-asari), which they only had 10 of. These were served on flaming salt, and were amazingly tender.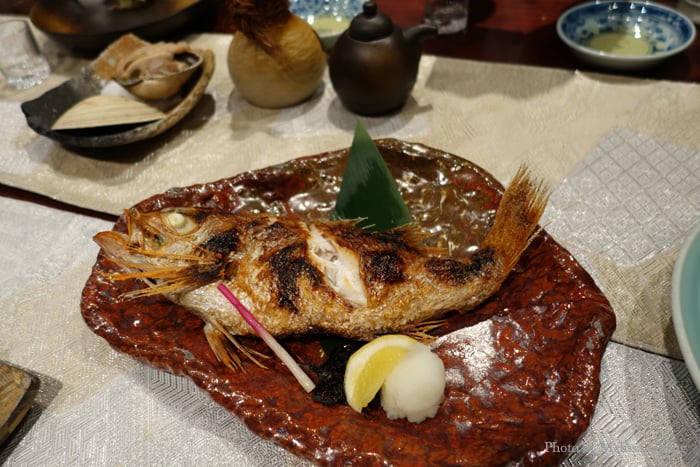 This is a very special fish called nodokuro, or "black mouth." It's very tender and has lovely flavor.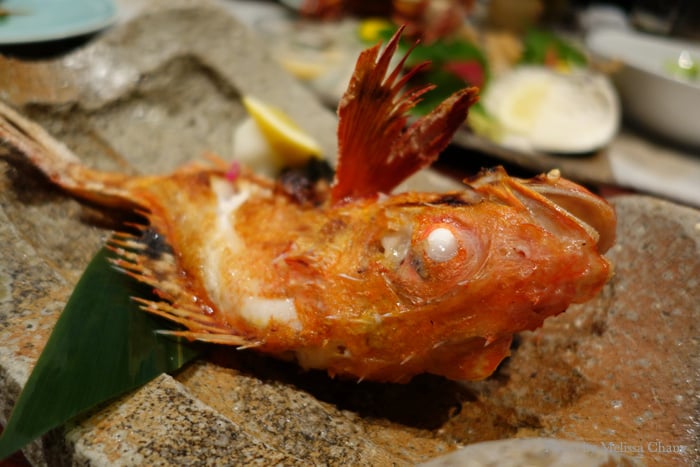 And, this is a special fish that many people even in Japan don't get to eat: kinki. It's an oily fish, so the meat is very rich. The guys ate both fish heads because it was so good.
That was a very special sendoff dinner! I'll add the addresses in later, but if you want to see all the photos from this trip, click here.
Up next: heading to France and getting my phone stolen!