Aloha Sapporo! A last look, and some travel tips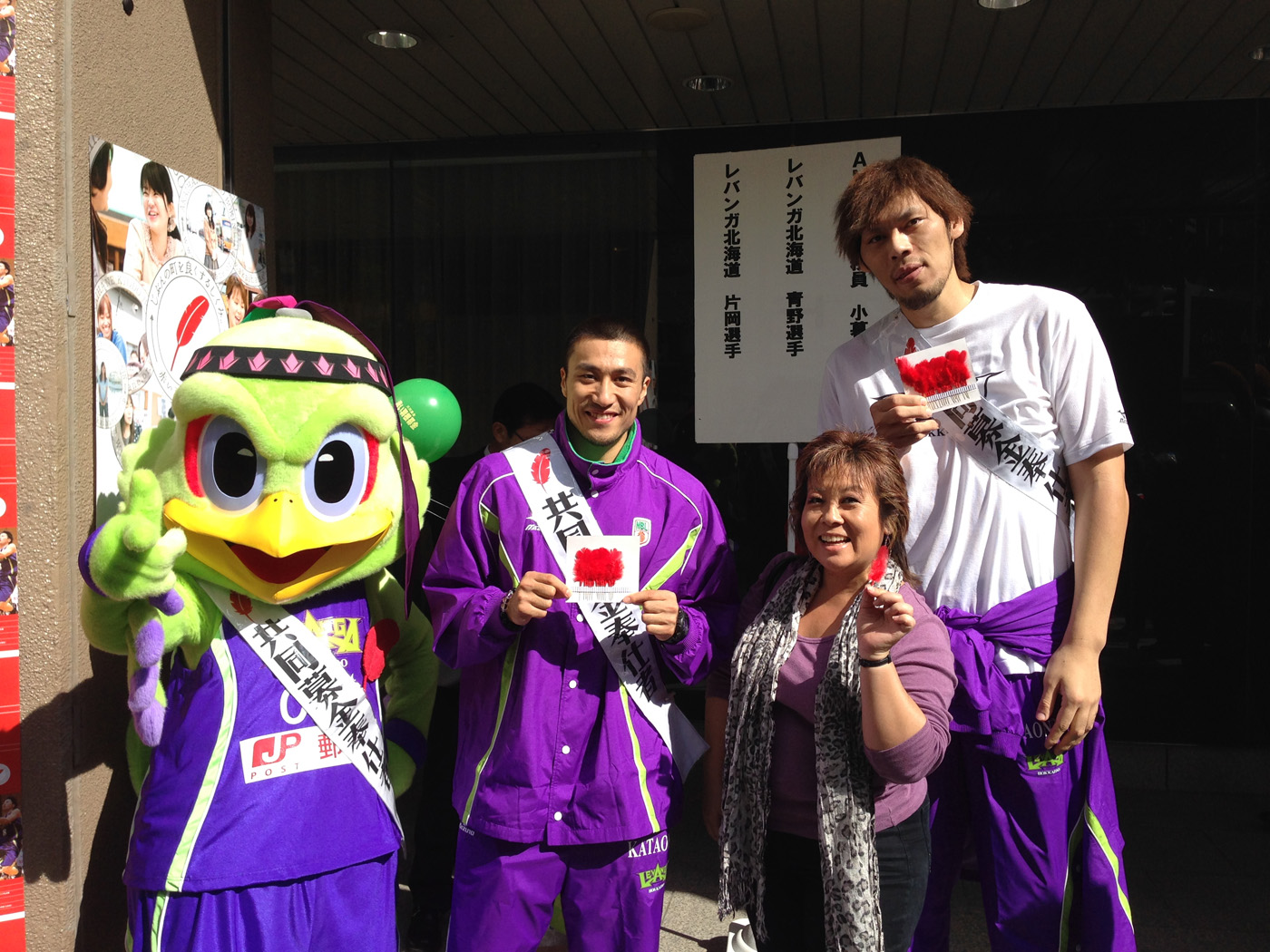 You've already come with me on my last trip to Sapporo, so I don't have to rattle off my favorite things. You already know Hokkaido is my favorite island, and from what I've seen so far, you can't go wrong with any city you visit there.
The meat of this blog post is at the bottom, where I have some travel tips for you. But I'm still going to share a look at our last day in the city.
Always eat Hokkaido dairy products
Picture 1 of 13
One of our last breakfasts was in our room: Hokkaido pudding balls. Those of you who are my age may remember the balloons filled with kanten or sweet beans in our childhood; these are filled with Hokkaido pudding. Pop the balloon with a pin and you have a fun little dessert.
Also, for you crazy cat people, I wanted to show you our visit to a cat cafe in Sapporo. These are all over Japan and I have seen photos of better ones in places like Tokyo (which is my next destination). Laurie and I went to one in Asahikawa, and this one was only a notch better. It works like this: You go in and pay a fee for increments of time (30, 60, 90 minutes and so on). You get a free soft drink and, in this case, snacks. If you decide not to go in, you can sit outside, but the drinks are not free.
You can then play with the cats, brush them, talk to them, or … whatever it is you like to do.
A little cat cafe
And that was our (very fast) trip. I can't say enough about how great Hokkaido is. Lena loved it so much, she wants to move there! We'll probably be heading there for the ice festival in February, if we can find a hotel. For a look at ALL my photos from this trip, click here.
---
Tips for when you go:
Again — we wouldn't send you to a foreign country without tips! Here are some quick and useful tips to help you prep for your trip to Sapporo.
CURRENCY
Do NOT think you can exchange your money in Japan. You can — but it's a hassle with paperwork and lines. Instead, head to Pacific Money Exchange in Waikiki (339 Royal Hawaiian Ave., 808-924-9318), which offers really good rates for kamaaina. Believe it or not, a lot of places in Japan — even in Tokyo — don't accept U.S. credit cards.
On the flip side, you can't exchange coins when you return to Hawaii, so use them up.
Japan is also a place that isn't great with foreign ATM cards. You'll find that you won't be able to draw money from most ATMs; however, you can use the ATM at any post office. The drawback is that the post office is not open 24/7. One alternative is to just carry a lot of cash in a secret money belt. I wouldn't necessarily recommend this, but since Japan's crime rate is so low, there's not much chance you'll get mugged.
GETTING AROUND
You can definitely pay as you ride, but if you're planning to jump on subways a lot, consider getting a 1- or 2-day pass, available at the ticket machines — which have English settings, by the way.
The subway has English signs, so are fairly easy to use if you know how to use a subway system. The trains, however, do not have many English signs, so you'll need to ask the conductors (or other travel information people) to direct you to the right platforms at the right time.
When catching the train in Hokkaido, be mindful of the various stops along the way: there are many stops that have similar names. For example, on the last trip we accidentally got off at Minami Otaru when the stop we wanted was simply Otaru. We also almost got off prematurely for Chitose Airport at Minami Chitose. So don't be afraid to ask people if you are at the right stop.
When heading to the airport, you might try to catch an airport shuttle (check with your hotel for details). It cost us 1030 yen, which is about the same price as catching the train, except you only lug your bags to the bus stop. From there the bus driver loads your bags for you, then drops you off at the gate and unloads the bags. It takes slightly more time than the train, but in the long run is worth the dropoff service and baggage handling.
HOTELS
If you don't need the trappings of a luxury hotel like a Hilton or Hyatt, opt for a business hotel. These are all the same throughout Japan, very clean, and usually close to a train station. Best of all, they're very reasonable. One thing to note, however, is that many staff in Sapporo don't speak English, and they don't have many English signs.
No matter where you decide to stay, I highly recommend you have a Japanese friend help you using Jalan.net, a Japan booking site.
DITCH YOUR TOILETRIES
Most hotels in Japan provide toothbrushes, toothpaste, razors, room slippers and all of your bath needs. Some even provide sleepwear, face masks, Q-tips and shaving cream. As long as you're not picky about your toiletries, you'll have a little extra room in your luggage.
If you decide to take the tour that we did, however, check with Hokkaido Treasure Island Travel to make sure towels are provided.
BRING YOUR OWN TRASH BAGS
Just the plastic bags you get at the grocery store are good enough. We found that there aren't a lot of public trash cans around Hokkaido, so if we ordered take-away food, we ended up toting our own trash until we could find one. Just keep a couple of little plastic bags on hand, just in case.
OMIYAGE
If you plan on bringing back a lot of omiyage, consider shopping at the airport. New Chitose Airport actually had a lot of the same stuff we'd been buying throughout the trip, at slightly lower prices. The drawback is that if you have a lot to buy, you have to carry it on the plane.
Items to buy: Hokkaido white milk chocolate Kit Kat, corn chocolate, caramels (these use their prized dairy products, butter and cream), melon candy (they're known for their melons), Shiroi Koibito chocolate, Royce chocolate, ramen, and anything with a bear on it. You can also buy canned bear meat and seal meat, but … really?!
WHAT TO EAT
Every area of Japan has its specialties. In addition to sushi, of course, you need to have ramen — miso butter ramen or shoyu ramen, to be exact. Other things Hokkaido is known for:
Lamb grill
Their vegetables, but especially potatoes, onions and corn
Curry soup
Beer
Melon (looks like a cantaloupe)
Seafood, especially crab. Especially hairy crab. Uni and scallops are also big here.
Salt. They're big on flavored salt.
Dairy products: Milk, butter, yogurt, pudding, cheese, and most of all, soft serve.
Tip for eating fruit: bite and slurp simultaneously. The fruits are so juicy that if you don't slurp, the juice will run down your face.
WIFI
If you are like us and need to tweet, Facebook, instagram, and blog, consider renting an international wifi device. Public wifi is scarce and is very slow. You can save on international roaming charges, too: Once you land, set your phone to "Airplane" mode, then turn on the wifi. This essentially makes your phone an iTouch, so you can't make calls (you can send and receive text messages with other iPhones). If you take calls, you need to turn your phone off "Airplane" mode, but this means you will incur international charges.
Reserve ahead of time to ensure you'll get one, and have them deliver to your hotel (it's free). Our friend Yumi Ozaki (@StrayMoon) recommended renting a device from this company, which was very reasonable on my previous trips. Laurie usually rents from Docomo, which is also reasonable and reliable. Whatever company you choose, it's worth it to have an extra battery pack to extend the wifi's life when you're out and about, because the battery sucks.
If you are on TMobile, as DK is, you might check into the TMobile Simple Choice plan. You don't get charged for international rates for data or texting in more than 120 countries, and phone calls are 20 cents per minute.
LEARN SOME JAPANESE
Although many Japanese speak English, don't assume everyone can. In fact, since Sapporo is less metropolitan than Tokyo, you can expect fewer people will understand English — even the hotel staff. (There are increasingly more English speaking staff now, though, as they prepare for the Olympics.) If you don't know any Japanese, download an app to your phone or bring a language book.
Have fun! And mahalo to Hokkaido Treasure Island Travel for the Furano tour! For more information on Kamifurano, click here.