Aloha oe, Ed Morita
A final farewell to one of our original bloggers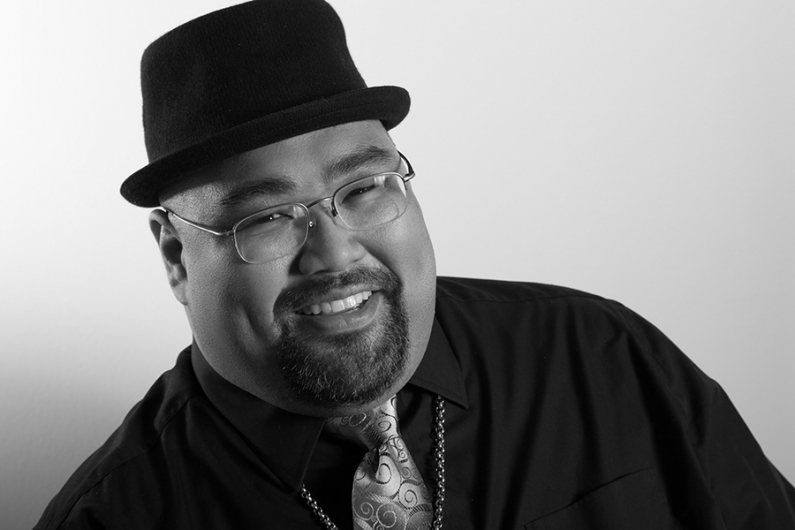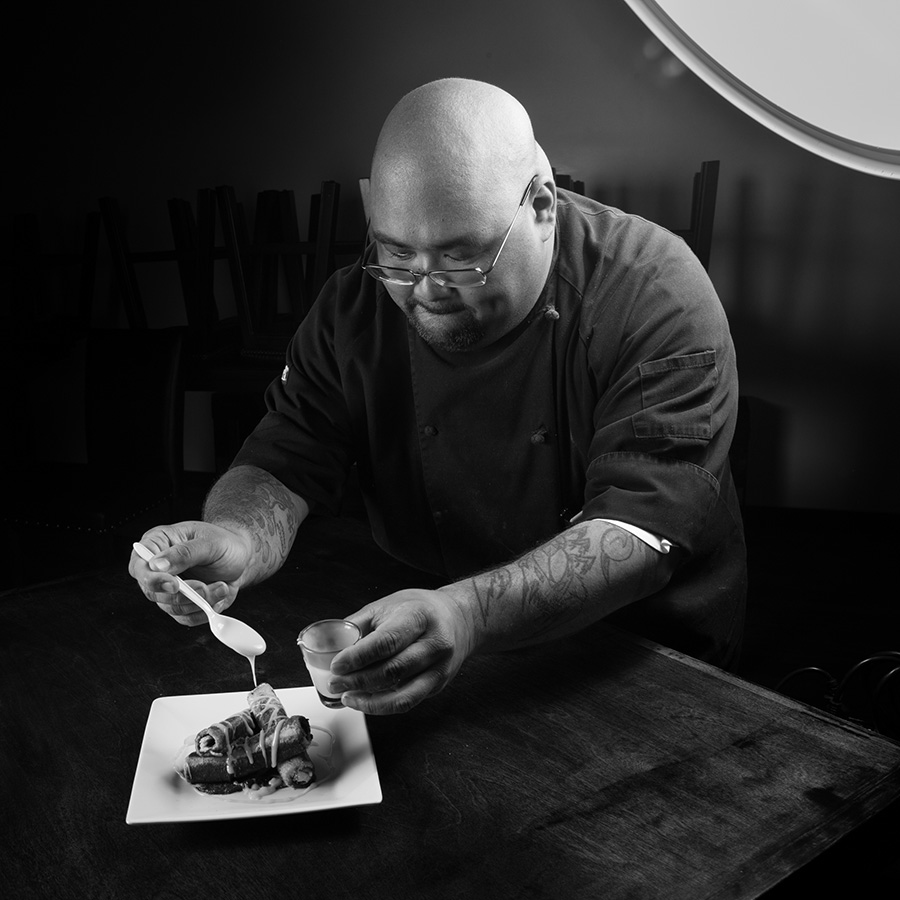 One of our original bloggers, pastry chef Ed Morita, passed away early today. If you've been around Hawaii's food scene and/or social media scene a while, you've probably at least heard of him. If you've been around as long as I have, you know him by his original screen name, @Nctrnlbst, and his original blog, Baker's Hours.
I first "met" Ed in 2007 on Twitter when I was looking for a pie recipe. He was super helpful and very thorough. As it turned out, he was the pastry chef at Longhi's, and found that if he posted pictures of his desserts as they were coming off the line, it helped drive business to the restaurant. He also found that he could run fun little contests and promotions to get people to come in. He was really one of the OGs of Twitter (and social media in general) back then, and it was fun to share new ideas and write about them on our respective blogs.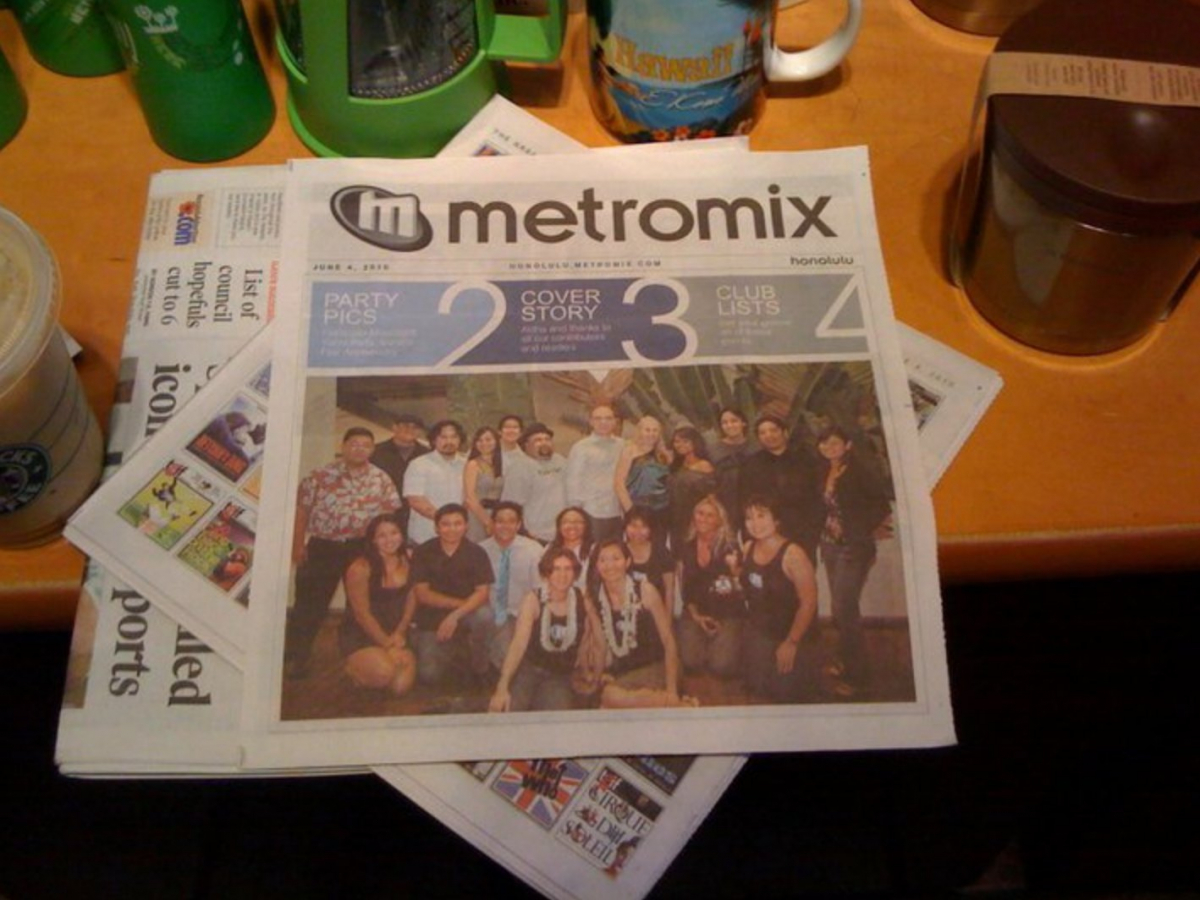 Fast forward to 2008. Diane Seo was the new editor of a new Gannett product called Metromix Honolulu, and she was looking for fresh contributors to the site. Ed was definitely a natural for this, as he had a passion for food, knew how to blog and could help drive traffic with his social media following and expertise. He had also gotten injured on the job at Longhi's and had not been able to work, so had honed his skills as a photographer during his down time.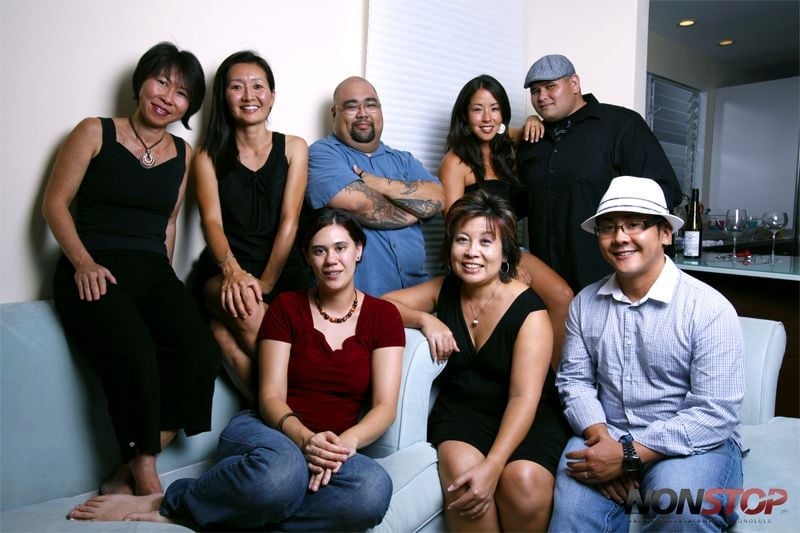 He was one of the original team that built Metromix, and subsequently Nonstop Honolulu, which became Frolic Hawaii. Ed covered nightlife, food events and restaurants like the rest of us, but he did one thing that none of us ever did: He tackled controversial subjects. He defended the right to eat foie gras in Hawaii, gave his two cents on building the Thirty Meter Telescope on Mauna Kea, and (tried to) talk about Monsanto from a chef's perspective. He wasn't afraid of the activists — their death threats amused him. He got more satisfaction out of seeing how much traffic his honest, insightful, rage-inducing blog posts could drive to the site. In fact, one of the main reasons this website is on your radar today is because of the traffic spikes he caused.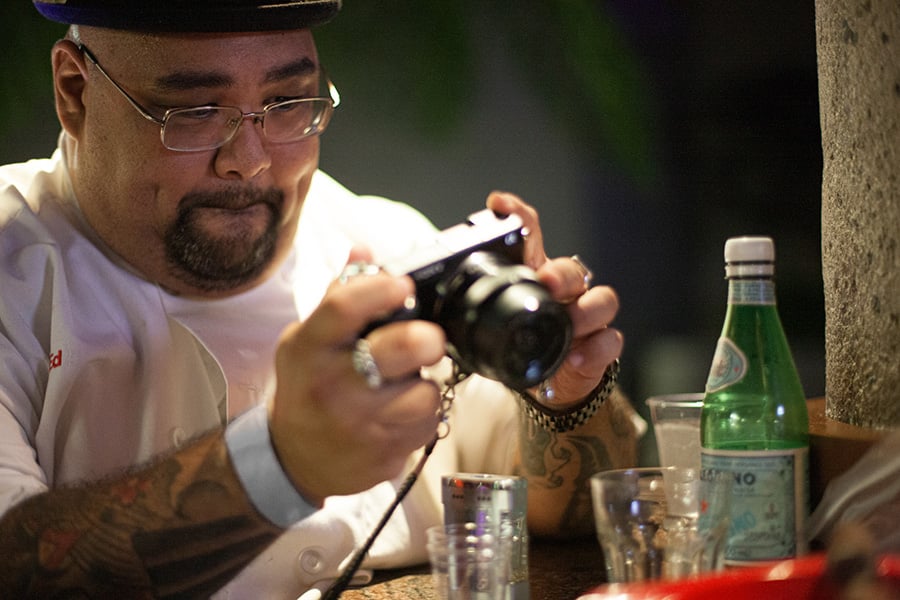 Whether it's writing, photos, social media posts or cooking, you can tell when someone's heart and soul is into it. Another reason his blogs were so popular was because he wasn't afraid to reveal his true self. Many blogs are very superficial and play to the trends, but Ed was doing it for the right reasons, and it drew people in. We had been so engrossed in the food scene and taking photos, that I forgot how very much he loved being in the kitchen. One day, he screened a Hawaii International Film Festival movie called "Patisserie Coin de Rue" that not only mirrored his own life, but made him homesick for the kitchen. He had to turn the DVD off halfway through so he could take a moment to shed a tear.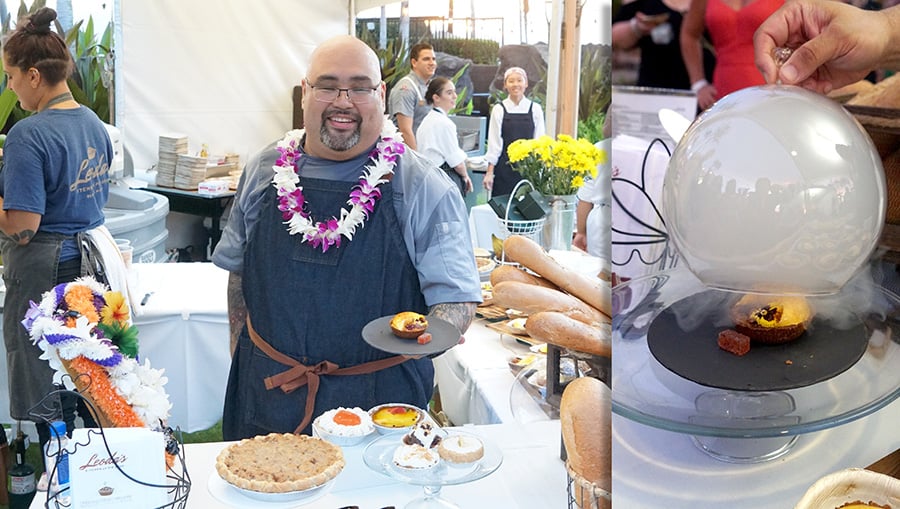 He set off on a journey to take him back to the kitchen, which he documented in a series of blogs: Course correction, The road back and Making waves. It's worth a read, if you want to get to know Ed better. Spoiler alert, he not only made it back into the kitchen, he became the corporate pastry chef for Old Lahaina Luau on Maui, which owns Star Noodle, Aloha Mixed Plate and Leoda's Pie Shop. Just as importantly, he became a featured chef at the Hawaii Food & Wine Festival. Many times. The photo above shows him with his featured dessert at last October's event, and the inset is a photo I texted him two weeks ago asking if the universe was trying to tell me something when it popped up in my photos.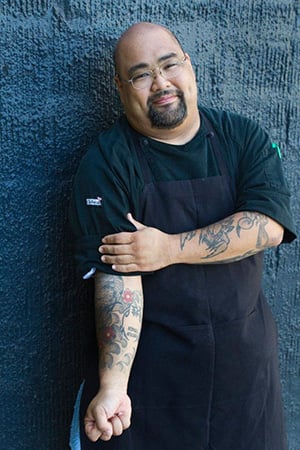 But that's all superficial bullshit, I just wanted you to know Ed a little better if you didn't already. He was always honest and spoke his mind on what he liked and disliked. No matter what his bias as a chef was, he would take an objective approach to things and when tasting food, would remind me that something was "good for what it is." A lot of the way I taste and judge food today is influenced by how he broke things down for me at the simplest levels.
He was one of my favorite eating partners in our Metromix days, not just for haute cuisine but for okazuyas and even bizarre foods. One of my best memories was being served a bowl of live baby abalone, still squirming. I can do raw, but not live, but he wanted me to have the experience under my belt. He coached me through it and made sure we locked eyes while I put it in my mouth, so I wouldn't focus on the creature wiggling in my chopsticks.
He was also a great team player. It's hard to say if it was something that was important to him because that was just an automatic part of who he was. He enjoyed collaborating on ideas, and working with the entire Metromix/Nonstop Honolulu group on moving everyone forward to our common goals. For him, the glory was not about shining brighter than anyone else, but being part of an outstanding entity. And that goes for every aspect of his life.
Outside of the blog, he was always game to explore and try new things, so we went on a few adventures together. One was in 2010 when he tagged along to San Francisco, where our friend Brad Tada and I ran the Bay to Breakers footrace. Naturally, we ate and drank our way through the city, but we ended up making our own music video, too. Later that year, Ed joined me and my friend Brooke Nakamura for Christmas in Las Vegas, where he discovered that he had become allergic to crab. He took a Benadryl and said he was OK and was just going to rest in the back seat of the car. Somehow the story got convoluted and after that, he would always tell people that I left him for dead in the back of the car while I went shopping.
I didn't get to see him much when he moved to Maui, but we often texted each other (usually to express displeasure over the mismanagement of media companies and people who show favoritism). He was so funny in person and in text, always dry and snippy, so although we were venting to each other, our texts were riddled with humor. Correction: His texts were riddled with humor. I just read them and laughed.
There's not enough room on the World Wide Web to list everything I will miss about Ed Morita, all the funny memories, and all the things I learned. Aloha oe, Ed. I'll think of you when I bake my next batch of chocolate chip cookies.