Aloha Fukuoka! Let's go shopping!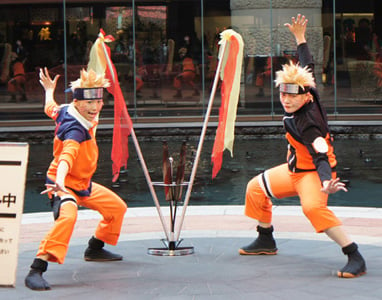 I apologize for being so late with my Fukuoka blogs — since I got home, it's been nonstop for Nonstop, but there's still so much more to show!
When you get to Japan, there is no shortage of places to shop. You've seen the markets that we went to, but as far as malls, you can choose from high-end, super-mega-malls, like Solaria and Canal City; underground malls at the train stations; and less-expensive malls like Sun Road and a host of others that have (maybe) second-rate stuff, but it's good all the same. I'm not including photos of convenience stores like Family Mart or Lawson, because they are everywhere and are hard to miss. These stores are cheap, with good quality convenience food, all around 100 yen and up.
Here's a super-abbreviated look at Canal City, which is kind of like Ala Moana:
Aloha Fukuoka! Exploring Canal City
Picture 1 of 31
Canal City is a huge, huge mall in Fukuoka. There are other huge malls, like Solaria, but those operate (in my opinion) like gigantic department stores, whereas Canal City is more of an open air mall, like Ala Moana. This is just a small sliver of the mall from across the street.
We also went to lessor-known malls to get cheaper items. Remember, just because the mega-malls are cool, it doesn't mean you have to buy things there. You can shop and eat in Japan on the cheap, even with the yen being so strong.
Other Fukuoka Shopping
I decided to break out some of my shopping pictures into a separate gallery called "Engrish." The Japanese are known for their wacky use of English words and phrases on clothes, products, and stores, which make for some outrageously funny photos. (I snapped as many photos as I could until storekeepers told me to stop. I think me and Val laughing hysterically probably gave it away.) And yes, I even bought some of these to wear at home. Oh, Japan.
These photos just touch the tip of the iceberg. If you want to see the rest of my photos, click here.