Aloha Dubai: Discovering the desert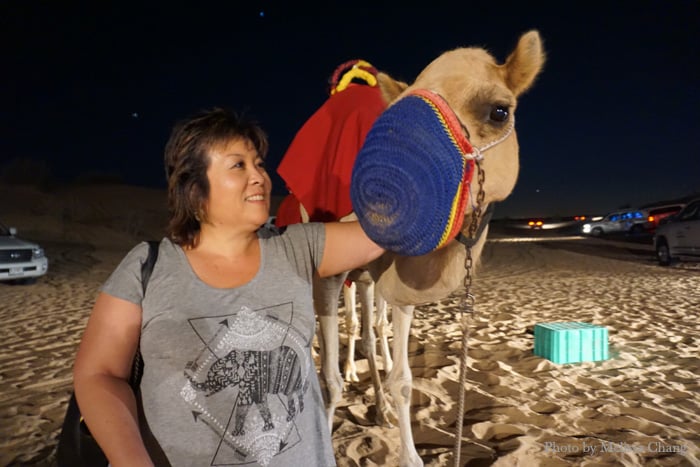 Aloha from Dubai! Here's a look at my quick vacation in the fabulous man-made oasis in middle of the vast desert of the United Arab Emirates.
My friend Val texted me a few months ago, saying she and her boyfriend Kyle had found a great package deal to Dubai: $1200 per person included round trip airfare from San Francisco, five nights hotel, transport to and from the hotel, and two tours. Sound too good to be true? Not really. Emirates Airlines has two-for-one fare sales twice a year, and this package through a travel agency simply used that in their overall pricing. I'd always wanted to fly on Emirates, and this seemed like a "safe" introduction to the Middle East.
We still had to find our way to San Francisco, which cost another $400; singles like me have to pay another $400 more.
Once we got to San Francisco, it was a 15-hour flight over the North Pole to get there. (I'll blog about flying on Emirates at the end of this blog series.) I highly recommend you watch some Peeta Planet videos on the plane or, better yet, before you leave, to get a better idea of what to do in Dubai.
The trip was fairly short; it covered five nights, which left us with only four full days. We did try to hit the high points, though, and I liked this quick taste enough that I'm interested in returning. In fact, 2020 will be a good year to go back, as the city will be completely built out for the World Expo.
Our first tour took us out to the desert, which is where all the big outdoor activities take place. Whereas Alaska has snow, Dubai has sand, and people here are into things like sand boarding, dune buggy and ATV riding, camping, and more — all in the vast expanse of barren, arid land.
We didn't stop to do this, as the sun was blazing hot, but watching the activity made me realize why Arab men wear the cloth headdress known as a ghutra. The sand is as powdery-fine as Lanikai Beach, and it can get windy out in the desert … not to mention, it's bloody hot. The cloth helps shield them from the sun, catches their sweat, and protects them from the sand, especially in a sandstorm. The rope helps secure the ghutra to the head, although many people simply tie or wrap it into a turban to keep it in place.
Can you see the caravan of Toyotas? That's what they used to take our group through the desert to get to our barbecue. That alone was an adventure! Here's some video of our drive through the desert, although I'll admit this video doesn't truly capture how scary it was.
When we got to our barbecue camp, there were some activities available for us. Since falconry is one of their national activities, you can get up close and personal with a trained falcon. This is Rayna, who is just a year old, so her feathers are still very soft and she still has some baby fat on her. It's so cool to be able to hold a falcon and let it climb on you!
They also had two camels ready to give the entire tour rides around the camp. I had originally wanted to ride a camel, but it seemed too carnival-like and I was uncomfortable with seeing them get up and down on their knees for every mount and dismount.
Instead, I waited until the end of the event to just have some personal quiet time with one of the camels — the one that was the most agitated during the rides. By this time, it had calmed down, and was up for a quick nuzzle. You'll notice these camels have knitted muzzles; they probably help protect them from breathing in the fine sand blowing, like the ghutra, but more importantly they help keep the camels from biting people or spitting at them. Since they have to put up with large crowds riding them every day, this ensures tourist safety.
Like our tourist luaus, the desert safaris all offer buffets of familiar Middle Eastern foods, including a variety of barbecued meats. This was actually pretty good, especially the chicken and lamb.
When you take these tours, you'll find several other groups doing the same thing and there will be many barbecue camps set up in the desert. It's very touristy, and I wouldn't do it again, but I think you have to do a desert safari when you go to Dubai to at least get a taste of their historically nomadic lifestyle roots and a glimpse of their culture. Plus, you need an experienced driver to get you through all of those dunes!
Up next: Man-made Dubai! To see more photos from our trip, check out the #AlohaDubai hashtag on Instagram.