Aloha Cones and Hi Tide Poke Cafe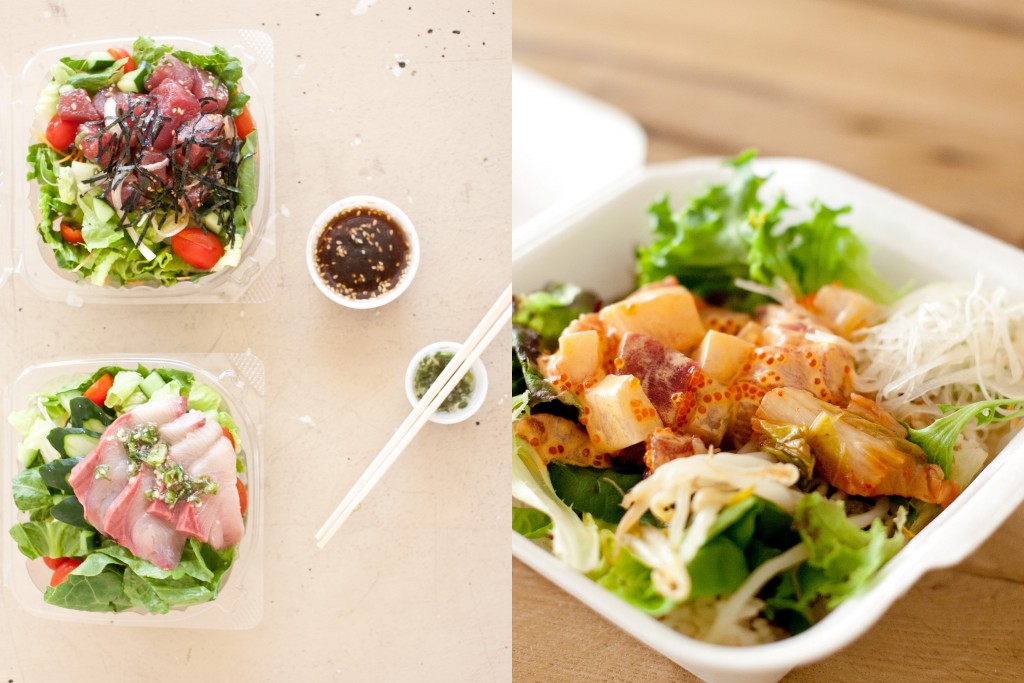 Dwindling fish in the ocean? Pshaw, you wouldn't know it with two new poke counters landing on the Honolulu scene.
One's carved out of the former Matteo's space in Waikiki, the other shares a bubble-gum-pink closet with Shigalicious' shave ice near the Board of Water Supply. You can probably already guess which is going to be more popular—shave ice and poke? It's a no brainer.
Aloha Cones, the one paired up with Shigalicious, even offers poke bowls in plastic flower shave ice cones. Which is cute, but the real reason to go is the fresh fish, with most bowls under $10, and gourmet touches like hamachi sashimi with ginger onion pesto—the kind you find on your cold ginger chicken. Think of Aloha Cones as Ahi and Vegetable with a little flair. And tiny. Really tiny.
The other spot, Hi Tide Poke Cafe, is part of the new Blue Marlin. The lava rock wall has been blasted open, letting light into the dark den that used to be Matteo's. What used to be all mahogany and white tablecloths is now white-washed ceilings and raw wood. There's a sit-down restaurant and a sushi and tapas bar on one side and Hi Tide Poke Cafe, a casual cafe/poke counter, on the other. Custom poke bowls (regular $9.50) are the idea here: pick your fish (up to two), including ahi, hamachi, salmon and tako; and choose a sauce—local, Japanese, and Korean, which is more like spicy mayo. It's probably not worth going out of your way for, but if you're in Waikiki, not a bad spot. And what makes it even better: a selection of beers including a Big Island Brewhaus IPA and Hitachino espresso stout. Of course, it's no Tamura's, but, well, nothing is. As for the rest of Blue Marlin, we'll give it some time for a review.
Aloha Cones, open 10 a.m. to 2 p.m., Monday through Saturday. 725 Kinau St., 861-0888. alohacones.com
Blue Marlin, open 8 a.m. to 8 p.m. daily. 364 Seaside Ave., 922-5551, bluemarlinhawaii.com