Aloha Beijing! Tiananmen Square and the Forbidden City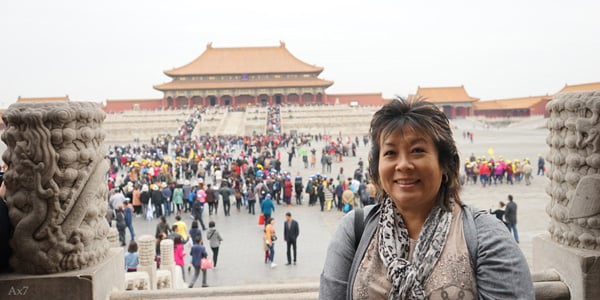 To help you learn more about China's history and culture, Beijing tours will always have The Forbidden City and the adjacent Tiananmen Square on your list of sights. The Forbidden City, built from 1406 to 1420, was the Chinese imperial palace from the Ming dynasty to the end of the Qing dynasty and housed 24 different emperors.
The Forbidden City is so named because for centuries, it was not just forbidden to enter, you couldn't even walk near the area as a commoner — yet, the place is so huge that it was home to tens of thousands of people (who were also forbidden to leave). The palace inside is important for various reasons, not just its center of Chinese government. It has influenced cultural and architectural developments around the world, but mostly in Asia, and has the largest collection of preserved ancient wooden structures in the world. (It's actually pretty mind-boggling when you go in and realize that all of the structures are made of wood.)
Tiananmen Square, although built in 1415, is best known to the outside world for the pro-democracy activities in 1989. Historians will tell you that no one died AT Tiananmen Square during the protests, which is probably true, but just remember that China is a big place. Today, it still serves as a huge meeting place and you'll see hordes of people standing in line to get to Chairman Mao Zedong's mausoleum so they can pay respects.
Aloha Beijing!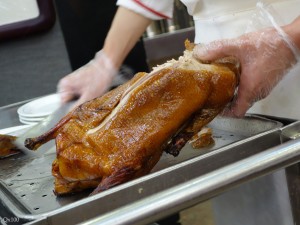 After these tours, we headed to the Silk Road market and the Yashow Clothing Market, both multi-level shopping complexes filled with clothes, jewelry, tea, and imitation luxury goods where people bargain for the best price. I couldn't take any photos inside, but you probably have seen the same type of thing all over Asia. If you have the time to spend to bargain with these salespeople and know your regular retail prices, this place is for you. I didn't really find anything because most of the styles didn't match me; the one purse I did want, was not available in the color I wanted. We also tried bargaining for Uni Qlo knock-off down jackets, but the girl wouldn't go much lower than the real thing's retail price. So, you also have to be willing to walk away.
The rest of the Hawaiian Airlines contingent had to leave that night, so although people had given us many recommendations for Peking Duck, we only had time to go to a place that was near our hotel — which, as it turns out, is pretty famous anyway.
Peking duck at Quanjude
That was it for the Hawaiian Airlines promo team; they had to go back to Hawaii on that night's flight. Sixty-seven hours isn't enough for a large city like Beijing, but at least they got to touch on the main sights and had some bites of typical food. If you make it here, I would recommend at least two more days so you can get to things that aren't as touristy!
If you're following me on Instagram and Twitter at @Melissa808, you know that I'm now in Shanghai. I'll be blogging about that in the days to come, as well as a couple more days in Beijing.
These were just the highlights. For more photos, click here.
Disclosure: Hawaiian Airlines provided this trip to Beijing.